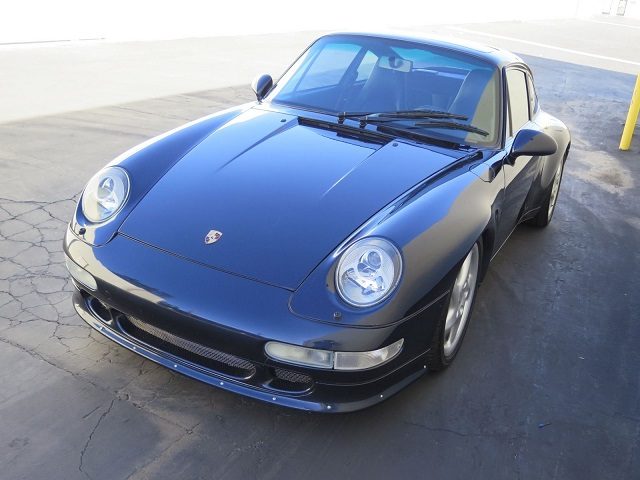 I intend this to serve as a companion piece to yesterday's 993 post. It isn't really a comparison since I don't think that would make a lot of sense. Yesterday's 993 looked to be entirely original and was very low mileage while this one is modified and higher mileage. But given that even with its low miles I viewed yesterday's car as one that you should probably buy with the intention of driving it anyway, then looking at an option that much more logically fits into the driver category seemed worthwhile. I also happened to come across this one and thought the total package looked pretty good. Here we have a Midnight Blue 1995 Porsche 911 Carrera Coupe, located in California, with 97,982 miles on it. As you can see the miles are definitely a good bit higher with this 993, but if its maintenance has been kept up with then there is little reason to think that it won't have plenty of miles left in it.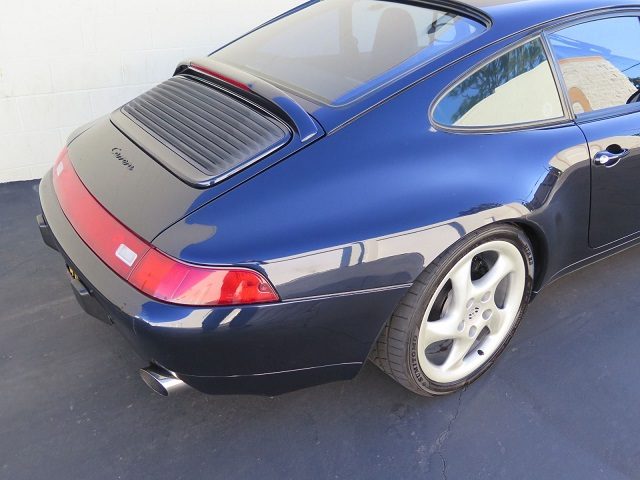 Year: 1995
Model: 911 Carrera
Engine: 3.6 liter flat-6
Transmission: 6-speed manual
Mileage: 97,982 mi
Price: Reserve Auction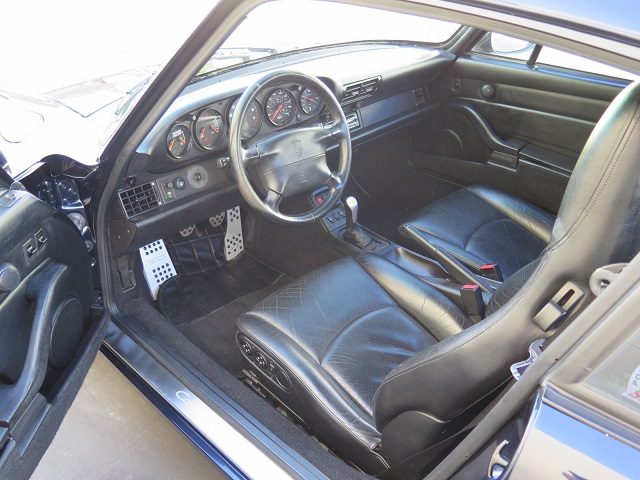 1995 993, Midnight Blue/Black leather
Vin #WPOAA299XSS322554

Originally delivered in Stuttgart as a "tourist delivery" vehicle on Nov 21, 1994. All known records are available from day 1 to present. Original spare, tool kit, jack, tire compressor, manuals and other docs are included. Great car, great provenance.

Original Porsche Factory Options list:

220-Locking Diff (40%)
224-Auto Limited slip diff/active brake diff
139-seat heating-(L) 340-seat heating-(R)
233-change of tire mfg
398-17″ Cup Wheels
437-full power seat (L), 438-full power seat (R)
454-Blaupunkt radio with cruise control
650-Sunroof

Modifications:

Work Carried out over $ 27k in receipts:
PSS9 coil over suspension, upgraded brake lines and corner balanced
TRG (The Racers Group) 7 point adjustable sway bars
Light Weight Flywheel, HD Clutch & performance chip
Tarett rear adjustable toe links
Rebuilt 6 speed gearbox
Mille Miglia Stainless exhaust
600 watt Alpine/Zapco audio
GT3 Aluminum/leather Shifter
Euro Factory Porsche Turbo S front bumper cover w/clear fog & turn lights
Rennline aluminum pedal setup w/ dead pedal
Porsche dealer installed "Carrera" stainless door sills
18″ solid Porsche Turbo Twists with 235/40/ZR 18 Bridgestone SO-3's in the front and Sumitomo 295/30/18 HTRZ 3's at the rear-Like new with no wear.
New brake pads, rotors are about 98%, with reconditioned and perfect calipers
RS Half Shafts.

Under Porsche Factory Warranty:
Speedometer, in 1997.
Engine wiring harness was replaced by Porsche under Porsche W 301 recall instructions.

Recent work in last 3 months,
Smog: $ 70.95
Fuel lines cleaned with new fuel pump and fuel filters: $ 963.90
New rear wheel hub bearings: $ 738.77
New Factory Pilkington Glass Windshield with antennae, $ 1.053.95
Repair, color match, paint and blend small golf ball size dent on front passenger fender,
$ 1.250- I have before and after pictures showing the very limited cosmetic dent.
New Battery $ 198-, installed.

Everything that was improved on this amazing car, has been completed professionally and is fully documented.

Please read full description and ask all questions and carry out all inspections prior to, and NOT after bidding.
Please have all funds clear and ready for immediate transfer after initial Paypal deposit
$ 2-k, since full payment of this vehicle is demanded within 3 business days.
If you cannot meet theses simple criteria, do NOT bid!
If you have to ask your wife first, then do so before bidding, and again make sure you have the funds on hand to close the transaction in a timely fashion.
No exceptions, unless agreed to in advance.
The car is located in my warehouse in Chatsworth, and I can arrange a PPI, at buyer's expense, at the Local Porsche Main Dealer in Woodland Hills, "The Auto Gallery".
All inspections are to be carried out prior to, and not after the Auction has ended.

This is a private sale, and I'm selling as my sciatica prevents me from driving a stick!
The car is as close to perfect as I can get it,
there are still 4 little things that I have not gotten around to doing, and are listed here.
Sunroof needs switch and relay to be replaced,
Speedo works, but miles trip inoperative.
A/C needs re-charging, blows cold, but not ice cold.
Small chip on passenger front headlight, these are available new, for only $ 140- a pair, on eBay.
The car is currently smogged and licensed, and comes with a clear Title in my name.
The private license plate will be retained.
The car is insured with Hagerty.

This is a 7 day auction, please carry out your due diligence ahead of time, contact me with any and all questions, or by giving me your, or requesting my number.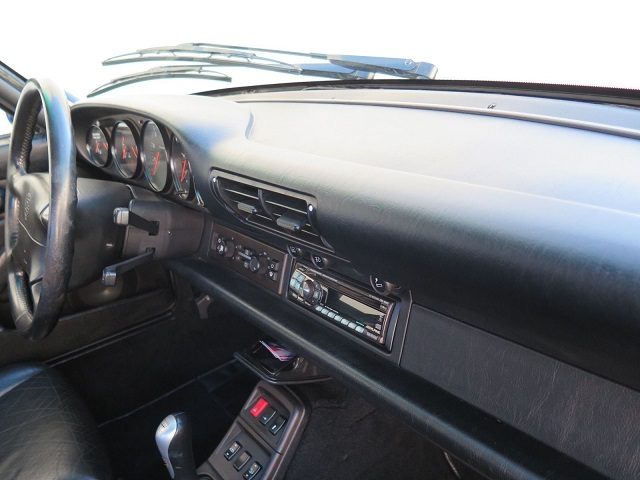 Though I've called this a modified 993 its modifications aren't of the significant variety. There has been little done to alter the appearance other than the Turbo Twist wheels and the S bumper. I don't consider this a bad thing since the 993 is such a beautiful car right out of the box. Though I would be curious if the original Cup wheels are still available with the car (I suspect they aren't or that would be mentioned). The rest of the modifications are principally aimed at improving performance with those aims squarely focused on handling. A "performance chip" and lightened flywheel are the only changes that should affect power and its delivery. Again, that's not really a negative. Altogether this 993 looks very good, it has some nice modifications, and the current owner sounds pretty well versed on its basic state. We don't hear much about available documentation, though we are provided we some recent service history.
As a companion to yesterday's post part of the point here is price. How much less expensive will/should be this 911? Bidding sits currently at $30,100 so at first glance the answer is "a lot less expensive." But the reserve is unmet and there are a few days remaining so that should certainly come up. I said that yesterday's 993 – regardless of its asking price – really didn't make a lot of sense once we began to move too far about $60K. What about this one? Mid $40Ks perhaps?
-Rob