While the E36 BMW M3 certainly moved the sport compact sedan game forward, there were plenty of other great machines within this 3 series generation that rarely get their due respect. The venerable E30 convertible soldiered on until 1993, when its replacement arrived. Offered in 318i and 325i trim, the E36 convertible was an instant hit and offered an optional hardtop for those colder climates. Initially offered as a 318i (1.9 liter, 138 hp) or the 325i (2.5 liter, 189 hp), the six cylinder variant was upgraded for 1996 to a 2.8 liter engine. This larger six produced only one additional horsepower but packed a bit more torque – 210 lb. ft. versus 181 for the 325i. These days, used E36 convertibles are plentiful and can be had on the cheap. The problem is most are automatic (I prefer three pedals) and most are clapped out, high mileage examples with a multitude of problems.
This 328i convertible for sale in Tennessee, though, has but 53,000 miles on the clock, has obviously been cared for and most importantly, has the 5-speed manual gearbox.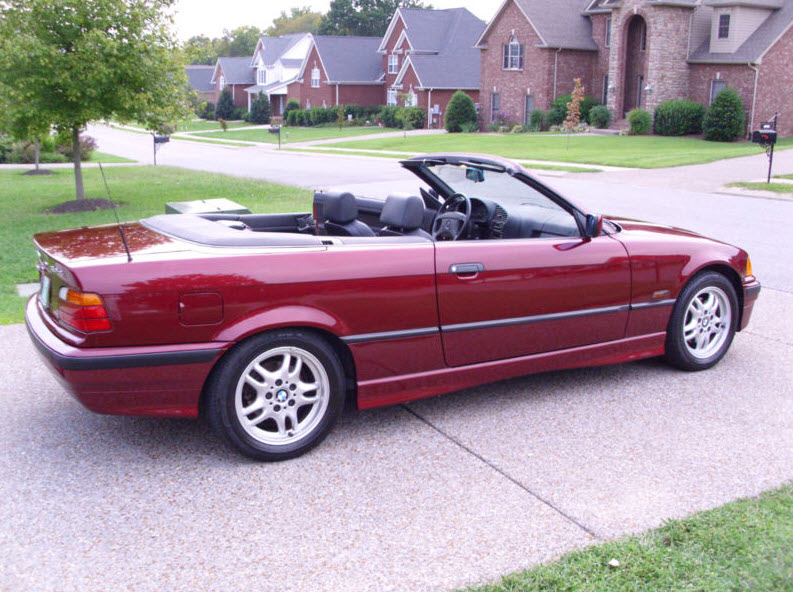 Up for sale is my 5 speed, Calypso Red 1996 BMW 328ic convertible (with both soft & hardtop). It only has 53,442 original miles on it! As you can see from the pics, it's in excellent shape. The paint is beautiful, the interior is immaculate! The car has never been in an accident and has been babied it's entire life. Everything is original in the car with the exception of professionally tinted windows (which are needed here in the South). The paint is in fantastic shape. Still very deep and glossy.

The black leather interior all original and beautiful too. There are no holes, cracks, tears etc in any of the leather. The carpet shows no signs of wear at all. The A/C blows very cold and all electronics work (with the exception of the power convertible top). The original owner paid $2295 for the painted hard top, and I believe kept it on the car the entire time. The power top does not work for some reason. The motor looks fine (and brand new). It could be the power top switch or even a fuse. I have not had time to have it checked out. I travel 4 weeks a month now and use a rental car when I'm not flying, so I have no need for a personal car any longer. Here is your chance to own a car with only 53K original miles, that listed new for $47,545, for just a fraction of the price. Furthermore, it's one of the most beautiful, sought after BMWs of all time! Please look at my feedback score and bid with confidence. I have worked hard to keep a 100% satisfaction with eBay! The car is listed locally, and I reserve the right to end the auction early. Thanks for looking.

Please look at the pics that shows a copy of the car's original sticker for all options. Here is a break down of upgrade options on this car:

Base Car: $41,330
Sports Pkg: $1275
Heated Seats & Mirrors: $500
Hardtop: $2295
All Season Traction (ASC+T): $1100
Metallic Paint: $475
Most six-cylinder E36 convertibles in mint condition can be had these days for between $7,000 to $12,000. At around $10,000 with a few days left in the auction, we're right about on the money. While this isn't the most sporting of 3 series, the manual gearbox makes for a more involved drive, especially on those pleasant spring days or during the early fall, when you are enjoying an unobstructed view of the scenery that comes with top down motoring.
-Paul