On this side of the pond, when you first hear 1983 VW GTI, you think big square lights, even bigger bumpers and all sorts of lights in order to meet US regulations. More often than not a VW enthusiast, or even just someone that likes sleek and classic looks will convert a US spec car to the cleaner euro spec.
This car represents a rare opportunity for fans of the cleaner simple looks of the euro spec GTI. Imported in 2009 from the UK, this euro-spec GTI for sale in Buckhead, Atlanta, GA is a US VW enthusiasts dream come true.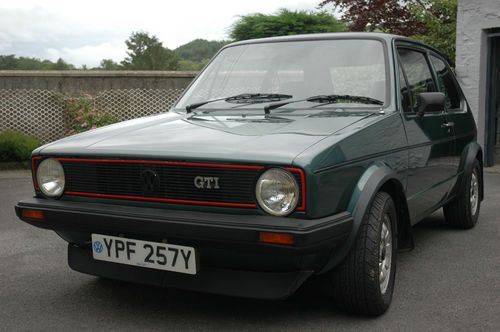 This Golf GTI has been my daily driver since I moved here three years ago.  I transferred to Atlanta with my job in 2009, I was able to import it and bring the GTI with me but sadly it now has to go as I'm relocating back to England.
The car has never really wanted for anything and it's a standard UK right hand drive spec car.  I've even left the original British license plates on the car which drawes a lot of attention…
I've changed the clutch, fuel pump, alternator, ignition coil in the last 3 years, the head gasket was done approximately 3 years ago and timing belt changed again since then when we put clutch in approximately 2 years ago.
The car recently had a brand new webasto electric sunroof. It was supplied and fitted by main dealer and is far superior to original sunroofs supplied on these cars.
Car requires a couple of bits to finish off – window winder mechanisms and one of central dials and require connecting.
Please feel free to contact me with any questions.
Thanks for looking.
Simon
Unlike most, I'm a huge fan of both the US and Euro looks on the GTI, I may even be more partial to the totally 80's US look, but then again, I have strange tastes in cars. This car is certainly a great example of a clean and mostly original GTI; from the Europe only seats, single round headlights, and euro spec bumpers, it's a looker. The two main issues I have with the car based on this ad are the mileage (or kilometers as the case may be) and the aftermarket sunroof. In my experience, nothing good can come from cutting a hole in the roof of a perfectly good car, so as far as I'm concerned that is a check in the CONS column. That being said, a clean euro spec GTI doesn't come along too often in the states making this a rare bird. All things considered, the price of $14K is steep, real steep, clean examples are available in the UK for around $4-6k, or if right hand drive isn't your thing, they can be had in Canada for around the same price. These cars are old enough to import legally, which could be another $2 to 4K, so for a car like this I'd likely be a buyer in the $7,500 to $8,000 price range.
-Brian