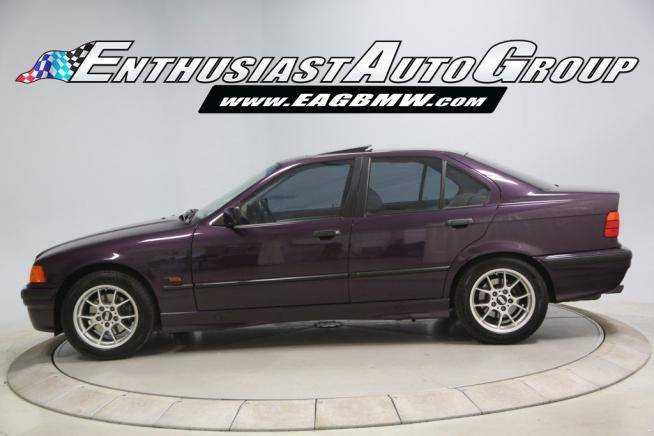 I find this car both exciting and perplexing. This comes in part from the nature of the car; well, honestly I find most of the BMW Individual ordered cars to be pretty cool. But this one had me scratching my head just a little bit. It wasn't over the color; Daytona Violet is one pretty awesome color and suits the E36 pretty well overall, I think. The transmission is the right box, and the Dove Grey leather compliments the car well. No, the question comes down to one of price – and for once it's not a complaint about EAG's asking price but specifically the original purchase price. Why? Well, in order to spec your 328i as this one was, you'd be paying more than a M3 that was available for minimal charge in the same color to get it. Huh?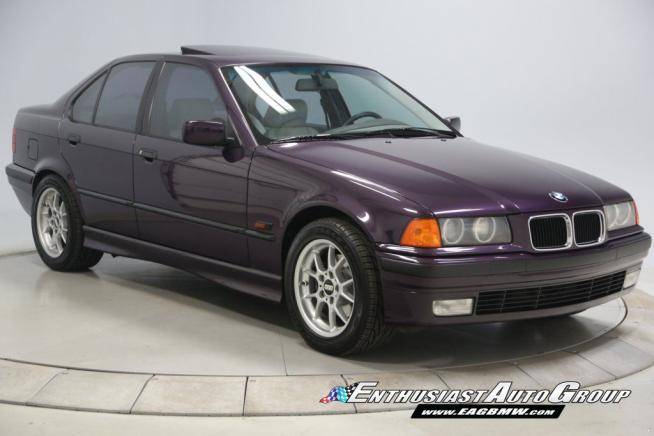 Year: 1996
Model: 328i
Engine: 2.8 liter inline-6
Transmission: 5-speed manual
Mileage: 45,199 mi
Price: $12,990 Buy It Now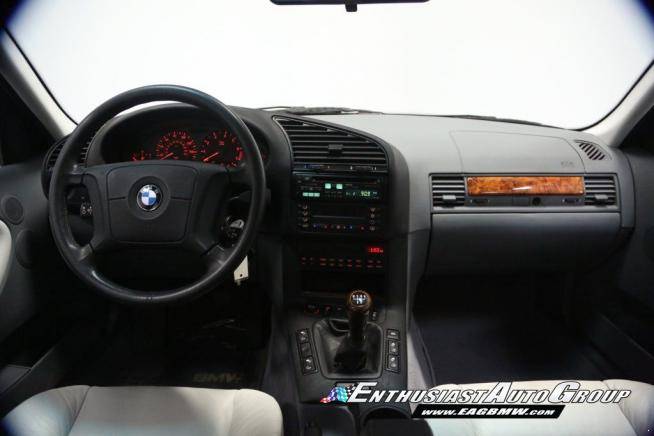 *New Arrival* Daytona Violet over Dove Grey Leather, Ridiculously Clean, Individual Color, 1-Owner Car! Well-Maintained with All Service History! Nicely Optioned from BMW Including: Premium Package with Power Seats, Leather Upholstery, Fine Wood Grain Trim, Heated Front Seats, Power Sliding Sunroof, Cruise Control, 18-Button On-Board Computer, Keyless Entry with Factory Alarm. Desirable Upgrades Include: BBS RK 16" Alloy Wheels, ZKW Projector Headlights with Angel Eyes, Alpine In-Dash CD Player and Privacy Glass Window Tint. Stock wheels included. This special order 328i is incredibly rare and in amazing condition! All original body panels with VIN tags intact! The exterior paint is factory original with no significant flaws or imperfections. The interior still looks and smells new! This 1-owner car has been enjoyed as a fun summer car in Pennsylvania, therefore, the body + undercarriage are clean with no signs of corrosion or rust. This vehicle has been pampered and meticulously maintained with the 'old school' maintenance plan – 15 Documented Oil Changes! Preventative engine cooling system replacement at 26K miles and routine fluid flushes since new! Complete service history since new with the original window sticker intact! Enthusiast Auto has completed our Comprehensive Pre-Purchase Inspection and Work Order ensuring the integrity of the car as a Turn-Key, Needs-Nothing Vehicle. Service Highlights Include an Inspection 1 Service with engine oil + filter change, engine air filter and cabin microfilter. Additional Items Include: front brakes (rotors, pads + sensor), upgraded Rogue Engineering rear shock mounts, upgraded urethane rear trailing arm bushings and performed a 4-wheel alignment. This car is fully serviced and ready for a cross-country drive! 1 Responsible Adult Owner, Non-Smoker. Please Call or email to obtain a Pre-Purchase Inspection Report, Build Sheet, Condition Related Details, Vehicle History and 50+ Detailed Photos; 513.554.1BMW (1269)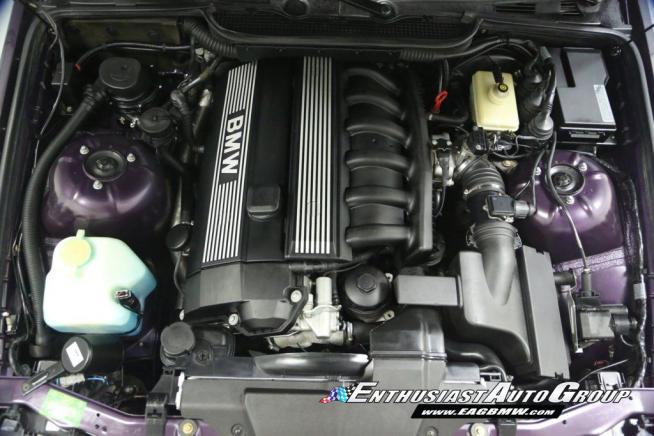 Since Daytona Violet was a normal option on the M3 but not the 328i, this buyer had to go through the Individual program; depending on when they bought, a roughly $3,000 premium plus the wait just for the color. Of course, they optioned the car out as well – with ASC-T ($1,100 alone), wood trim, automatic climate control, electric seats, sunroof, and heated mirrors. That took your already roughly $32,000 right up around $40,000 once delivered; or about $3,000 more than the base price of a M3. The only advantage I can see for having chosen the 328i over the M3 was naturally that the '96 M3s were coupe only, and this car was manufactured in early 1996; M3 sedans were still likely the best part of a year away when this car was ordered. Condition appears overall to be very good to excellent and this is certainly a neat car in many ways. I'm not a fan of the BBS RK wheels but that could easily be remedied with any assortment of E36 wheels; some of the forged M double spokes would really make it pop in my opinion. But despite the low mileage, unique character and awesome condition, I'm still left scratching my head a bit; why wouldn't you just have waited and taken the Individual color premium and applied it to the new 3.2 M3 in 1997 in very similar Daytona Violet? It's a question I'm still left pondering, and were I in the market for this type of car I think I'd probably sacrifice the low mileage and my slight preference for Daytona of Techno Violet, and I'd look for the later M3.
Thanks to our reader John for the neat spot!
-Carter