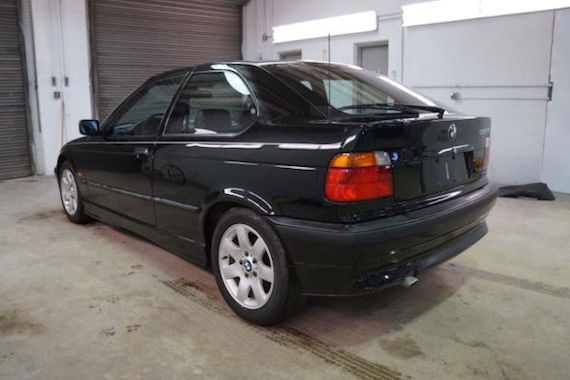 It seems that another generation of small BMW hatchbacks – I'm looking at you, 1 series – will be passing us by here in the US market. But, not many people can blame BMW, as there were few takers for its mid 1990s experiment, the 3 series Compact. Sold here as the 318ti with the 1.9 liter four cylinder engine found in the Z3 Roadster, this car was all E36 saloon from the A-pillar forward but carried a vastly redesigned hatchback rear section with trailing arm rear suspension and simpler, one piece dashboard inside. This 318ti for sale in Pennsylvania has the rare California Roof option, which equips the 3er hatchback with a canvas folding roof, providing almost targa-like motoring pleasure.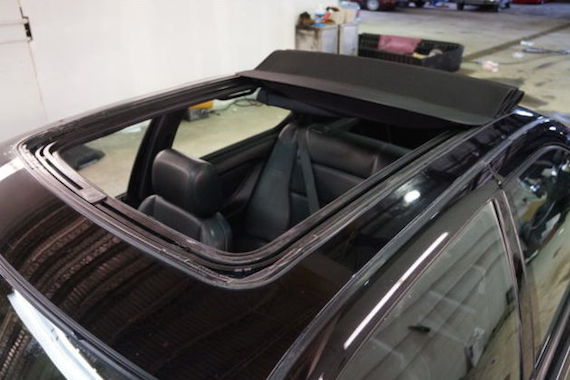 Year: 1997
Model: 318ti
Engine: 1.9 liter inline-4
Transmission: 5-speed manual
Mileage: 138,000 mi
Price: No reserve auction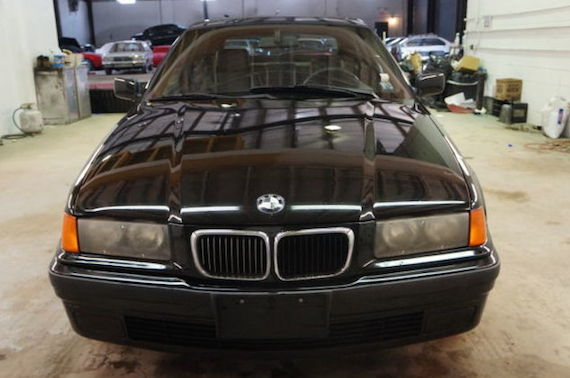 Hello and thank you for looking at my auction. My name is Joe and I sell vehicles differently than most dealers. Buying your next car or truck through one of my NO RESERVE auctions is the best way to take the games out of your next automotive purchase. I personally road test each vehicle before it is offered for sale so I can give you my first hand opinion of how it runs and drives. Please keep in mind that I am not a mechanic. Each vehicle is represented accurately and honestly to the best of my knowledge and ability. Please take the time to read this entire description as well as our Terms & Conditions carefully BEFORE asking questions or placing a bid. An administrative fee of $149 will be added to the final bid of each auction.

Up for a NO RESERVE auction is a fairly rare 1997 BMW 318ti with the very rare California Roof option. I would rate the exterior of this BMW to be in ABOVE AVERAGE CONDITION for its age and mileage. As you can see, this is a gorgeous looking BMW. It is finished in black and looks great. The finish has a mile deep shine all around and looks like glass. As with any older vehicle, please expect to find a few imperfections and flaws assosiated with age and mileage such as a few rock chips and other small marks. The body lines up nice and straight. The hood, doors and hatch all open and close easily. The super rare California Roof looks to be in excellent condition. All of the glass and lenses are intact. The alloy wheels look good and are wrapped in a set of Goodyear's that are about at the end of their life and are due for replacement. Please take your time and check out each of the photos carefully to see how clean this little BMW is.

I would also rate the interior of this BMW to be in ABOVE AVERAGE CONDITION for its age and mileage. The door cards are clean and tight. The carpets show well throughout the interior. The drivers seat shows a little bit of usual wear…but nothing bad. As with many older 3 Series BMW's, the drivers window is off the track (looks as if the rear clip is broken…not a big deal) and the right window does nothing. The dash and headliner are clean. The cargo area is spacious and clean, too. It looks as if the original owner had a very nice stereo in this car. The factory speakers look to have been replaced with quality Polk Audio speakers but the previous owner kept his head unit so you'll have to install your own. Both front seats are heated. The climate control system is original and appears to be working properly. The heater blows hot and the air conditioner blows ICE COLD AIR, too. The hugh California Roof is a very rare and very desirable option. The cloth looks great on the inside and outside. The inside of the car smells like a brand new car with no evidence that the top has ever leaked. The top opens and closes smoothly and really opens up the inside of the car.

Mechanically, this car appears to be in good running condition but is due for a routine service that often becomes an issue at this age. The front suspension bushings in all older BMW's from the 90's are known to wear out…and this one is due for new bushings. I believe the only issue going on is with the upper and lower control arms (just an educated guess) but I would go ahead and do it all while it's apart. A full bushing kit can be had right here on eBay for around $200 and takes any competent mechanic around 4-5 hours to do. Since the majority of the expense is in the labor, I'd do all of them at once so you know they're done. The suspension feels tight…but you do get a noticeable wobble in the steering at highway speeds and over bumps. The 1.9L engine starts easily and runs smoothly. I did not see any leaks and the engine does not smoke. She keeps perfect operating temperature and runs strong. The clutch engages smoothly and does not slip or chatter. Gear changes through the manual transmission are nice and smooth as they should be. These are fantastic little cars. I had one of these back in the day (…but not with the cool roof) and I loved it. They're a fun little car that is very reliable and get stupidly good fuel economy. If memory serves me correctly, I believe my 318is did nearly 40mpg on the highway and I averaged high 20's mixed driving. You'll have to put a few bucks into this one to get her up to date on services and such…but it will be well worth it. Finding a 318ti in this condition with low miles AND the California Roof is not easy. Thanks for looking and good luck bidding.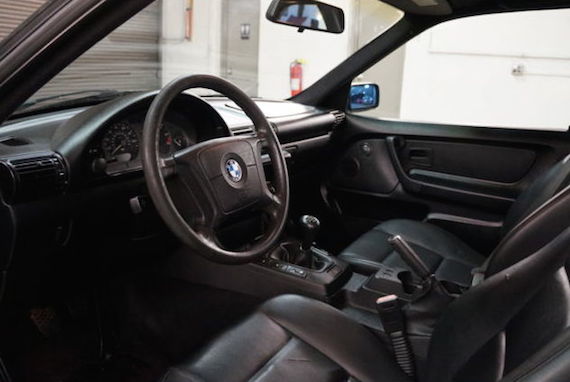 This 3 series hatch isn't perfect, but iron out a few details like the missing radio and fogged up headlamps and it could make for a stylish, cheap runabout. Even though they aren't stock, the E46 Style 45 wheels don't look out of place. Luckily, this 318ti isn't hampered with the automatic gearbox, so you can make the most of the twin cam four cylinder engine. At no reserve, it's reasonable to suspect this one to fetch somewhere in the $3,000 to $4,000 range.
-Paul