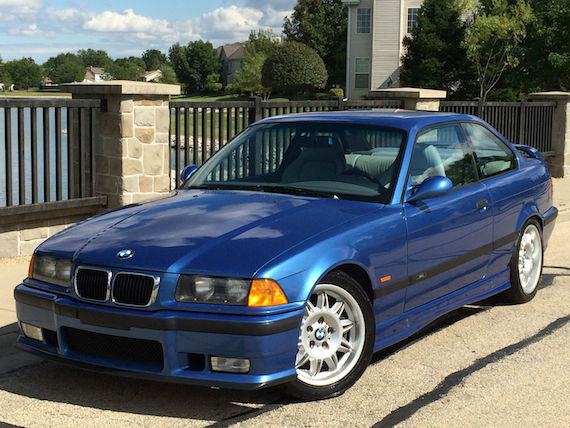 While the BMW E30 M3 is experiencing epic levels of popularity, for yours truly, it's not my favorite of the lot. No, my favorite would be the E36 M3. I've always had a thing for this car, even if it's heart was based on the M50 inline-6 found in lesser E36 models. There is something about the crisp lines of the E36 that grabs my attention, as the E46 which followed was a bit softer in appearance. Today, we no longer have a two-door M3. Instead, we've moved up a number to the M4. Even though it's "technically" an M3, I'm not too keen on driving a car with the same name as a motorway in the United Kingdom. So let's take a look at this 1997 M3 for sale in Illinois. Finished in Estoril Blue, this one has yet to cross the 70,000 mile mark.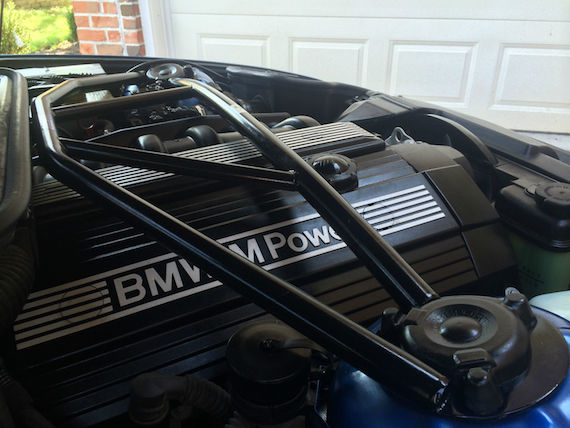 Year: 1997
Model: M3
Engine: 3.2 liter inline-6
Transmission: 5-speed manual
Mileage: 67,300 mi
Price: No reserve auction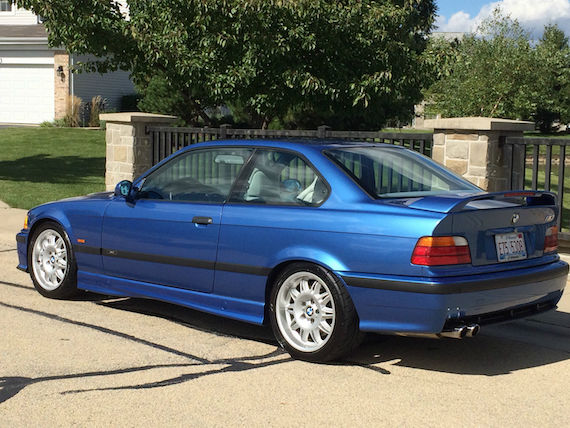 997 BMW E36 ///M3- Estoril Blue/Dove Gray

Rare Example of a clean low mileage 97′ E36 ///M3. Only 67K Miles! No Accidents! 1 Owner! BMWCCA Member. Clean Car-fax! Hard to Find Rare! Estoril Blue Over Dove Gray Nappa Leather! Well-Maintained M3! Fluids Regularly Flushed & Replaced! Inspection II Completed. Garage Kept. Non Smoker Owned. Exterior Paint is all original.

This is a turn key E36 M3. I have been collecting cars for years and it is tough to find another one as clean and perfect as this one. I have service records, books, brochures, and (3) keys. All VIN tags are in tact on every panel. You will be hard pressed to find another E36 M3 as clean and immaculate as this one. This car looks and drives as good as it did when it rolled off the assembly line, if not better. I would rate the Interior a 9.5/10 the seats are in excellent condition, the bolsters do not have any wear on them, all functions work and operate on the Vader seats as they should. The Front dash is very clean no cracks, the Rear seats have never been sat in, and Rear deck-lid has no sun damage. The Exterior of the car is a solid 9.0/10 the front fascia has minor stone marks from driving, the front lip been replaced and motion motorsports under-panel has been installed to protect the undercarriage. Front bumper has not been drilled for license plate, the wing on the back is all factory and original. The paint is smooth and looks excellent under the sun, always waxed with Zymol. The wheels are curb and rash free, tires & brakes have only 6K miles on them.

Under the hood the car features the revolutionary S52 Power Plant (3.2L 240HP). These engines have been noted to be one of the best M engines produced by BMW M GmbH. The E36 M3 in the late 90's was known to be the car out performing every car in its class and is one of the most recognized M cars in the market place today. Whether you are buying this for yourself or your son/daughter, this M3 is a true gem. Tasteful upgrades include Jim Conforti Intake System, combined with the Shark Injector w/ Turner Motorsports Stage 1 Performance Software and UUC Motorsports Exhaust System. To tighten up the suspension full adjustable Coil-over system was added to this car by Ground Control combined with the Koni Adjustable Struts/Shocks. Finally to stiffen up the steering a strut tower brace was added by Rogue Engineering along with the OEM BMW M3 X-Brace Reinforcement, which was only available on the convertibles from the factory by BMW.

No expense has been spared to properly store, maintain and address all preventative maintenance on this M3. I do not need to sell this car and would prefer to keep it, but if this M3 goes to the right home I will be happy. This is a true collectable as these cars have now hit the 20 year mark. Age, mileage and condition is the largest contributing factor to this car along with all original keys, books, and records, which are included with this sale.

Factory Options
– Estoril Blue/Gray Leather
– Vader Manual Seats (12 Way Adjustable)
– Heated Front Seats
– On Board Computer (18 Button)
– Cruise Control
– Digital Automatic Climate Control
– Split Fold Down Rear Seats
– Electric Sunroof
– M-Rear Wing
– ASC Traction Control
– 3.23 Limited Slip Differential
– Double Spoke-II Staggered Wheels w/ NEW Tires
– $43,025.00 MSRP

Inspection II has been completed-

EXTRAS
– Conforti Intake Kit
– Shark Injector with Turner Motorsports Stage 1 Software Package
– UUC Hi-Flow Exhaust
– Rogue Engineering Front Strut Brace
– OEM BMW X-Brace Reinforcement
– OEM BMW F10 ///M5 Shift Knob
– Ground Control Coil-Over Suspension, ride height adjustable with single adjustable Koni struts/shocks
– Ground Control Street Adjustable Camber Plates
– Motion Motorsports Aluminum Under-Panel Tray
– Stop Tech Slotted Rotors & Stop Tech Street Pads
– OEM BMW Rubber Floor Mats
– OEM BMW Cup Holders
– OEM BMW Fog Lights
– OEM BMW Front Lip Spoiler
– Mint Condition Headliner
– Original Window Sticker

Recent Maintenance
– New Dunlop Direzza Sport Z1 Star Spec Tires
– New Stop Tech Slotted Rotors & Stop Tech Street Pads
– New Spark Plugs and Ignition Coils
– Cooling System Upgrade- Aluminum Radiator, Water Pump & T-Stat
– Oil Change & Differential Fluid Service

Terms & Conditions:
You are entering a binding contract.
Only click BUY IT NOW if you are ready to purchase.
Full Payment Due within 3 days of auction close.
Non Refundable Deposit $500 due within 24 hrs.
Non paying bidders will be subject to fines and listing fee's.

Payment Method:
Cash Buyers ONLY! Bank Wire, or Cash in Person.
No Loans, No Cashiers Checks, No Personal Checks, No Paypal.

Shipping:
Please contact a transportation company of your choice to ship the car. I will assist with loading the car onto the truck once the funds have cleared. I have a contact at South Beach transport if you want competitive rates.

Airport pickup:
I will pick you up at O-hare or Midway Airport.
The car is located in Naperville IL, 45 minutes southwest of Downtown Chicago.

Please inquire if you are a cash buyer ONLY and are serious about purchasing.

Serious inquiries ONLY contact 630-802-4654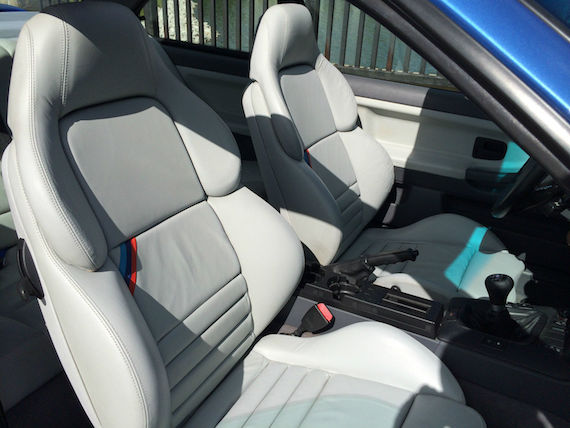 While I tend to prefer the four-door version of the E36 M3, this coupe is speaking to me. The only thing I'm not a fan of is the spoiler, which, for lack of a better term, spoils the lines of this M car. The E36 M3 isn't skyrocketing in price like the E30 M3, but there's been a noticeable uptick in prices for these cars. We saw a 1997 M3 Coupe with almost identical mileage sell for $15,500, which is right around where bidding is sitting as I am writing this. We'll be watching this one to see how much more this might bring, as a good example like this stands to be a good bellwether for E36 M3 values.
-Paul