The BMW 318ti, or Compact, as it was known, was a bit of a step child in the overall scheme of the 1990s BMW lineup. Attempting to snag buyers who were looking for a way to get into a BMW at a lesser price, the 318ti looked promising with it's rear drive chassis and looks that were indistinguishable from other E36 models forward of the A pillar. However, an engine that was a bit short on power, lower rent dashboard and a rear suspension that made use of the E30's semi trailing arms showed the lengths BMW was willing to dilute things to gain market share.
Still, I like the 318ti. When they first arrived on the scene, I wasn't too fond of the rear styling, as I thought it looked a bit ill-proportioned. Time, it seems, has been kind to this model but few good examples still exist. Here is a neat example with the sport package for sale in California.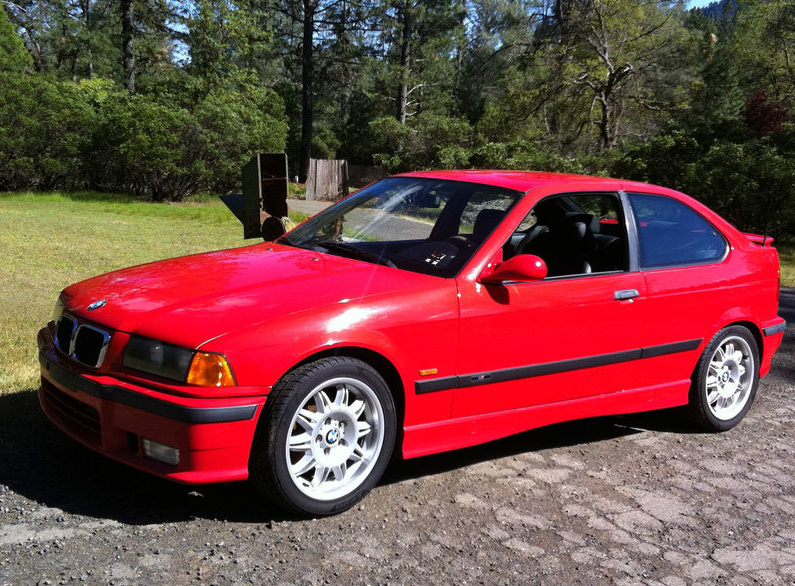 NOT A BASE OR ENTRY LEVEL "M" SPORT COUPE!!

"M" Wheels, "M" Spoiler, "M" Interior, "M" Sport Power Mirrors, "M" Badges Everywhere. Excellent Interior, Great Original Paint, Good Tires, New Sony Radio W/CD. 5 Speed Stick, Power Sunroof, Power Windows, Power Door Locks, Power Sport Mirrors. Recently serviced at 142,269.0 miles by Performance European.

1. Replaced catalytic converter
2. Replaced cam sensor
3. Replaced crankcase vent valve
4. Oil and filter changed
5. Installed new radiator
6. Replaced AC and main drive belts
7. Checked brake pads, Front 45%, Rear 90% of pads remaining
8. Checked brake fluid
9. Checked power steering fluid
10. Checked cooling system level and hose condition
11. Checked wiper/ washer system
12. Checked battery level and condition
13. Checked tire condition and set pressures
14. Lubricated door and hood hinges
15. Replaced air filter
16. Passed Smog in last 30 days

The Car is also listed locally on Cragslist. Winning buyer will be the first to make sucessful payment arrangements.
One thing I like about this 318ti is is rear spoiler. It adds a bit of visual length to the car and helps to round off its bobbed off tail. The asking price of $6,500 seems a little bit dear given the mileage. At $1,000 to $1,500 less, this car would work well as an efficient commuter car or an attractive alternative for autocrossing to the usual Miatas and Coopers that are out there tearing up the parking lot circuits.
-Paul