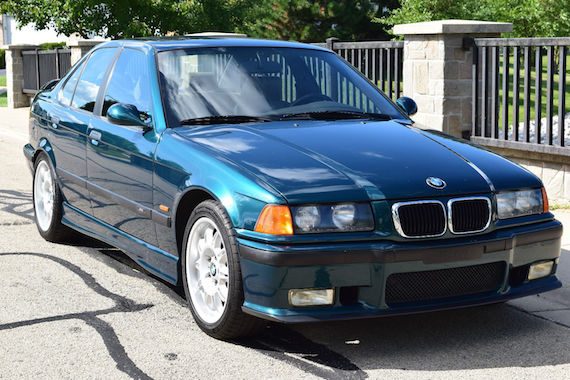 While the E36 M3 coupe is known to be a relatively quick, dynamic and fun car to drive, it's often hard to find a good one. That's largely because so many of the coupes have ended up as thrashed track-rods with dubious modifications. On the other hand when they do turn up for sale, the relatively uncommon sedan versions are more likely to be found in stock, unmolested condition and as such have tended to keep their value. This is probably because they're more likely to have been used for trips to the organic grocery store rather than to a track. (There's an Arctic Silver one with Yakima roof racks that I often see where I live in DC, parked near a place colloquially known as Whole Paycheck, and yes, I eye it jealously every time I see it). The two extra doors do not fundamentally alter the M3 package, except to add a healthy dose of everyday practicality, while the M-tech bodykit that distinguishes the Ms from ordinary cars lends the already handsome sedan body shape just the right amount of sporting aggression. I think these cars are well on their way to becoming a bit of a cult classic. This M3 has those two extra doors plus the all important 5-speed manual gearbox, making it an "M3/4/5" in enthusiast-speak.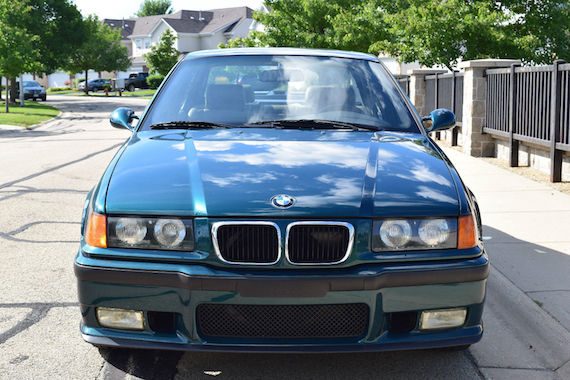 Year: 1998
Model: M3 Sedan
Engine: 3.2 liter inline-6
Transmission: 5-speed manual
Mileage: 69,050 mi
Price: Reserve auction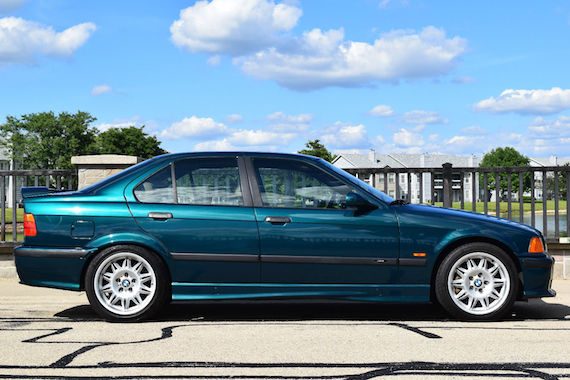 1998 BMW E36 M3/4/5 Boston Green/Magma

Rare Example of a 98′ E36 M3/4/5. 69K Original Miles! No Accidents! 1-Owner! BMWCCA Member. Clean Car-fax! Hard to Find Rare Sedan! OBD-2! Boston Green Over Magma Leather!

Well-Maintained M3! Fluids Regularly Flushed & Replaced! Inspection II Completed. Original BMW Double Spoke-II Wheels. Original BMW Keyless Entry w/ Alarm.

I have service records, books, brochures, and (3) keys w/ (2) remotes. Under the hood the car features the revolutionary S52 Power Plant (3.2L 240HP). These engines have been noted to be one of the best M engines produced by BMW M GmbH. The E36 M3 in the late 90's was known to be the car out performing every car in its class and is one of the most recognized M cars in the market place today. It is very tough to source another M3/4/5. I have a team of specialist that devote their time towards sourcing cars for my collection.

Vehicle information

VIN long WBSCD9322WEE08428
Type code CD93
Type M3 (USA)
Dev. series E36 (4)
Line 3
Body type LIM
Steering LL
Door count 4
Engine S52
Cubical capacity 3.20
Power 179
Transmision HECK
Gearbox MECH
Colour BOSTONGRUEN METALLIC (275)
Upholstery TEILLEDER W.N./MAGMA (N5AX)
Prod. date 1998-01-27

Order options
No. Description
243 AIRBAG FOR FRONT PASSENGER
260 SIDE AIRBAG DRIVER/FRT PASSENGER
401 SLIDING/VENT ROOF, ELECTRIC
473 ARMREST, FRONT
494 SEAT HEATING F DRIVER/FRONT PASSENGER
498 HEADRESTS IN REAR, MECHANIC. ADJUSTABLE
534 AUTOMATIC AIR CONDITIONING
540 CRUISE CONTROL
554 ON-BOARD COMPUTER
674 HIFI LOUDSPEAKER SYSTEM HARMAN KARDON
686 DIVERSITY-FUNCTION AERIAL
692 CD CHANGER I-BUS PREPARATION
818 MAIN BATTERY SWITCH
925 SHIPPING PROTECTION PACKAGE

Series options
No. Description
209 LIMITED SLIP DIFFERENTIAL (25%)
214 AUTOMATIC STABILITY CONTROL+TRACTION
314 HEATED WINDSCREEN WASHER NOZZLES
354 GREEN STRIPE WINDSCREEN
411 WINDOW LIFTS, ELECTRIC
441 SMOKERS PACKAGE
481 SPORT SEATS F DRIVER/FRONT PASSENGER
520 FOGLIGHTS
542 CHECK CONTROL
687 RADIO PREPARATION
710 M LEATHER STEERING WHEEL
850 ADD FUEL TANK FILLING FOR EXPORT
853 LANGUAGE VERSION ENGLISH

EXTRAS
– OEM BMW Keyless Entry & Alarm System
– OEM BMW Cup Holders
– OEM BMW Front Lip Spoiler
– Books, Manuals, Service Records

Recent Maintenance
– Inspection II Performed
– Cabin Air Filter Replaced
– New Springs, Shocks, Struts
– Alignment Performed
– Wheel/Tire Balance
– New Front R/L Brake Caliper
– New Front Brake Pads
– New Wear Sensors
– Oil Service Performed
– New Shifter Emblem
– BMW Masters Touch Leather Treatment Performed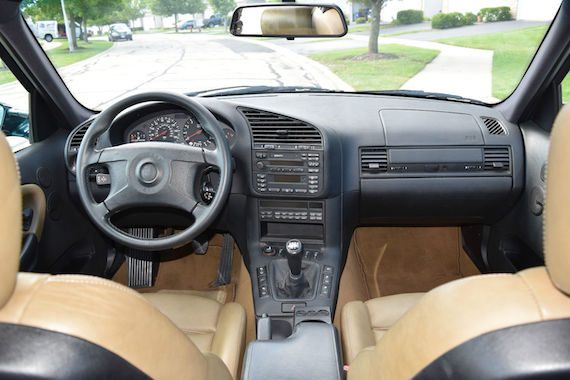 This car presents wonderfully in boston green (a criminally underrated BMW color, in my opinion) over a gorgeous and unusual magma leather interior, which is a sort of light saddle brown. Condition looks to be excellent, both inside and out, in keeping with the very low 65k miles on the odometer. Power comes from the North-America-spec S52 3.2 liter straight six engine making around 240 hp, which is sent to the back wheels through a slick 5-speed manual gearbox. Although this is disappointingly down on power when compared with the Euro-spec engine (the European S50B32 made about 316 hp), the dynamic and taut chassis combined with the manual transmission still make for a brisk and capable car that you can squeeze your (small) family into. Maintenance is reportedly up to date and apparently includes a recent "Inspection II" service. In an ideal world, I would prefer it without a rear decklid spoiler, but beggars can't be choosers.
In the small print the seller mentions that the car is listed locally for $24,900 so we can probably take that as a guide as to where the reserve is set. I think that's an outrageous sum of money to ask for an E36 M3, even a nice one like this, especially when you consider that would put you into a good condition E39 M5 (a far superior car). The market simply isn't there yet for the E36, which is sandwiched between its much more desirable E30 and E46 siblings. I think it's worth closer to $15k, assuming it's as nice in person as it appears in the ad.
– Craig