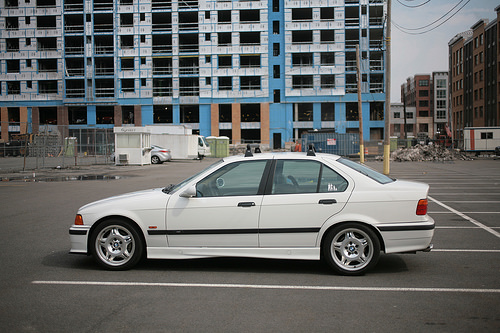 Our friends over at MotoringConBrio.com have impeccable taste in cars, as evidenced by their unique photo choices in the weekly "Assorted Grab Bag of Things We Like." They have a way of reinforcing my car tastes, making me constantly say "Yes! Exactly! I didn't think anyone else thought quite like that!" while often expanding my horizons, like thinking "Oh damn, you're right: that French car IS hot." Case in point; their current garage holds a Euro-bumpered E28 M5 and an E36 M3 sedan. If this isn't your first time reading this blog, I need not explain more.
Well, apparently the time has come to focus the collection and the E36 didn't make the cut. A hesitant seller means a lucky buyer, and whoever snags this E36 is among the latter. A clean daily driver with outstanding performance, it exemplifies this model's aptitude for carving corners with a baby seat in the back. Well-priced with middling miles, MCB writes a description like someone who has read and critiqued a hell of a lot of car ads; succinct with all pertinent info and full honesty. This car won't last long.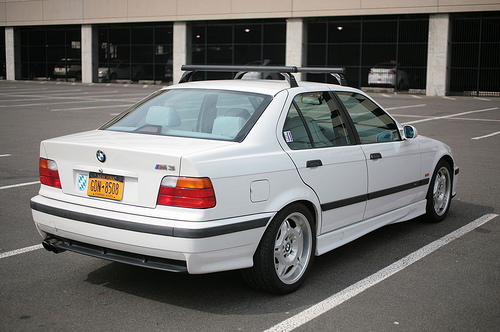 Year: 1998
Model: M3 Sedan
Engine: 3.2 liter inline-6
Transmission: 5-speed manual
Mileage: 160,000 mi
Price: $10,000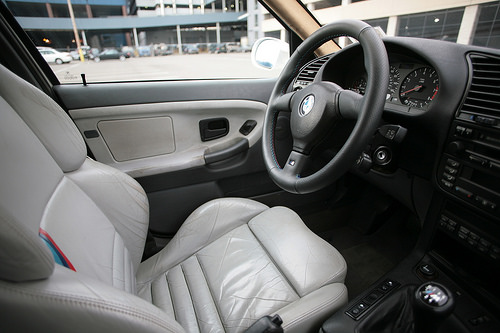 It is with some sadness that I offer my 1998 M3 sedan for sale. It is a brilliant car and has been nothing but a pleasure to own, but given my personal circumstances, I've decided that the time has come to let someone else enjoy it.

The basics:

1998 E36 M3 sedan with 5-speed manual transmission
VIN WBSCD9328WEE08868, registered on the BMW M Registry
164k miles
Alpine white exterior
Dove gray interior
"Vader" manual sport seats
Recovered M-Tech II steering wheel — nice and chunky, looks and feels superb
Two sets of OEM wheels: staggered forged M Double-Spoke "LTWs" on Hankook Ventus V12s with plenty of tread remaining, square M Contours on brand new General winter tires
Corsa RSC36 exhaust. Outstanding sound, but very civil when you want it to be.
OEM roof rack (base bars)
95% stock/unmolested. Enthusiast owned since 2007, but by responsible adult types, not kids. Maintenance records documented in an Excel file going back to that date, along with receipts. Used as an occasional family car during my 16 months and 4,000 miles of ownership. Garage-kept.
Cooling system done at 98k miles
Approximately $5,000 in parts/labor spent on beautifying, upgrading, and maintaining the car during my ownership, including recent $1,100 in maintenance
Engine compression just tested at 205-210 PSI all around
Very reliable car, has never left me stranded. Wouldn't hesitate to drive cross-country in it today with wife and kids in tow. Perfect candidate for flying in and driving home.

Negatives:

Shifter doesn't return to center. This is an issue I inherited from the PO, and initially I had vowed to address it immediately. In reality, though, it ended up bothering me a lot less than I thought it would, and I got used to it pretty quickly. Climate control makes an intermittent buzzing noise. Based on my preliminary research, I am led to believe that this is fairly common in the E36 chassis, but haven't had a chance to track it down. PO's DIY suede headliner is presentable, but aftermarket and not exactly done to factory fit and finish (e.g., there are staples visible in some areas). Headliner was also installed in such a way that it doesn't open when the sunroof is in tilt mode (it opens and closes no problem in standard mode). Wiper fluid hose has a pinhole leak that's currently plugged using tape. Rear bumper has some touch-up paint that is noticeable from close up.

Disclosure:

In the interest of full transparency, in December 2013 the car was involved in a minor weather-related parking accident in which the front bumper, radiator support, and associated hardware were damaged (no other body panels were affected). These were professionally replaced with new OEM parts. The repairs cost approximately $4,000 and were paid for by the insurance company. Insurance documents itemizing the replacement parts and a recent Carfax (which doesn't show the accident, whatever the reason) are available upon request.

The car looks and drives as well as it did prior to the incident.

Reason for selling, contact information, and asking price:

I live in Manhattan NYC, where car ownership is rare and driving opportunities are infrequent (just about everything is accessed via foot or via subway including work, shopping, and entertainment). I don't really need this car, and have finally decided to sell it.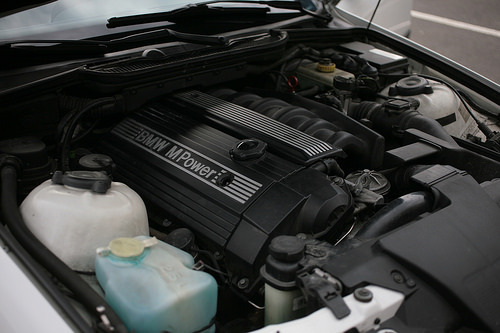 If my barn were much bigger than my current garage-and-concrete-pad arrangement, I would like an M3 sedan in it. On my way home from dinner where I got word from MCB about the sale I saw a very clean white E36 M3 sedan parked outside a local BMW shop. Kismet or not, it was a nice reminder of the attractiveness of these cars. It may seem expendable in the face of rare Bimmers, but it's hard to deny the everyday joy and practicality of the M3 Sedan. Buying one from a well-informed and respectful enthusiast seems as much as checklist item as maintenance history.
-NR