The second generation of the Audi S4 debuted in North America in late 1999 for the 2000 model year, and it was an instant hit. With 260bhp from the 2.7l bi-turbo V6, this was the ultimate in mid-sized performance sedans. While these cars are impressive off the lot, time has not proven to be the B5 S4's friend, the 2.7T engine has proven to be quirky, and these cars were rarely driven gently resulting in a scarce market for nice, well-kept B5s.  The problematic 2.7T was helped quite a bit with the 2001.5 revision of the S4 (9/00 and later).  This revision offered revised turbos, the F-Hose was removed, revised throttle body boots and clamps, and the addition of Audi's ESP (electronic stability control) system.  These revisions make the 2001.5 and newer B5 S4s more desirable than the earlier B5s.
This beautiful silver S4 for sale in Santa Monica, CA, is one of the cleanest un-molested examples I've seen for sale in a while, this very low mileage, garage kept example has an exceptional service history, and best of all it's bone stock.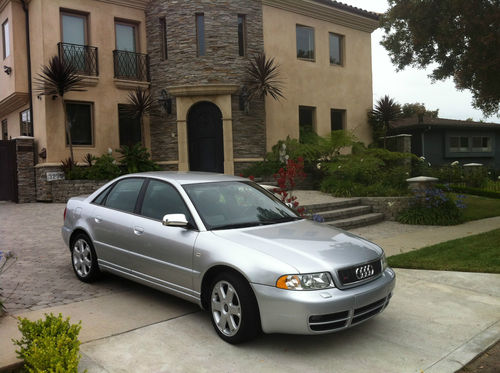 Very clean 2001 Audi S4 with 6 speed manual transmission V6 BI-TURBO engine. Car has less than 49k miles on her, making her a very unusual find. Immaculately maintained and looks and drives great. I think it almost every option Audi offered at the time. As with all S4's, it's got the Audi quattro all wheel drive system. It is all stock, WITH THE EXECUTIVE SPORT PACKAGE ITS A PERFECT CAR. ONE OWNER , ALL RECORDS, ALL OPTIONS.
Being around these cars a lot, I tend to steer clear of the 2.7T power-plant, as it's needier than most other performance engines, but this car with its low mileage (48K), and great maintenanvce history is a very attractive package.  This S4 is in exceptional shape, and pretty hard to come by in its stock configuration.  This car should fetch a good price, however, I wouldn't be a buyer much over $11,000.
-Brian