The Audi 100 and 200, known initially as the 5000 here in the US market, was a car ahead of its time when it debuted in 1982. With flush mounted glass, integrated bumpers and smooth body lines, this car benefitted from a low coefficient of drag. By 1990, other manufacturers had caught up, and so Audi decided to send the 200 off with a bang and dropped a 20 valve 5 cylinder turbocharged engine in it, which had 217 horsepower and was good for under seven second 0-60 times. Audi offered this engine in both the 200 sedan and Avant. At the same time this car appeared on the scene, Audi was suffering in the wake of the unintended acceleration scandal which saw it's sales figures reach record lows in this very model year – around 12,000 cars.
There have been estimates as low as 150 of these Turbo Quattro Avants were brought into the US, some as high as 1,000. Considering some may not be roadworthy anymore, we're dealing with a rare car here. Quite unfortunate, given how good of a performer the 200 Turbo Quattro Avant was. This particular car is for sale in Oregon and looks great in Lago Blue.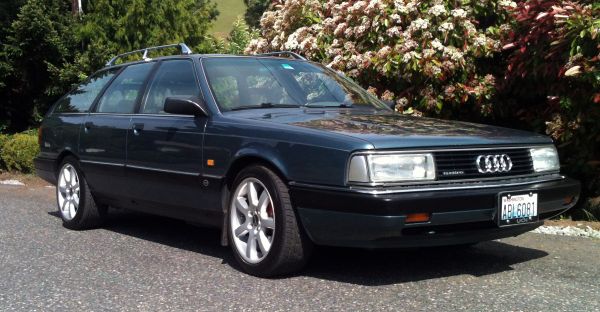 1991 Audi 200 turbo quattro Avant. This is an amazing example of a 1 year only vehicle that is both fun and very practicle. 215,000 well kept miles. Just had the timing belt done, new brake accumulater (bomb), complete tuneup and new battery. This is the first year of the 20 valve turbo motor and with the stage II chip and 3 inch custom exhaust it is running at just about 280hp. We get a constant 20mpg and have seen a best tank of freeway driving of 26mpg. The interior is in excellent shape with only some padding break down in the drivers side bolster of the drivers side sport seat. The factory sport seats are excellent and the seat adjustment memory panel functions great as do the original seat heaters. It also has a high end Eclipse stereo with iPod connection.

The only two things that aren't operating well is that the sunroof motor is very slow and the airbag light is on due to the clockspring being worn. Other mods include euro lights with relays, H&R sport springs with Koni adjustable struts, upper strut bar for extra chassis stiffness, Porsche big red brake calipers in the front, 17″ Ronal R-28 wheels with low mileage 215/50/17 Toyo Proxes4 tires. The wheels have some slight curbage from daily driving but present well. There is also a set of 16″ Avus style wheels mounted with fairly low mile studded snow tires. The traction of this car with the 4 wheel drive and studded snows is absolutely amazing and this is one of the last cars with the center diff lock and the ABS switch to turn off the ABS. I also have plenty of high quality Mann and Mahle oil filters and the three volume set of factory manuals that will go with the sale.

We have put 100,000 miles on this car with virtually no problems and still have a hard time giving it up since there is very little out there that compares (supposedly less than 200 of these 91 20 valve turbo wagons were brought into the states). This car will pull hard to over 130mph (not that I have done that) gets over 20mpg and can easily carry a family of 4 and a dog in complete luxury in any weather condition and all of that for only $6500 obo.
It's refreshing to see a Craigslist ad so descriptive and even though this Avant has high mileage, it's the year to have and has clearly been owned and appreciated by an enthusiast. This same car was advertised back in May at $7,500. Given the mileage, I felt it was a bit steep at this time, but the owner seems motivated to sell and open to offers. If I had to guess, somewhere between $5,000 to $5,500 would probably be a reasonable offer.
-Paul