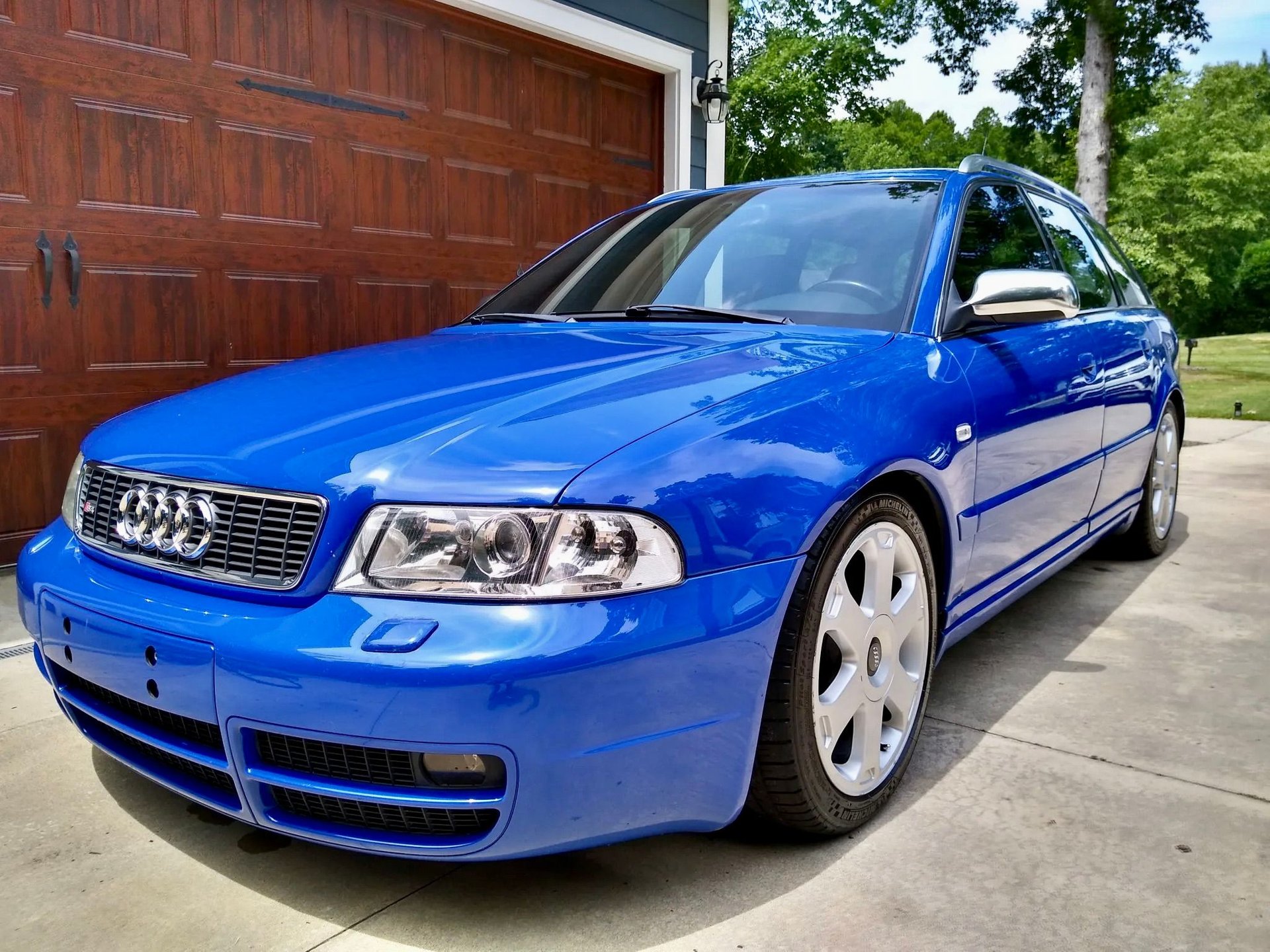 Audi brought the S4 Avant to the United States for the first time in 2001. It joined the sedan lineup and offered a follow-up to the large chassis S6 Avant from 1995. This was actually the second S4 Avant, as Europeans had enjoyed the C4-based creation in the early 90s. Audi's renaming convention therefore created a successor to the B4-based S2 Avant. Instead of the traditional inline-5 motivation, though, Audi had developed a new 2.7 liter version of its V6. With a K03 turbocharger strapped to each side, the APB produced 250 horsepower at 5800 rpms and 258 lb.ft of torque at only 1850 revs. Like all the B5s, Audi's new generation of quattro used a T2 Torsen center differential and relied upon an electronic rear differential utilizing the ABS sensors. The B5 chassis used the same technology on the front differential as well and was capable of independently braking each front wheel to try to sort the car out through its dynamic stability program.
But the real fun was that it was available as an Avant. Just over 1,500 were claimed imported between 2001 and 2002 model years, with about 600 of those being Tiptronic-equipped examples. Of the 107 ordered in Nogaro Blue Pearl Effect for the model year, this is one of 67 manuals – and making it even more rare, it's also got the Nogaro Alcantara interior. Generally, this is the most highly sought US-specification B5 offered here:
Year: 2001
Model: S4 Avant
VIN: WAUXD68D61A099915
Engine: 2.7-liter twin-turbocharged V6
Transmission: 6-speed manual
Mileage: 104,000 mi
Location: Charles City, Virginia
Price: $39,900 Buy It Now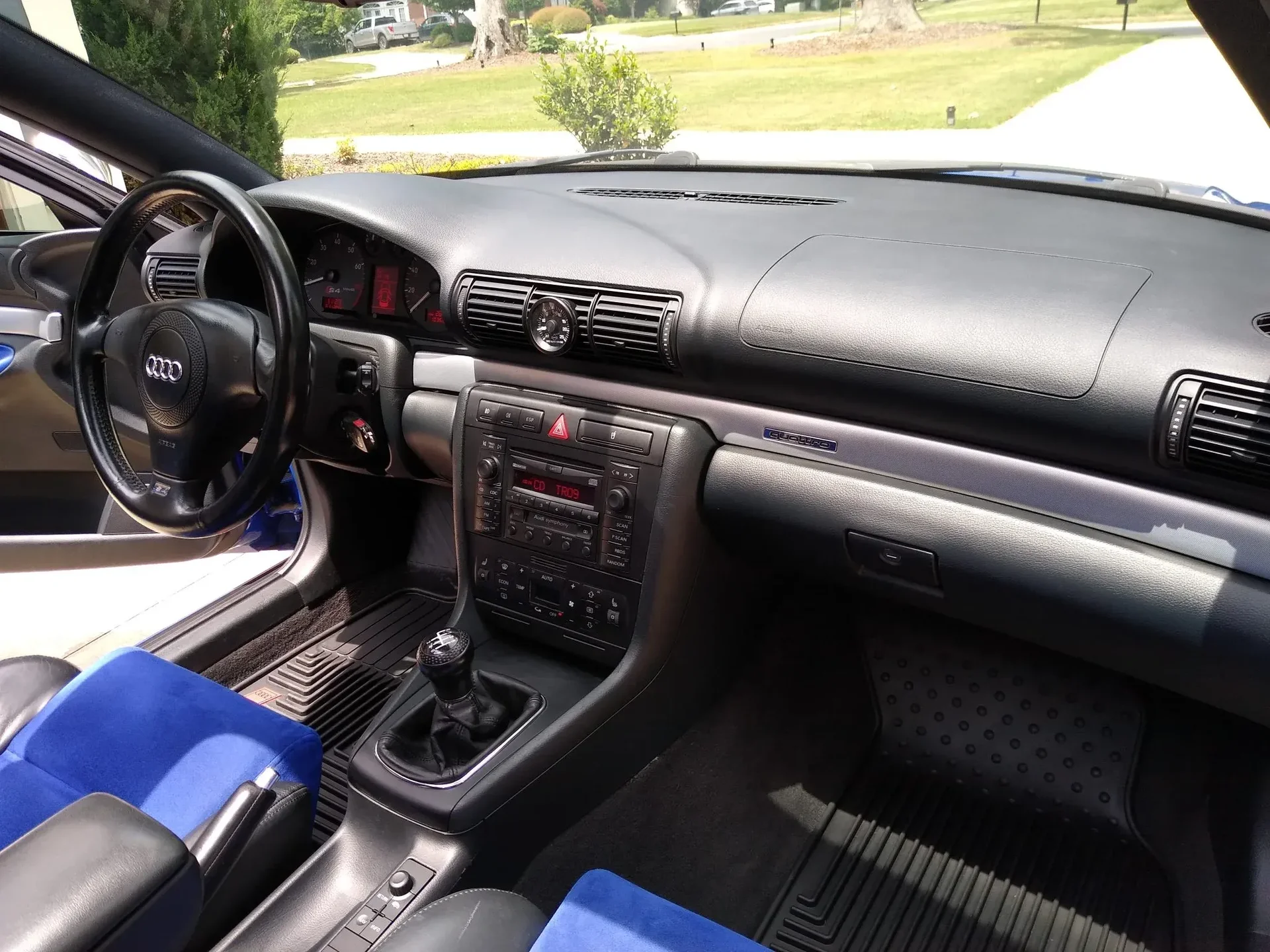 Please note this is a pre-listing for this gorgeous Audi S4. The purpose of the pre-listing is to let the general public know of new inventory that we just got in. During the next couple weeks this vehicle will be prepared for retail sale with us going through it top to bottom both in our service department and our reconditioning department. Please be patient during this time the pictures provided below show the vehicle just as we received it once we are finished reconditioning the vehicle we will add new pictures and video. Please keep in mind the vehicle is for sale now and more often than not our vehicle cell during this pre-listing phase. A car like this is very rare and it is not every day they come to market.

FINISHED IN THE RARE AND BEAUTIFUL NOGARO BLUE PEARL EXTERIOR PAINT OVER ONYX LEATHER AND BLUE MICROSUEDE INTERIOR!! GORGEOUS 17″ AVUS WHEELS!! MICHELIN PILOT SPORT A/S TIRES!!

Thanks for viewing this absolutely amazing 2001 Audi S4 Avant 6 Speed finished in Nogaro Blue Pearl offered by Davis AutoSports!!!! You will NOT find another S4 like this one on the market. First and foremost this Audi has the most impressive service history, this Audi has been serviced since day 1 of ownership. This Audi received every single recommended service along with many others. Its very clear that this Audi was enthusiast owned and maintained. These Avants are getting near impossible to find more so in this condition all while paired with a 6 Speed!!! When considered this Audi has only 104k miles, impeccable service history, rare 6 Speed and superb condition, that makes this Audi truly a great find.

WE ALSO JUST PERFORMED OUR FULL PAINT CORRECTION SERVICE WHICH IS A 4 DAY PROCESS WITH 2 RECON PROFESSIONALS – PAINT SHINES LIKE BRAND NEW !!!!

The previous owner added just the right touches to bring this Audi to life but without sacrificing reliability.

NEW CLUTCH
APR EXHAUST
BAILEY DIVERTER VALVES
VOGTLAND COILOVERS
ISSPRO BOOST GAUGE
AND MORE!!

Exterior Condition

The exterior of this Audi is simply gorgeous. The entire exterior received a FULL paint correction and looks near new. The body is 100% FREE from dents and dings, there is NOT 1 Single dent/ding on the entire exterior. The paint shines like new, although there are a handful of paint chips around the exterior as with any vehicle of this age. The wheels are very clean as shown. The undercarriage is rust free and looks great.

Interior Condition

The interior of this Audi is in amazing condition for the year and mileage. The carpet looks great for they year and miles and show no stains thanks to the Audi all weather floor mats which are included. The seats seats look great for the year and mileage. The photos below will show EVERY part of the interior so you can see for yourself how clean it is. There are zero signs, odors, burns, or use of cigarette lighters, this was a 100% none smoker car. The interior was and is free of any pet hair or odors. For the year, you simply won't find a nicer interior.

Drivability

This car truly drives like a dream. The 2.7 Twin Turbo Engine is paired perfectly with the very smooth 6 Speed manual transmission. The car starts up perfectly, and the engine is very smooth and the NEW clutch feels great. All power components inside work as they should. The brakes are nice and tight with no vibration while applying them firmly.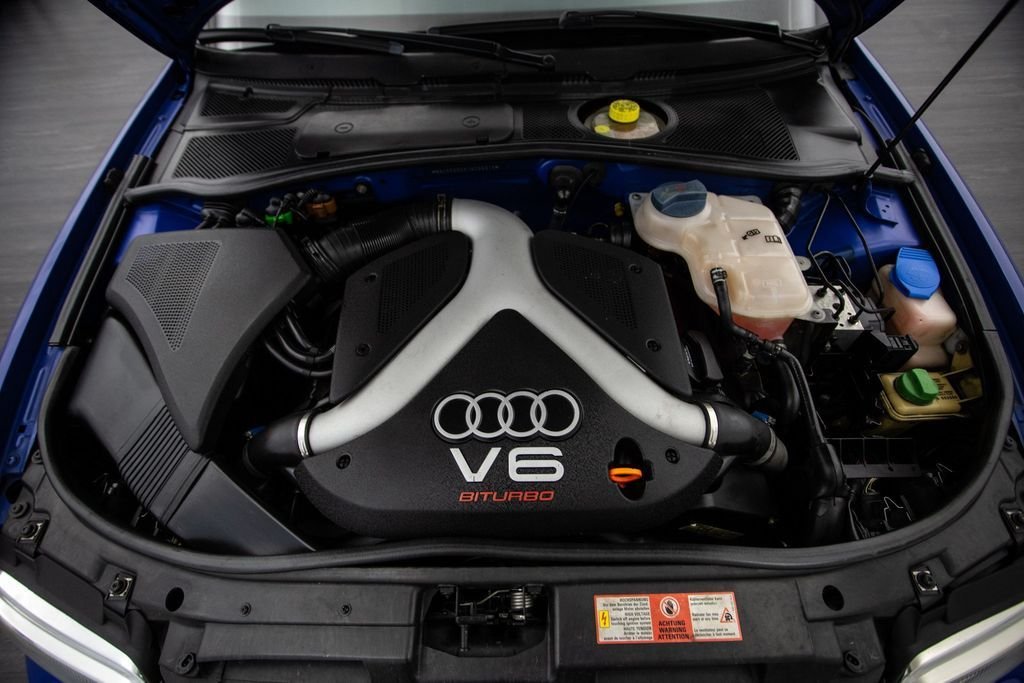 What a great-looking package. Mods are minimal and condition is top. There are records, mileage is below average, and as mentioned – this is about as desirable a package as you could get in the US. Then there's the price. Holy moly, I was expecting it to be expensive but I wasn't ready for $40k. It sent me on a hunt for the highest-priced example I could find that sold…which was, perhaps unsurprisingly, this car back in 2022:
There you realize that these pictures are a year old and from the prior owner, who seems to be the one that did all the heavy lifting here. That means you're paying an extra 10k for paint correction. That's a pretty hard pill to swallow, frankly. However, if you want what is one of the best US-spec S4 Avants out there, the choices are slim.
-Carter