A wolf in sheeps clothing, the 2002 Audi S6 looks like your every day family hauler. A closer look reveals wider fenders, aero lower door blades, brushed aluminum treatments and larger Avus wheels. Now there's no mistaking what this car truly is, a hot rod.
One of the last years for S6 Avants, the C5 was the highest evolution of the breed. With more output from the 4.2L V8 (340 bhp and 310 lb/ft) along with the aesthetic upgrades, the S6 went on a diet. With all aluminum suspension, fenders and hood, the S6 stays just a touch heavier than the standard V6 A6 Avant. The S6 could make the run to 60 in 6.5 seconds. No small feat for a car weighing 2 tons.
All the performance certainly comes at a cost. The S6's achilles heel is the 5-speed tiptronic slushbox, notorious for being one of the worst gearboxes Audi ever coupled to its 4.2. The shifting is vague at best and these gearboxes tend to have valve body issues. This grey over ecru S6 for sale in New Hampshire has the potential to be a great daily driver…with a kick.
Year:Â 2002
Model:Â S6
Engine: 4.2 liter V8
Transmission: 5-speed automatic
Mileage:Â 161,000 mi
Price: $8,600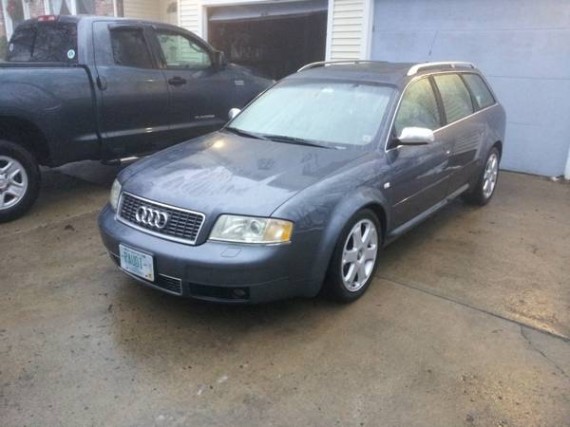 I have a beautiful 2002 Audi S6 for sale with 161,000 miles on it. This is a rare car and it is in excellent condition. It looks fantastic, drives fantastic and is a reliable and fun alternative to a minivan! Comes with original wheels with all-season tires plus a set of nearly new snow tires mounted on alloy wheels.

Differences between the A6 and the S6, the S6 has:
4.2 V8 with 340 HP that sings to 7,200 RPM
Active motor mounts
Aluminum sub frame, suspension uprights, hood, and front fenders
Larger brakes
Flared fenders
255/40/17 tires are stock (and wider tires will fit)
This car has the Sport interior with more bolstered seats, alcantara seat insers and alcantara headliner

Other features:
Heated front and rear seats, both front fully power adjustable
Dual zone climate control
Symphony stereo with subwoofer and in-dash six disc changer
Power moonroof
Heated mirrors and washers
4-channel ABS with defeatable traction and stability control
Tiptronic auto with sport mode and manual shift mode
Auto dimming mirrors with integrated compass

What this car needs:
Drivers door shuts when you close it normally, but if you slam it shut, it bounces open one notch (not all the way open)
Drivers side mirror is leaking the dimming fluid
Center console cupholder does not work (but the dash cupholder works)
The front paint finish worn from dust and rocks from highway driving
The summer tires are mostly worn and will need replacement soon.

That's it. This car will pass inspection and runs and drives beautifully and looks really nice. It needs nothing other than those minor items mentioned above. I've maintained and repaired items on this car since I purchased it. Mobile 1 synthetic only. I also have service records from the previous owner that detail previous work.

$8,900 or best offer.
Email or call Erik at 603-674-3913
This S6 offers a reasonable deal for anyone in the market for a grocery getter that gets down to business. The values of these cars with 161K miles is around $9000 on the high side. This car seems to be well kept, but as with any 10 year old car, warrants a good looking over. With a bit of negotiating, this car would be well bought around $8,000.
-Brian