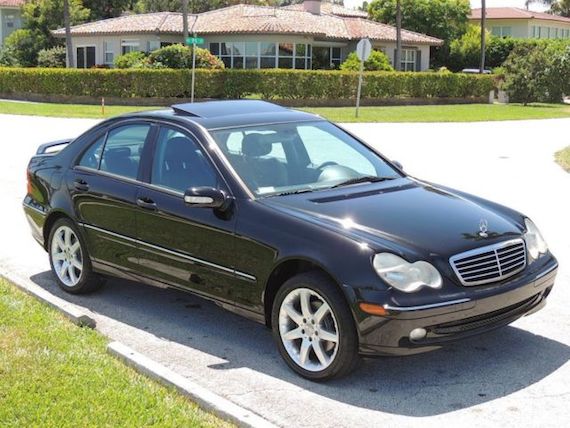 Almost immediately after the C class was introduced for the 1994 model year, plans were being drawn up for its successor, the W203, which wouldn't appear until the turn of the century. When it debuted, the styling was a bit of a departure from the old W202 C class, with headlamps adapted from the W210 E class style for this smaller package. The car was panned for it's interior that seemed a bit low-rent in comparison to its predecessor and a level of quality that seemed out of sync with what the marque stood for. Nevertheless, this was a popular car for Mercedes-Benz, with over two million sold over the course of seven model years. In 2003, Mercedes dropped their 1.8 liter supercharged four cylinder into the C class sedan to form this car, the C230 Sport Sedan. This example for sale in Miami is one of the rare ones equipped with the 6-speed manual gearbox.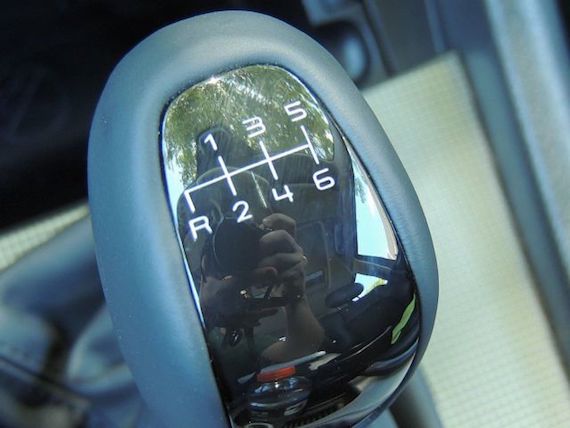 Year: 2003
Model: C230 Sport
Engine: 1.8 liter supercharged inline-4
Transmission: 6-speed manual
Mileage: 130,139 mi
Price: $6,495 Buy It Now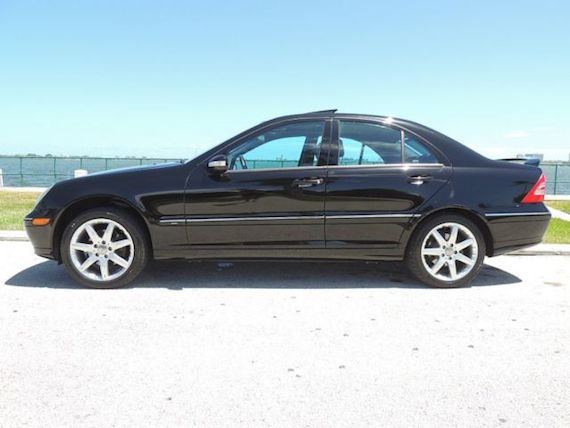 This is your chance to get an extremely clean 2003 Mercedes C230 Kompressor luxury sport sedan!! This is a CarFax certified Florida vehicle that has ONLY 130k well maintained, garage kept miles! THAT'S ONLY 12,000 MILES PER YEAR!! The exterior is finished in a stunning Black Clearcoat that is shiny and in great overall condition and complimented with an Charcoal leather interior that shows only minimal wear. This C Class features a powerful 1.8L Supercharged Inline-4 capable of 189hp and is mated to a RARE 6-speed MANUAL transmission that truly brings this German power-plant to life!! This motor is quick on its feet but still gets a very efficient 18/28MPG!

The interior of the vehicle is very clean and well appointed with dual 8-way power seats. The rear seat passengers are not left out and kept very comfortable with plenty of leg and head room. The driver is treated to a leather trimmed steering wheel with controls to the Factory Navigation, 7-speaker Premium audio system, On-board computer and cruise control right at their fingertips! The vehicle is equipped with numerous safety and convenience features that include but are not limited to: one-touch Power glass sunroof, Factory Sport Package, HomeLink, Power Rear Window Sunshade, Factory CD Changer in the glovebox and Keyless Entry. The vehicle is also equipped with 4 wheel ABS, Front side impact airbags, Fog lamps, Sporty 17" alloy wheels and factory alarm system. This C230 has a set of 225/45/17 tires that have about 40% remaining on the front, 85% on the rear and a virtually unused full size spare in the trunk. Additionally, the car will come with (1) master/remote key, a complete set of Navigation Discs and a complete set of books.

Overall, the car looks fantastic! You would never know how many miles the car had unless you looked at the odometer!! It's been garage kept with maintenance performed according to manufacturer specifications and it's CarFax certified with NO accidents & only owned in the sunny south! On the exterior, the car shows very nicely!! There are only a few minor issues: The paint on the top of the front bumper has begun to oxidize, there is an approx 4″ scratch on the left/rear wheel arch, there is a vertical crease on the right/rear corner of the rear bumper and there are some scuff marks on the bottom of the front bumper. Please keep in mind that although the car shows well above average, it is a 11 year old black vehicle that does have average swirl marks & minor imperfections through out. Please keep in mind that these are very close up pictures and the spots may not be as large as they may appear. On the interior: it looks great with just some minor wear on the drivers seat bolster and the headliner is begining to sag in the left/rear corner. Additionally, the rolling lid for the center cupholder is missing the lead piece thus making the lid unuseable. As a bonus for the new owner, we have also just installed a brand new set of Genuine Mercedes carpeted floormats to help keep the carpets clean! As far as the electronics, everything is in working order; the A/C is ice cold, the windows, mirrors, sunroof and radio all work as they should!!

Mechanically: the car needs nothing!! We just had an EXTENSIVE scope of maintenance done to the car by a local Mercedes specialist that includes:

Mobil 1 Synthetic oil + filter change
Replaced the complete Front & Rear brakes (pads + rotors+sensors)
Replaced the Brake Booster Vaccum Pump
Replaced the Front Sway Bar Links & Left Tie Rod
Replaced the Control Arm Bushings
Installed a new Turn Signal Switch on Column
Replaced (1) A/C Stepper Motor + Actuator Levers
Installed new NGK Spark Plugs
Replaced (4) Breather Hoses
Installed a new Serpentine Belt + Idler Pulley + Belt Tensioner
Installed new Engine Air + Cabin Air Filters & new Fuel Filter
Installed new Wiper Blades front
Installed a new set of Genuine Mercedes Floormats
Had the vehicle FULLY Deatiled

All in, here was a total of $3,000+ worth of work JUST done to the car!! As you can see, we have done a significant amount of maintenance to this C-Class allowing the lucky new owner to enjoy the car from day 1! There may be other C-Class' available but NONE with this much service already done!! This sedan handles tight and has plenty of power throughout the gears at surface street speeds and on up to 75mph highway speeds!! We have put about 400 miles on this Mercedes and can verify that it runs strong, the transmission shifts smooth and it has no warning lights on in the dash! Please refer to the 100 photos that we have listed with the car to see the great condition & tons of features this beautiful C230 has to offer!! Our details on condition are not meant to scare buyers but rather to make you feel more comfortable about knowing exactly what you are getting! We pride ourselves in describing our vehicles as accurately as possible to avoid any unexpected surprises, you will get exactly what you see! This car will be a GREAT DEAL for its lucky new owner!! If you have any questions, please feel free to call or email us before bidding. I can be reached via phone at (305) 389-7987.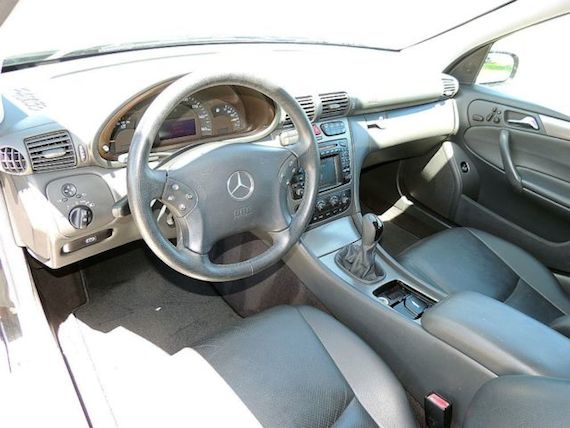 At just under $6,500, you could do a lot worse in the used car market than this C230. Sure, this W203 was built during the dark ages of Mercedes-Build quality, but you're still getting a supercharged German sports sedan with a 6-speed manual for less than a slightly used Civic or Corolla. One thing I'm not too crazy about is the trunk spoiler. I tend to think it spoils the lines of this sports sedan, no pun intended. I owned a 2007 C230 with the 2.5 liter V6 and it was a perfectly fine cruiser. I did drive a 2005 version of my car, which was the last year to come equipped with this supercharged four cylinder. It certainly changed the character of the car. It didn't feel much slower, but there was a more guttural, less refined nature under acceleration. It really depends on personal preference, which one you choose. The later C230 sports have the six cylinder smoothness with an upgraded interior. If you can stand some of the cheapness inside, and enjoy the surge of the Kompressor, this car could be for you.
-Paul