I'm a Benz guy through and through, but in one bay of my garage sits an E90 330 and even I have to admit that where Mercedes got away from some of their timeless designs in the late 1990s and early 2000s on their most popular models, BMW's baseline 3er continued to be a design that will age well.
This E46 330i has a design over a decade old and it still hits the right notes.
Year: 2004
Model: 330i ZHP Supercharged
Engine: 3.0 inline 6
Transmission: 6-speed manual
Mileage: 46,500 miles
Price:  No reserve auction opening price: $21,000, Buy-It-Now: $24,900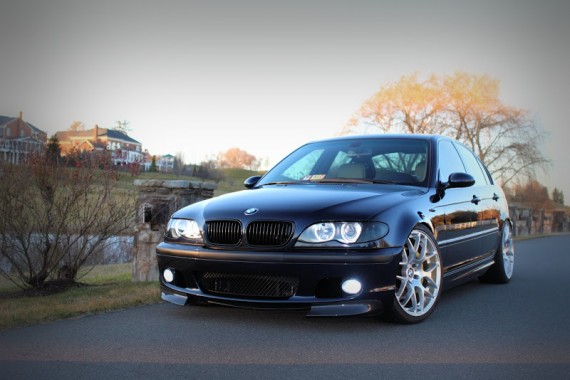 This car has seen some very tasteful modifications to set it out from the crowd.
The photos here don't completely do this car justice as the Orient Blue paint is coming across as black in the shadow and this really is a nice shade of deep blue. There are plenty of other photos of this car on the net if you search around.
The ESS Tuning TS2 Supercharger is the gem of this piece and with some of the other mods should up the horsepower to north of the 350 ponies range. That also is about a $7,000 kit just for the parts if you were to buy it new from ESS.
Unlike some tuned cars out there this one has the complete package with uprated suspension bushings, strut and sway bars to help the car really perform in more than a straight line. A shorter 3.46 rear diff makes sure this car jumps off line. The 3.46 upgraded is a common one as it is a stock part from automatic BMWs, the manuals got taller gearing. So while this will cut a few MPH off the top end you are getting about 15% shorter ratio with the swap.
The car is setup to shift as well with a BMW Performance short shift kit with double shear selector rod and an extended clutch pedal bump stop.
A Magnaflow exhaust bolted to headers ensure the car sounds right and surely frees up more power as does the BMW Performance intake.
The full list of upgrades from the seller includes:
Details:
ESS TS2 Supercharger
VMR V710 19″ staggered wheels
KW Coilovers
3.46 differential
BMW Performance Big Brake Kit
BMW Performance Strut Brace
BMW Performance Intake
AEM Boost Guage
HID Driving Lights
Stainless Steel Braid Brake Lines
OEM M3 Mirrors
OEM M3 RTAB w/ Vorshlag Limiters
Meyle HD FCAB
Rogue Engineering Rear Shock Mount
EMP Stewart waterpump
Turner Motorsport Sway Bars w/ adj. links
BMW Performance Short Shift Kit/DSSR
BMW Performance Carbon Fiber Splitters
Swain Tech Coated Magnaflow Headers
Magnaflow exhaust
A lot of work has gone into this car and it looks to have been done right. If you don't like thrill of making the mods yourself here is an opportunity to get a turnkey package and save some dollars from what it would cost to do this from scratch. At $21,000 you are looking at twice what a decent daily driver 330i will run you. Despite the mods and the nice look I suspect this won't sell at this price as folks looking to spend that kind of money are moving to the E90 or high mileage E46 M3 market. If the price could get down under $20k it would look a bit more appealing for someone to actually make the commitment. We'll see if it gets any bids, nice car that will be a blast to drive regardless.
~Evan