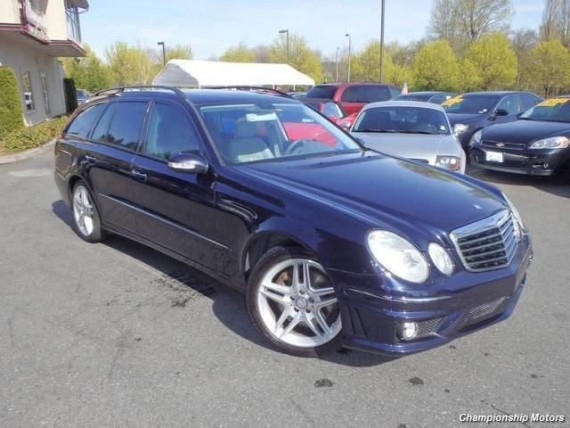 If yesterday's 2008 E350 wasn't quite doing it for you, then perhaps stepping back four years will get you on board with the long roof Benz program. This 2004 E500 4Matic Touring looks crisp as can be in Capri Blue and the grey leather interior with dark wood accents really ties the whole package together. I think this is one of the best color combinations you can get on these or just about any car really. The polished silver wheels and chrome grille isn't bothersome as usual when paired with this paint , a testament to just how nice a shade of blue it is. Given that the car has had 4 owners, all whom have lived in climates known to be less than friendly to cars so I'd look very closely for pitting and chips in the paint. It appears to be in the claimed "Like New" condition but until you see it in person, you never know.
What is clear is that the original buyer wanted to maximize the sporting aspirations of this 5.0L V8 powered wagon. AMG wheels and a factory installed AMG bumper do give this example a tastefully aggressive look. The aforementioned lump has just enough juice to backup the attitude, 302hp from a 5.0L engine isn't the best hp per litre ratio, especially in a 4,320 lb car. However, with 339lb-ft of torque and a 0-60 time of 5.9 seconds, I don't think you or your passengers would say the car is slow, especially if the folks in the rear facing third row seat.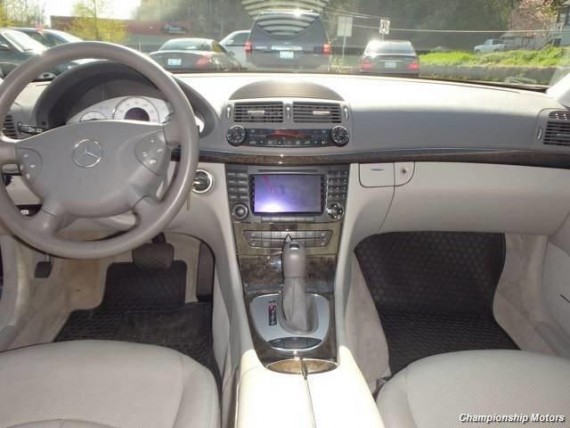 Year: 2004
Model: E500 4Matic Estate
Engine: 5.0 liter V-8
Transmission: 5-speed automatic
Mileage: 104,276 mi
Price: $10,950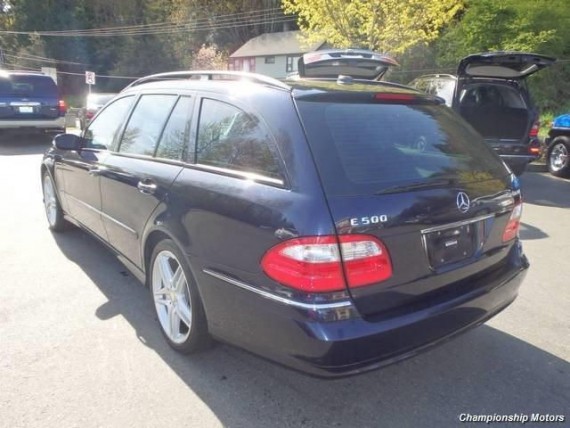 RARE AND HARD TO FIND 2004 MERCEDES-BENZ E500 4MATIC AWD SPORT WAGON FULLY LOADED AND IN LIKE-NEW CONDITION INSIDE AND OUT! This is a very rare vehicle, especially in this great condition and so well equipped. It is loaded with All Wheel Drive, 3rd Row Seating Option (super rare for an E-Class), Factory Sport Package, Adjustable Active Sport Seats with Massaging Function, Navigation, Power Closing Trunk, Heated Sport Seats and More! This car has tons of extras and upgrades, including and Upgraded Factory AMG Front Bumper, AMG Sport Wheels Wrapped in Fresh Rubber, Ski/Bike Racks and the Original Factory Bumper. This car has a perfect History and clean Car Fax Report showing no accidents or other unwanted incidents, and tons of service records including Spark Plugs and Brakes! Don't wait, these cars dont come along every day in this type of condition and at such a great value. Please give us a call at 888-395-4358 for more information, or for your chance to view this beauty before it's gone. Thanks for looking! Championship Motors is Committed to Value. Log onto championshipmotors.com for a more complete look.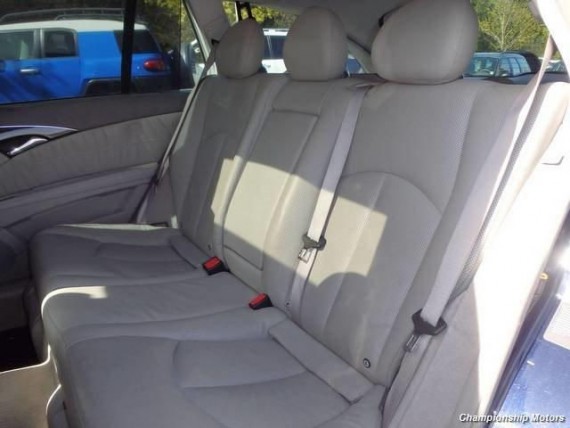 Aside from the E500 not being the most efficient wagon for stoplight drag racers, are there other drawbacks? Of course there are, it's a post 1995 Mercedes. The '04 models W211s are get a particularly bad rap for having a boatload of electrical problems and the adaptive ride control system had issues as well. Going through the CarFax you'll see that a number of things were replaced under the stewardship of the 2nd owner, mostly suspension bits so that's somewhat comforting. Additionally the car was regularly taken in for checkups by all 4 owners and as bad as this sounds, at 104,276 more things should have failed by now. The fact that they haven't, well maybe this is one of the few '04 W211s that won't have a nightmare SBC unit failure or maybe it's just lurking in there, waiting to attack now that the car is out of the extended warranty period. For $10,950 could be worth it for the automatically adjusting sport seats, I've heard they're delightful when cornering.
Cheers,
-Andrew