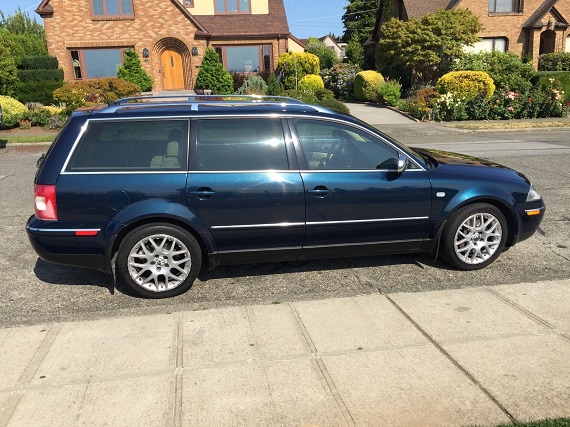 The main problem for the Volkswagen Passat W8 4Motion Variant is the plethora of other very capable all-wheel drive wagons that ran alongside it. Scratch that. The main problem for the Volkswagen Passat W8 4Motion Variant is that it's just too damn complicated for its own good. On paper, an 8-cylinder, 270 horsepower all-wheel drive Passat just sounds damn cool. You could even get it with a 6-speed manual, if you could find one. If optioned correctly, the W8 had some pretty trick BBS-made "Madras" 2-piece wheels too, just like the ones we see here. But VAG designs from the early 2000s had a tendency for complicated engineering for complicated engineering's sake, and it doesn't get a whole lot more complicated than the timing chain routes on the back of VAG motors. That's right, the back. Because, of course, if you put a timing chain in, you don't need to ever service it, right? In the quest for greater performance and numbers, we stumbled through a looking glass of complexity that has rendered an entire generation of cars so massively over-engineered relative to their specific output that it simply makes no sense to even briefly contemplate their ownership: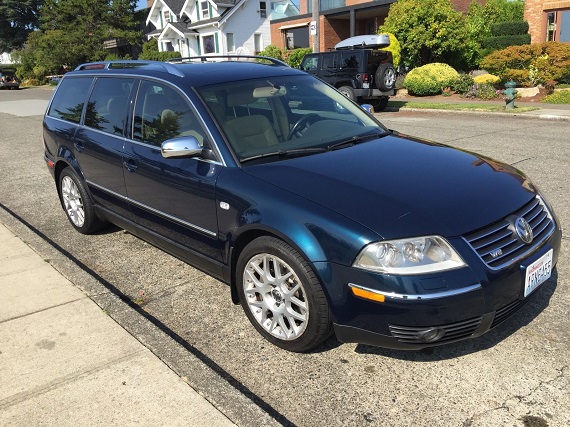 Year: 2004
Model: Passat W8 4Motion Variant
Engine: 4.0 liter W8
Transmission: 5-speed automatic
Mileage: 89,500 mi
Price: $6,900 Buy It Now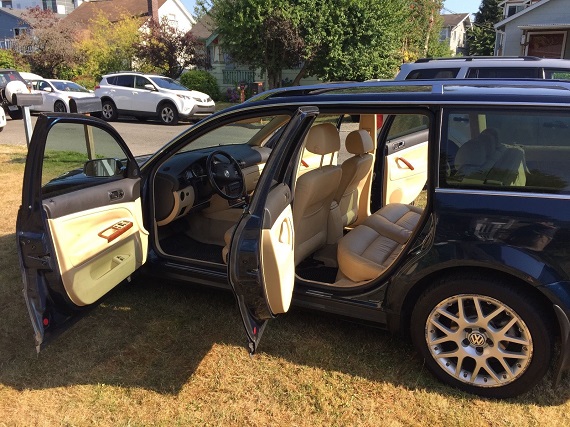 The rare unicorn VW W8 Passat wagon. 4.0 liter V8 engine. 270hp! Fun to drive with great power and control. Automatic transmission with tiptronic. Meticulous records. Car was covered under extended warranty through last year so all work done by dealership. No deferred maintenance on this one! New brakes and rotors front and back. Tires new 12/14. 18/25 mpg. Body straight and interior clean. No stains or tears on interior. Non Smoker. Except for a few small paint chips and rim dings it is exceptionally clean and well cared for. No rust! All electronics work.

4Motion 4-Wheel drive – great in wet and snowy conditions (same drive train as Audi Quattro). Anti-Theft System, Monsoon Sound system with 6 CD changer, Cruise control, Dimming rearview mirror, Heated leather bucket seats, Exterior entry lights, Air conditioning, Automatic climate control, Airbags – dual front and side curtain, Front Fog Lights, Wipers w/ intermittent and rain sensing, Hid/Xenon headlights, Aluminum wheels, Memorized driver seat settings, Power moonroof/sunroof, Multi-function remote w/ trunk release, Power door locks, Power steering, Power windows, Rear seats split-bench with first aid kit, Rear wiper and rear defrost, Roof rack, Power side mirror adjustment and defrost, Stability control, Steering wheel – Tilt and telescopic, Steering wheel mounted audio controls, Leather steering wheel trim, Universal garage door opener transmitter, Bluetooth hands free telephone. Branded title (California manufacturer buyback) is from headlight wiring issue as reported from previous owner. Headlights now work fine.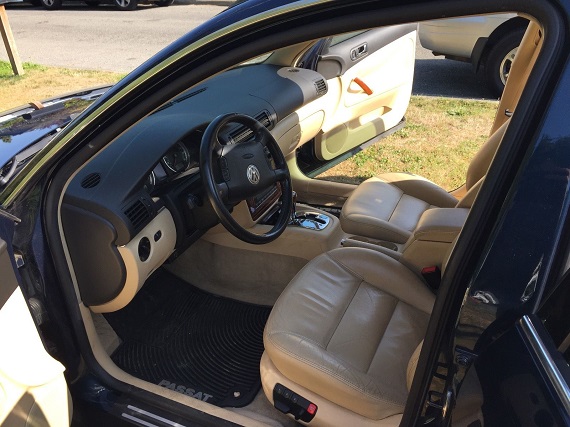 There's a morbid curiosity I have about ownership of one of these cars, but it's akin to standing near a ledge of a multi-hundred foot drop to water and wondering if I could survive the impact. Ultimately, I have little interest in testing either theory out. The concept of this car is great; it's a sleeper, hugely capable in terms of moving things and carrying people in all conditions. I can even fit a 55 gallon trash bin in my Passat standing upright with the lid on it. I fit a 80″x32″ framed door in last week. Previously, I transported an entire kitchen from Ikea in my '99. And when a ran out of space one time with a couch, up on the roof it went. Sure, there are reasons to own a truck, but my suggestion is that most with "SUV"s really could get by with a capable wagon. And beyond my first hand experience in this regard, I believe it because we did manage to do that before SUVs were invented.
The color here is Pacific Blue, and it was rare on 2004 Passat W8s. Well, back up. 2004 W8 Passats are rare full stop, with only 476 sold in the U.S.. 161 of those were wagons, and 65 of those were blue, amazingly. So, not rare? Well, not really, because there were five blue tones offered on the 2004 W8. There was Blue Silver (2 sold, which is really more silver than blue), Indigo Blue (4 sold) which was quite dark and Spirit Blue (17 sold) which was brighter, Blue Graphite (4 sold) which was much darker and in the middle was the blue-green Pacific Blue. It was the most popular with 38 sold, a majority of which had gray leather (25), eight came opted with black interiors and only 5 had the best looking combination in my eyes with beige. This is one of the four automatics sold in this color, but enthusiasts of the model and this color combination would undoubtedly want to track down the single 6-speed. Does that matter? Not really, but it's fun! Condition generally looks quite good, miles aren't outrageous, and it is claimed to have all maintenance up to date even if it has a branded title. The problem, quite simply, is the other options that are available to you. If you wanted a less expensive, lighter and more fun to drive manual all-wheel drive Passat wagon, you could get a 1.8T 4Motion. They only came as 5-speed in manual form, but a quick tune would make it faster than the W8, with likely better economy and reliability. I'm entering my fifth year on my current Passat 1.8T, and it's been a truly great car all in all. Then you've got Audi options, and they came with a 6-speed and some more aggressive styling. You could get a 1.8T there, too, or if you like problematic VAG cars the 3.0 or 4.2 S4 Avants, or the Allroad. Then there's the newer Passat 3.6 4Motion; more powerful and less expensive to fix. Stepping outside of Volkswagen's group, there was the BMW E61. Finding a manual was difficult, but the significantly less complicated 3.0 liter inline-6 N52 530xi is equally powerful (255 horsepower), is more reliable and returns pretty amazing mileage; on a 130 mile run yesterday, I got 30.1 m.p.g. in ours cruising at 70. This is a lovely looking car, but the complexity and price of repairs relative to the return on investment mean that only absolute die-hards will be interested.
-Carter