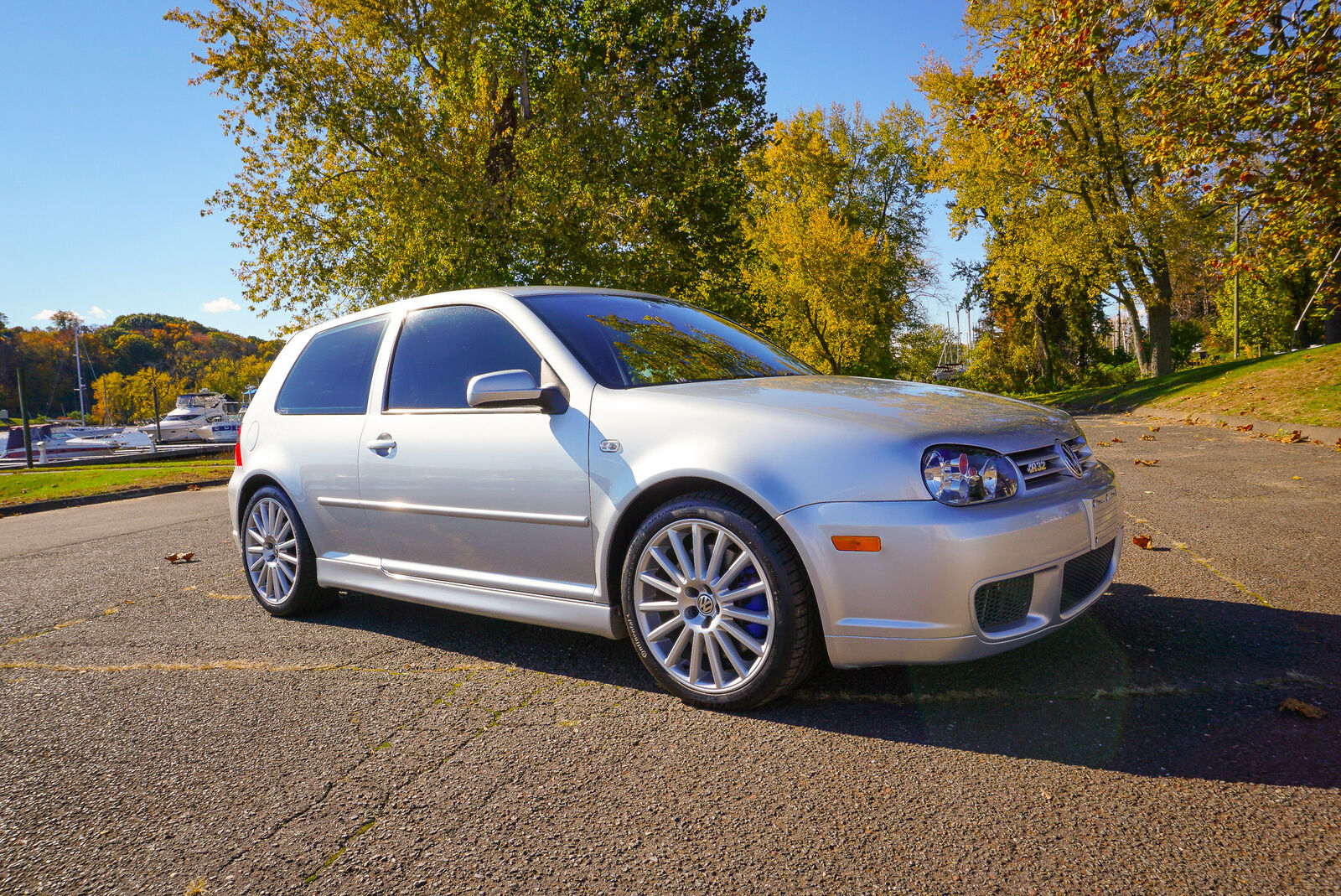 The Mk.4 GTI lineup got progressively better from its introduction through the early 2000s and culminated with the U.S. finally getting the Super Golf. All-wheel drive was nothing new to the hatchbacks, as they'd had it in the normal run starting in 1986 and it was offered pretty much straight until today. But for U.S. customers, models like the Golf Rallye, Golf Limited, and VR6 Syncro models were forbidden fruit until the fourth generation of Golfs.
In late 2003, the model with so much promise was finally added to the U.S. lineup. The underpinnings were shared with the Audi TT, which meant a transverse engine utilizing a Haldex hydraulic controller to drive the rear wheels. Power came from a double-overhead cam 24 valve narrow-angle VR6. Displacing 3189 cubic centimeters, it generated 237 horsepower and 236 lb.ft of torque and for the first generation it was mated solely to a 6-speed manual transaxle. Outwardly there were a few clues that it was more potent than the contemporary 20th Anniversary GTI; revised front and rear bumper covers with dual exhaust and gaping intakes. The wheels were the same 18″ OZ-made Aristo wheels from the 20th, but the calipers were painted blue and matched with rotors a full 1.3 inches larger than the GTI. As with the signature model for performance in the hot hatch category, the R32 received larger anti-roll bars and 1BE sport suspension, good for a 1″ drop. Tires were meaty 225-40-18 ZR-rated rubber. All of these things helped to keep the weight of the R32 in check, and there was plenty of that to manage. The addition of heavier-duty running gear, two more cylinders and all-wheel drive meant that the R weighed in a full 3,350 lbs – about two full-sized adults north of a GTI. It was more powerful, but it wasn't really much quicker in a straight line. Of course, it had great torque and even greater noise, along with the mystique of being the head honcho around the VW scene. Consequently, the R32 has maintained near-cult status since new and examples still demand a serious premium over the rest of their contemporaries from Volkswagen: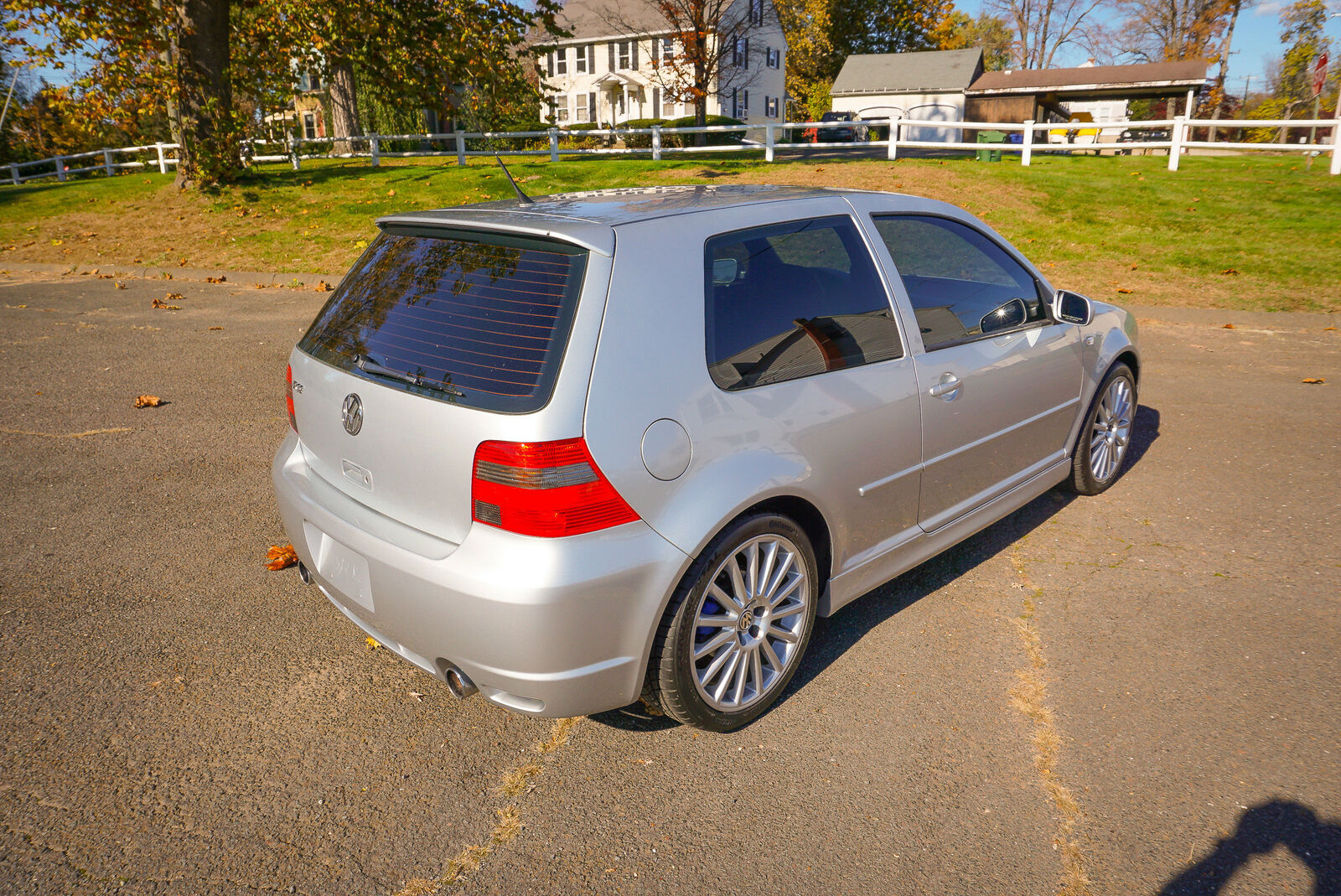 Year: 2004
Model: R32
VIN: WVWKG61J34D091939
Engine: 3.2 liter narrow-angle VR6
Transmission: 6-speed manual
Mileage: 99,000 mi
Location: Colchester, Connecticut
Price: $27,500 Buy It Now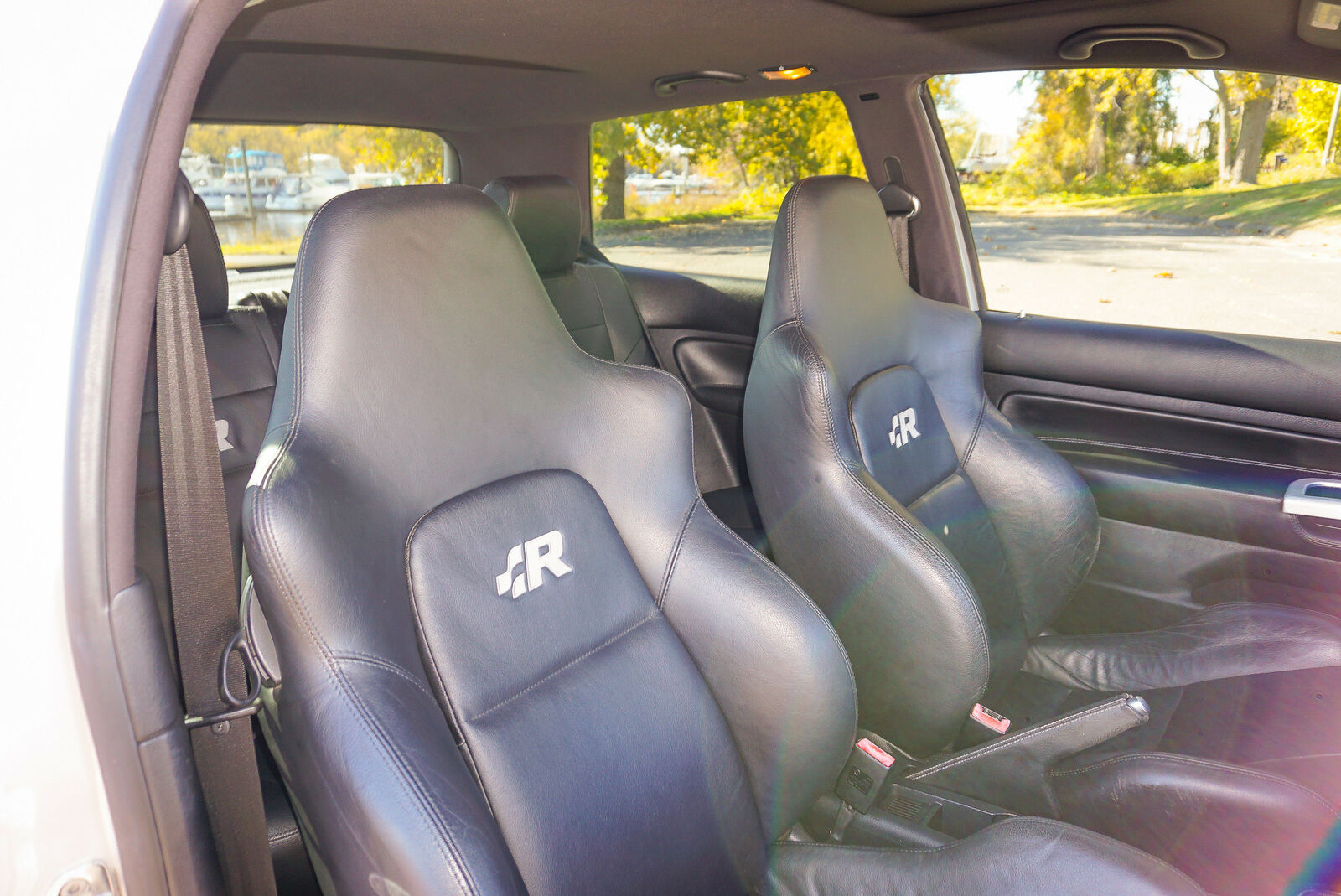 FS: 2004 Volkswagen R32 Golf

6-Speed Manual – New Continental Tires – Just Serviced – Clean Title

Books, 2 Keys, Records, Detailed, Serviced

100% Stock Original Example ready to enjoy and drive without issue.

3.2 Liter 240hp VR6 Engine sending power through the 4Motion(R) All-Wheel Drive System.

Mobile Users View Description for 100+ photos**

Thank you for viewing my listing on this clean, honest, and well maintained VW R32 Golf. This example is 1 of 1,034 Reflex Silver Metallic cars produces out of a total 5000 R32's in 2004.

The car runs, drives, and shifts perfectly without any issues or concerns. It starts and idles perfectly, no strange sounds or noises.

Does not smoke or have strange odors. The car was recently serviced by Langan VW here in Glastonbury, CT. Brand new tires were installed along with new fuel filter, oil filter, synthetic oil, and air filters. Fluids were all changed and inspected as required.

Total service bill was approximately $2300.

The car has excellent driving characteristics and is fun to drive. It accelerates smoothly and shifts flawless from gear to gear. Braking is on point and stops without vibration, noise, or pulling to any side. Alignment is perfect, car tracks straight and steers predictably.

Cosmetically the car is in great shape overall. There is an incident with a deer on the carfax. The front bumper was replaced and repainted.The damage was minor, the rest of the cars paint was measured and is oem paint. The car was recently fully detailed inside and out, the paint is excellent.

Interior is in great shape with normal wear as expected but very clean and good condition. Some normal wear on driver bolster but leather is nice and in great condition. Carpets are clean, the interior smells good and is smoke and pet free.

The factory wheels are in good shape no bends or damage. Tires are brand new and were high speed balanced.

Overall you are looking at a great overall condition 2004 R32.

Better than many with similar or less mileage. Condition trumps mileage always.

Any questions please just ask!

The Sale:

This car will be sold with a clean title and bill of sale. Payment must be made via Bank Wire Transfer, Certified Bank Check (once cleared), or Cash in person.

No payment plans, no trades.

Shipping:

I can provide a shipping quote anywhere through a shipper I use and trust, just ask and provide me with your zip code.

Shipping cost is the responsibility of you the buyer but I will help how I can.

Car is sold as is, where is. Any inspections can be made at the cost of the buyer.

I will be as transparent as possible with any interested parties, please have finances in order when making offers.

Thank you for viewing my listing!

Photos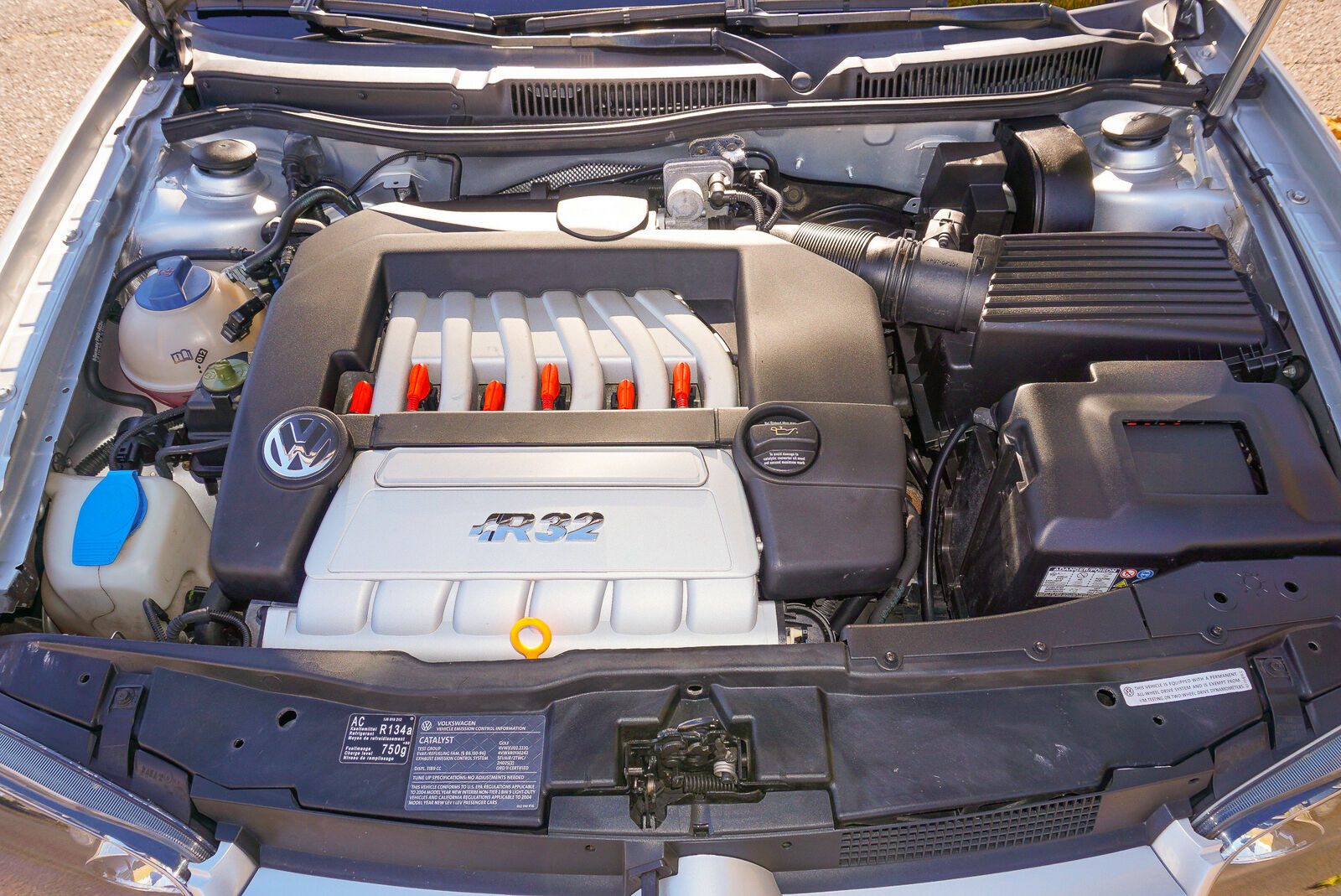 In 2004, this car retailed for $30,625. Today, some 18 years later and with around 100,000 miles on the clock? Well, the asking price isn't much less, is it? Are these cars really trading for that amount? The short answer is yep! I've always found pricing on these a bit baffling. They were really expensive when new, they never really got "cheap", and they're really expensive today. This one looks sharp, but underneath looks pretty typical for a VW that spent time in salty areas. Personally I find it hard to pay pretty nice E46 M3 money for one of these, or you can also find 996s in the same price range. I love the look and the sound of the R32, but to me it's just never been as neat as the cars it aspired to compete against.
-Carter