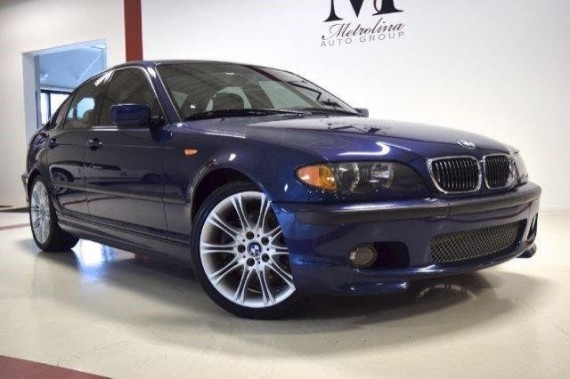 For practical folks like myself (who also happen to be BMW fans) one of the biggest disappointments in recent memory is the lack of an E46 M3 sedan. I've always had a soft spot for the E46 3 Series in nearly all forms but aside from the legendary M3 coupe, it's the sedan that I'm most drawn to and I've always lamented the fact there was no true M version.
However, never the ones to pass up an opportunity to squeeze some extra dough out of Yankee consumers, BMW offered us the "ZHP" package on the 330i from 2003 to 2006. For $3,900 you got a lowered ride height thanks to firmer springs and stiffer dampers. Special control arms, a unique light weight front underbody cross brace, staggered wheel/tire setup further contribute to the enhancement of the car's handling prowess. Your money also gets you an slight bump in power, 235 hp up from 225 hp as well as a marginally higher redline of 6800 rpm up from 6500 rpm. A special final gear ratio and rear axle make the most of those gains and I'm willing to bet that these cars feel plenty quick but isn't constantly reminding you that you're unable to use every ounce of power in day to day driving situations. After all isn't that what you want in a daily? That's a question I'm asking myself more and more these days.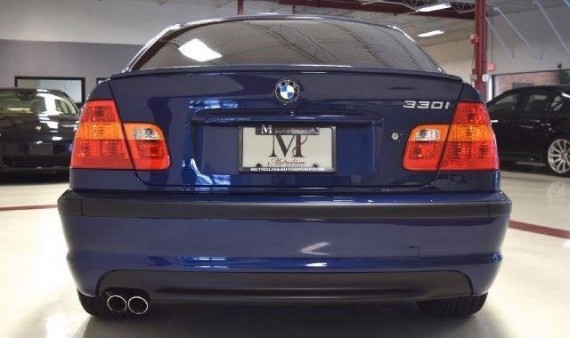 Year: 2005
Model: 330i ZHP
Engine: 3.0 liter
Transmission: 6-speed manual
Mileage: 84,084 mi
Price: $15,996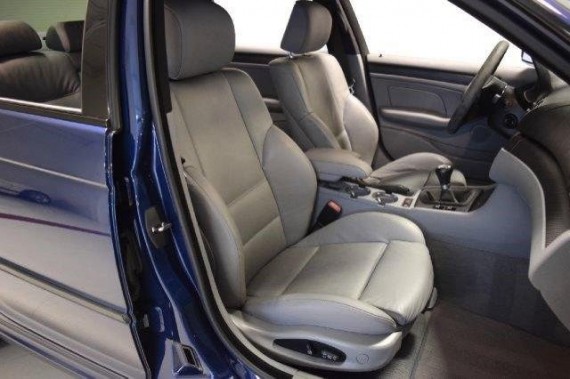 SUPER LOW FINANCING RATES AVAILABLE UP TO 84 MONTHS -CLEAN CARFAX -FULLY SERVICED AT OUR STATE OF THE ART SERVICE FACILITY -ZHP PERFORMANCE PACKAGE $3,900 -LEATHER UPHOLSTERY $1,450 -METALLIC PAINT $475 -SUNROOF -M SPORT SUSPENSION -M SPORT STEERING WHEEL -M AERODYNAMIC PACKAGE -CONSIGNMENT -LOOKS AND DRIVES LIKE NEW!!!

Message from Bryan McElhaney:

Thank you for your interest in this vehicle contact us at (888) 635-7132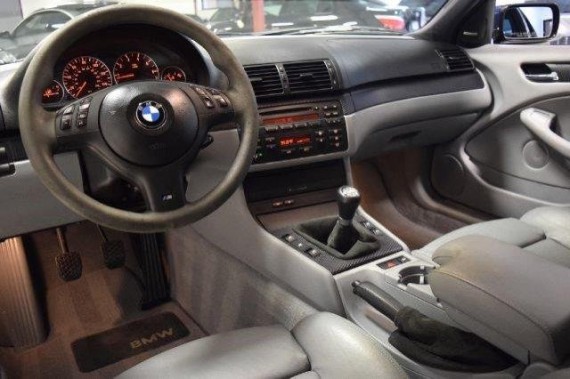 This particular example is very nearly my ideal BMW. Regular readers will know that I'm a big fan of dark blue cars and the "Mysticblau Metallic" paint is perhaps my favorite of all the hues offered by BMW. It pairs quite nicely with the light grey leather interior but in a perfect world I'd find one of these with the base level cloth/alcantara seats because I'm just a simple man with simple tastes they'll hold you in position better when having a bit of fun. Still, the interior looks to have held up well, the alcantara covered wheel included, something that can't be said of many BMWs of the era. I can't tell you how many E46 M3s I've gone to look at only to be seriously let down by the state of the cabin. I guess German interior quality suffered across the board from the late '90s until the late Aughts so it's kind of a crapshoot with these cars no matter what. Personally I think that fact alone justifies a slight price bump for examples that have been exceptionally well cared for.
This car appears to be one of those and even so I don't think the price is unreasonable. The ZHP is an interesting car, collectable even and $15,996 gets you quite a lot here. Those in the know will see the M Tech II body kit and take notice, the other 99% of people will think you're just driving another used BMW 3 Series. That of course until you zip around them on the on ramp, your offspring laughing hysterically in the back while your spouse glares at you from the passenger seat.
-Andrew