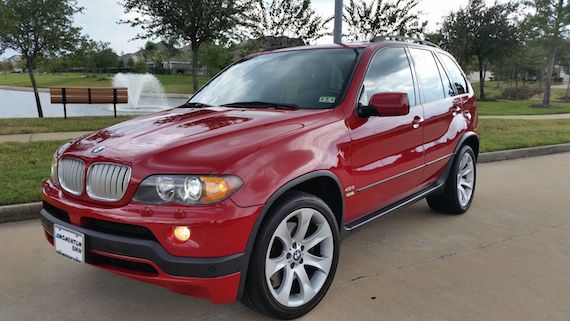 Lest I trick some of our readers into thinking its some kind of SUV week around here at GCFSB, we'll follow on to the X5 4.6is we featured on Monday with that truck's successor, the X5 4.8is. 2004 would bring a facelift for the first generation X5, which would be exiting stage right in 2006. But BMW decided to have one more go at the über SUV formula by jamming almost 5.0 liters of V8 under the hood, good for 355 bhp. While the black 4.6is we saw on Monday was a bit stealth, you won't miss this Imola Red 4.8is if it was coming at you.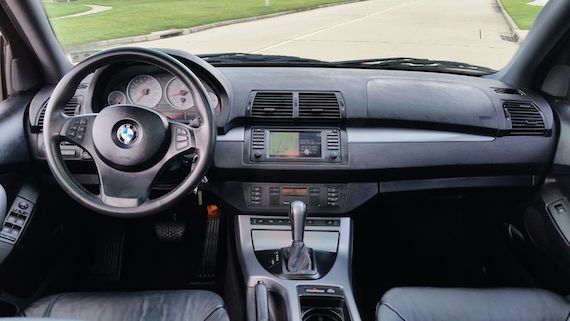 Year: 2004
Model: X5 4.8is
Engine: 4.8 liter V8
Transmission: 5-speed automatic
Mileage: 86,116 mi
Price: $16,995 Buy It Now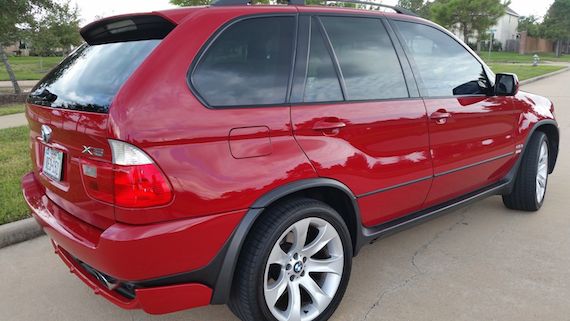 2004 BMW X5 4.8is
ULTRA RARE COLOR (IMOLA RED)!
FULLY LOADED, TEXAS CAR WITH 87000 ORIGINAL MILES!!

This gorgeous X5 comes loaded with the following:

*FULL NAPA LEATHER in great condition.

*Premium Package

*Sport Package (This vehicle was exclusively built as an ultra sport performance BMW car and its sport package differed than the regular sport package that comes on non-///M Cars)

*Cold Weather Package
-Heated Seats
-Hi-Pressure Heated Headlamp washers

*Luxury Seating with 16 way adjustable seats

*6 speed Automatic Transmission with Step-Tronic feature.

*Park Distance Control

*Home-Link system

*Panoramic Sunroof

*Bi-Xenon Headlights

*Harmon Kardon Sound system

*Navigation

*6 CD Cartridge & Cassette player

* 20″ Factory 7 Spoke wheels with New tires (Fronts have 80% left, Rears 65-70% left)

The vehicle runs and drives extremely well and rates above average and near excellent condition. It has never been wrecked and everything on it is absolutely factory original. There are no leaks from the engine, transmission or anywhere else. The suspension works great and is fully functioning in all positions. The exterior is very clean with super minor imperfections as shown in the pictures (tiny chips on the hood, door ding on rear passenger side door, & 1 sliver of chipped paint on driver door). The interior is near perfect condition. The interior has no rips, tares, or ware evidence other than very reasonable wear from normal usage. The headliner is perfect, sunroof works well..etc

As you may know, if you are a BMW enthusiast like me, that there were only so many Imola Red 4.8is X5s that were made and are increasing in value every year. This is your chance to get a HIGHLY SOUGHT after vehicle especially with this color combination!

*Excellent Extended Warranty can be purchased for this vehicle. Call me for details…

Call or Text
Sam @ 281-701-4228
(8 a.m – 10 p.m CST)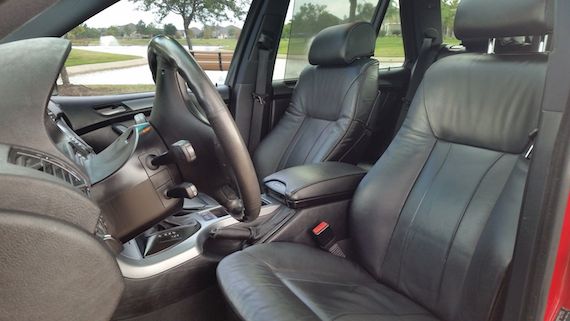 Our reader Z brought up an excellent point when we featured the X5 4.6is earlier in the week. Why didn't BMW slot this engine into the 540i M Sport to make something truly unique? Perhaps it would have stepped on the toes of the M5 too much? Maybe so, but one can always wonder what could have been. The 4.8is didn't bring a huge increase in horsepower over the 4.6is, so values won't be drastically higher. You can't be a shrinking violet and drive an SUV in a hue this bright. For some, however, it's just the kind of truck the doctor ordered to stand out from the crowd. I like the outrageousness of this X5, and with the brawny V8 under the hood, all the better to pound the pavement with.
-Paul