Warning!
This post is in our archives. Links in this post may have been updated to point to similar cars available to bid on eBay.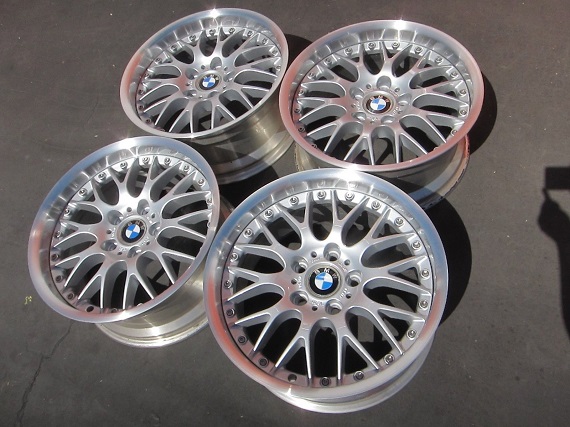 While to me the E39 isn't the prettiest 5 series BMW produced, what they did manage to accumulate was perhaps one of the best wheel lineups they ever fitted. Most ended up on the sport models, but from the Style 5 to Style 66, all of them looked great. I especially love the relatively unloved two-piece BBS made Style 19s that were fitted to early 540i sports, but the Style 5, 66 and 32 wheels that made it to other sport models are equally good. Of course, I had to throw in a set of Style 37 "M-Parallels" even though they're most often associated with other models – and truth told, the Style 32 wheels here are actually optional E38 wheels. Nevertheless, they're all awesome – which are your favorite?
Price: $1,425
4 USED WHEELS. REFINISHED THE FACE TO NEW CONDITION. BMW 17″ STOCK OEM ALLOY RIMS WITH CENTER CAPS INCLUDED. ALL FOUR ARE IN GREAT CONDITION, NO MAJOR NICKS OR MARKS. PLEASE VIEW ALL PICTURES, IF YOU HAVE ANY QUESTIONS, PLEASE LET ME KNOW. LOCAL PICK UP SAVES ON THE SHIPPING AMOUNT. PLEASE ME AND LET ME KNOW.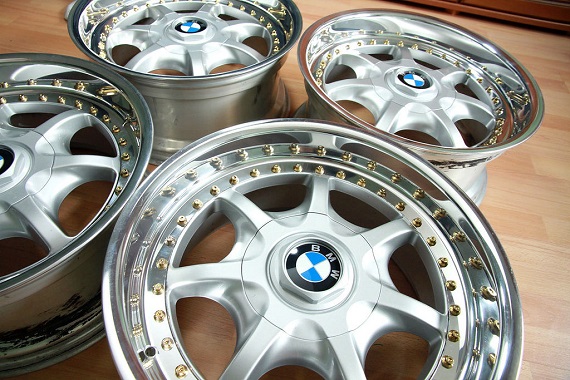 Price: $1,850
Authentic BMW 17″ BBS Style 19

Complete set of 4 Very Rare Genuine BMW BBS 17″ Style-19 Octopus Split Rims (2-section Light-Alloy) BMW Wheels In Mint-Condition.

* All 4 wheels were Professionally done by Cyrus (Those of you know who are an Enthusiast know the quality of my work)

* All 4 wheels were in good condition before they were refurbish, No Bent or crack or etc…

* I professionally disassembled and overhauled each wheel. There are No Curb-Rush or any other imperfections on these wheels.

* All Screws have been sent out to a company that does plating for industrial drilling equipments , The plating cost me almost $400 by itself. I did them in Yellow/Gold Nickel instead of the cheap Zinc that BBS uses

* Removing of the Center Section with correct tools, and refurbish them with correct BBS Silver finish.

* Mirror Finish polished Barrel Lips . Each Barrel took about 8 Hour to be polished

* 4x Original New Center Caps, all caps have good brackets and Prongs intact.

* Brand New Matching BMW BBS Center Caps Removal tool

Style 19 has been discontinue for many years now and no longer can be order through BBS or BMW.

I have used Large Option pictures to demonstrate the quality of these wheels so please take advantage of them.

Size: 8JX17

Offset ET:20

Part# 36111093535

Bolt Pattern: 5×120

Made in Germany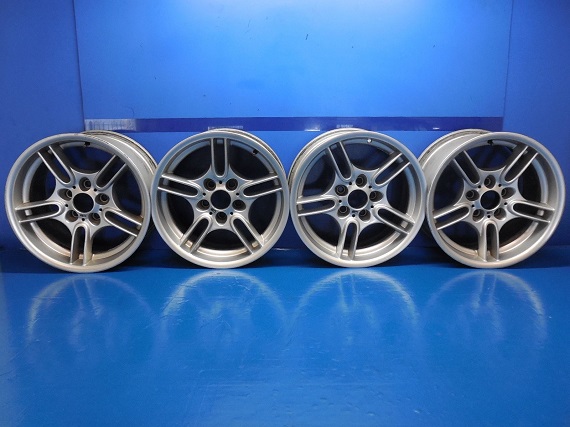 Price: $699
BMW E39 5 Series OEM M Tech Parallel Style 66 Staggered 17×8 & 17×9 Wheels/Rims

____________________________

Wheel Specs/Information:

Front Wheels
Front Wheels Part# 36112228995
Offset: ET:20
Dimensions: 17×8

Rear Wheels
Rear Wheels Part# 2229035
Offset: IS:26
Dimensions: 17×9

____________________________

Manufacturer:

BMW

____________________________

Vehicle Compatibility:

E39 525i Sedan
E39 525i Touring
E39 528i Touring
E39 528i Sedan
E39 530i Sedan
E39 540i Touring
E39 540i Sedan

E39 M5 Sedan

____________________________

Notes:

I have spun all of these wheels on a wheel balancer to ensure that they're true and straight. There is some minor curb rashing that I've shown in the photos closely. If you're interested and want a shipping quote, please contact me with your zip code.

Please be sure that this part/part# will work on your vehicle before purchasing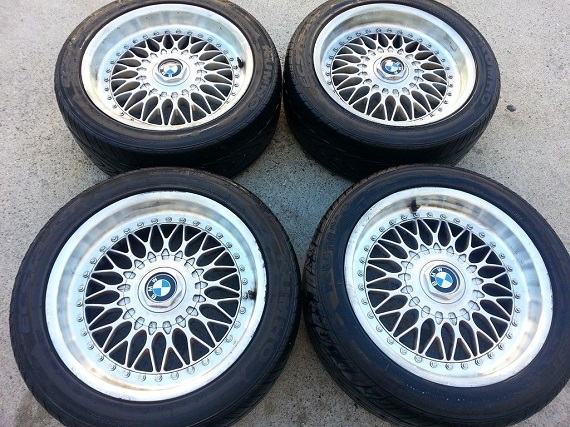 Price: $650
17″ BBS Style 5 wheels RC090

Wheels are straight and just have shallow cosmetic rash and clear coat fading. perfect set for a daily or can be refinished and look amazing.

Tires will not be coming with the wheels. This auction is for the wheels only, again no tires included.

I just took them off my 528i and they worked great.

Excuse the dirt on them, my hose broke today. No reserve, these will go fast!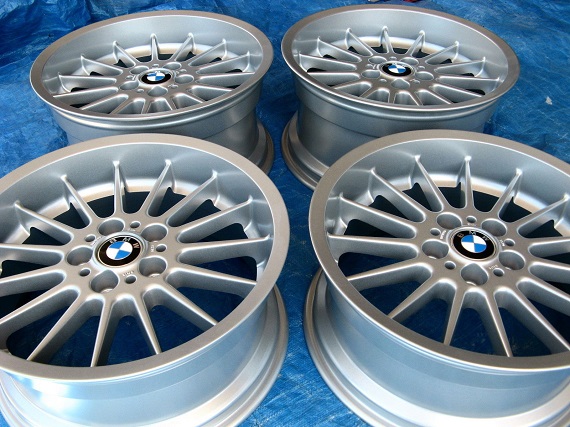 Price: $1,495
OEM Staggered 18 inch Style 32 Alloy Wheels, RESTORED Silver Metallic

This is is a refurbished set of wheels that is second to none! Note this a complete set of four wheels done in a silver metallic powdercoat.

OEM E38 740i and 750i optional alloy wheels in exceptional show condition.
BMW PN 36 11 1 091 990 Front
BMW PN 36 11 1 091 991 Rear
Size = 18×8, offset = 20mm Front
Size = 18×9, offset = 22mm Rear
Lug spacing is 5 on 120 mm.
Center bore = 72.56 mm
Fully Restored.
This included a chemical dip to remove all paint, followed verifying the wheels were true, which they all were. There was only a little bit of curb rash on a couple wheels, and this was blended away.
The entire wheel (minus the mounting pad) was then powdercoated with a silver metallic resin. The powdercoat provides a very thick and durable finish. Please see the close up photos.
Very good used OEM center caps with new OEM Roundel emblems are included.
The 60 degree conical seat lug hole surfaces were reamed and the mounting pad was sanded to make sure all the powdercoat was removed from these critical surfaces.
I have spun each wheel on a balancer and verified that it is 100% trued and straight.

You will be hard pressed to find a nicer set of these wheels! At least one photo of each wheel is shown below. Supersize to see the details.

These wheels will fit BMWs of the '70s, '80s, and '90s without modification (no hubcentric rings necessary). If you have an E36 or E46 and want to have the wheels fill the fenders by about 3/4 inch or more, then this set might be the right for you. These will not fit an E39 due to the 72.56mm hub size. To see these wheel on your type of BMW, google the car type and "style 32".

Packaging. I ship wheels in pairs so this set will go out in 2 boxes. Each pair is double-boxed, with rigid foam material between each box. This adds some cost, but my wheels never get damaged in transit.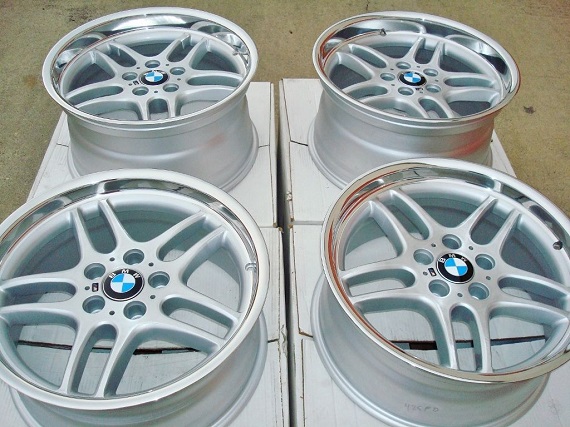 Price: $2,450
Complete set of 4 Custom Mirror Polished Genuine BMW M-Parallel Style-37 (Light-Alloy) BMW Wheels In Mint-Condition.

* All 4 wheels were Professionaly done by Cyrus (Those of you who are an Enthusiast know the quality of my work.)

* All 4 wheels were in good condition before they were done, No Bent or crack or etc…

* There are No Curb-Rush or any other imperfections on these wheels.

* Mirror Finish polsihed Barrel Lips . Each Barrel took about 8 Hour to be polished

* Each wheel was stripped down using Special Aluminum Aircraft Paint Remover before polishing and the Center of the wheels was Machine finish along with Painted Silver Pockets just as they come from BMW.

* 4x New later design BMW Center Caps with Chrome Ring, all caps have good brackets and Prongs intact.

Genuine BMW M-Parallel Style #37 Rear Wheel has been discontinue and no longer can be order through BMW, making these wheels even harder to find.

Please understand and appreciate the amount of work that was done on these wheels. As most of you know the problem with Factory BMW M-Parallel finish that peels off within a year or two. I have solved this problem by mirror polishing the lips that looks much nicer and last much longer then the factory BMW cheap ClearCoated Finish.

I have used Large Option pictures to demonstrate the quality of these wheels so please take advantage of them.

Fronts:

Size: 8JX18

Offsets : ET:13

Bolt Pattern: 5×120

Center Bore: 74.xx mm

BMW Part#: 36112229730

Made in Germany

Rears:

Size: 9.5Jx18

Offset: ET:25

Bolt Pattern: 5×120

Center Bore: 74.xx mm

BMW Part# : 36112229731

Made in Germany
-Carter