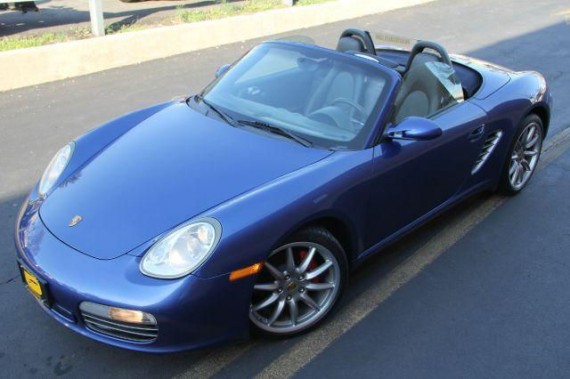 Whenever a luxury car pops up in a unique color combo I'm inclined to write it up. I figure that the majority of them were special ordered by people who really knew what they were looking for and therefore were well taken of. Whether this actually holds up cannot be determined without a proper inspection of the vehicle but it helps to sift through the thousands of listings I find. This Boxster S for sale in Philadelphia is one of the more eye catching examples I've come across recently, though I have a feeling the exterior color will be rather polarizing on this site.
I think the Cobalt Blue Metallic is an excellent choice for this car and the dark blue top contrasts well with it. As I've said before, the 19″ Carrera Sport wheels are my favorite option for this generation, I'd go so far as to say they're some of the best factory wheels Porsche has ever offered. Under those wheels are brakes that offer excellent stopping power, 12.52″ up front and 11.77″ out back. I especially love how the red four piston calipers look with the Cobalt Blue, these little details are what makes this car so appealing to me. The whole package is sport and sophisticated, exactly what a Porsche should be in my opinion.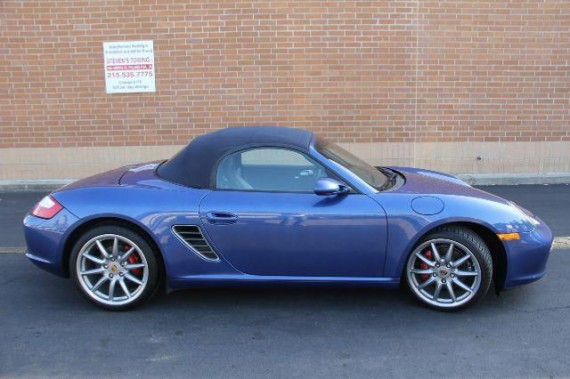 Year: 2006
Model: Boxster S
Engine: 3.2 liter flat-6
Transmission: 6 speed manual
Mileage: 85,954
Price: $21,995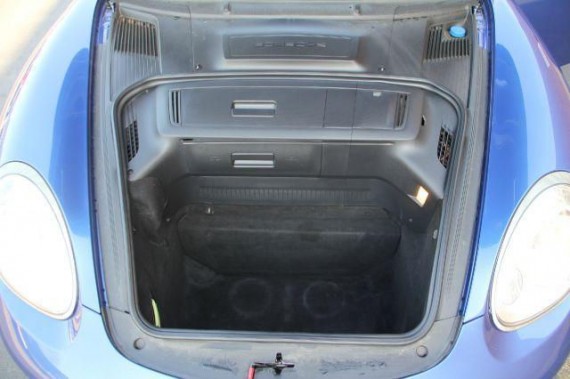 1 YEAR – PA – INSPECTION – 5 DAY MONEY BACK GUARANTEE – FULLY SERVICED – FREE CARFAX! This vehicle has been fully serviced and went through a complete PA inspection. FREE power train warranty is included and an extended 5 year warranty is available.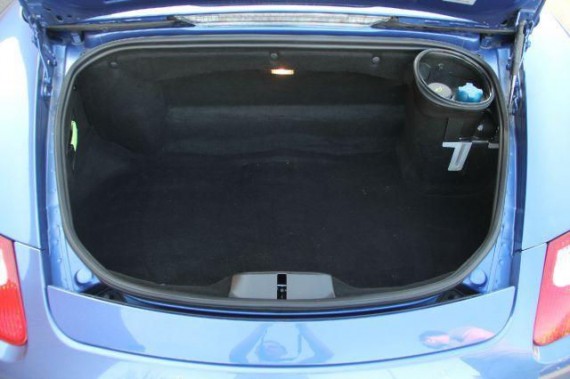 When I first saw this listing I was expecting the interior to be a lighter color like gray or beige, and I was surprised to find that it was black. While I don't mind the choice, I think the overall look of the car is still great but I think it would be perfect if the interior was lighter, maybe even Terracotta brown. I used to be a huge fan of black interiors but recently I've found myself disenchanted with them, especially in sports cars. They seem cold and with a car like this one that already has a cool atheistic going I think some warmth coming from the inside would make for the ultimate package.
Other than not loving the interior, I have nothing negative to say about this car. I think the Boxster S is still massively under appreciated and remains an excellent value for anyone looking to have some serious fun behind the wheel. Driving a Cobalt Blue Boxster at the track might be cause for some snickering in your direction but that's ok because you know how good it is and that's really all that should matter. Besides, the majority of people who would tease you for driving a Boxster probably don't get the intended purpose of the vehicle which is to keep your driving experience as pure as possible. 280hp will feel like plenty when you're in a rhythm with the 6spd manual, especially with the top down. I'd say that when it comes to bang for your buck in the used Porsche market, the Boxster is hard to beat.
-Andrew