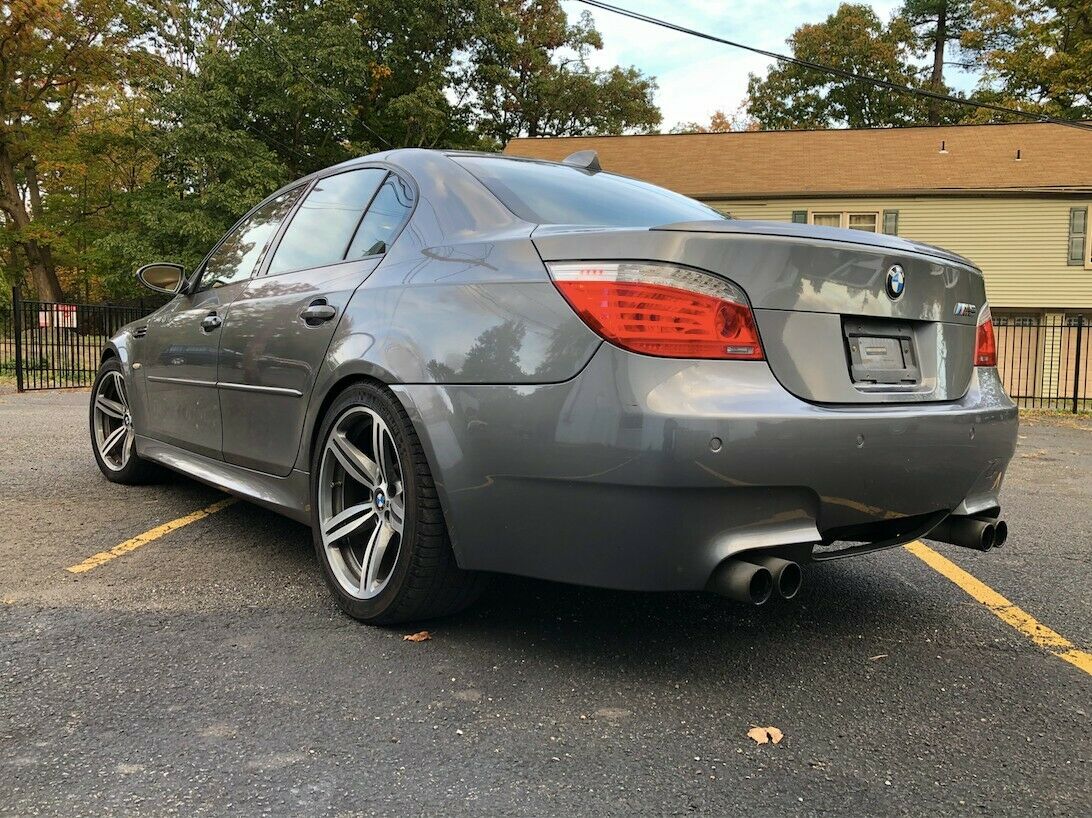 There were a lot of haters when the E60 series debuted, and it remains a polarizing design today. While the prior three revisions of the 5-Series had been evolutionary, there was little to identify connections to the previous generation beginning in 2004. But the M5 didn't just break with tradition with the exterior styling.
Leaps in horsepower had been impressive, but not outrageous in the prior three generations. From the Euro-specification 286 horsepower M88/3 in the E28 came 315 horsepower in the 3.6 E34, then 340 in the last 3.8s. The world seemed shocked when the E39 announced a 394 horsepower V8 under the hood, but in all reality it was essentially as much of a jump from the E28 to the last E34. But the E60. That was a jump. Replacing the 4.9 liter V8 in the E39 was now a 5.0-liter S85 V10, and it was made to scream. It sported a forged crankshaft, lightweight pistons and valves, 10 individual throttle bodies, hollow cams, 12:1 compression, semi-dry sump lubrication, and double VANOS variable valve timing. The result? 500 horsepower and a shrieking exhaust note that is simply unforgettable.
Are these cars collector worthy? They certainly have a strong following and there is no denying that condition being equal, they are currently the the one of the cheapest M5s you can buy. And the one to get, it would seem, would be a 6-speed manual: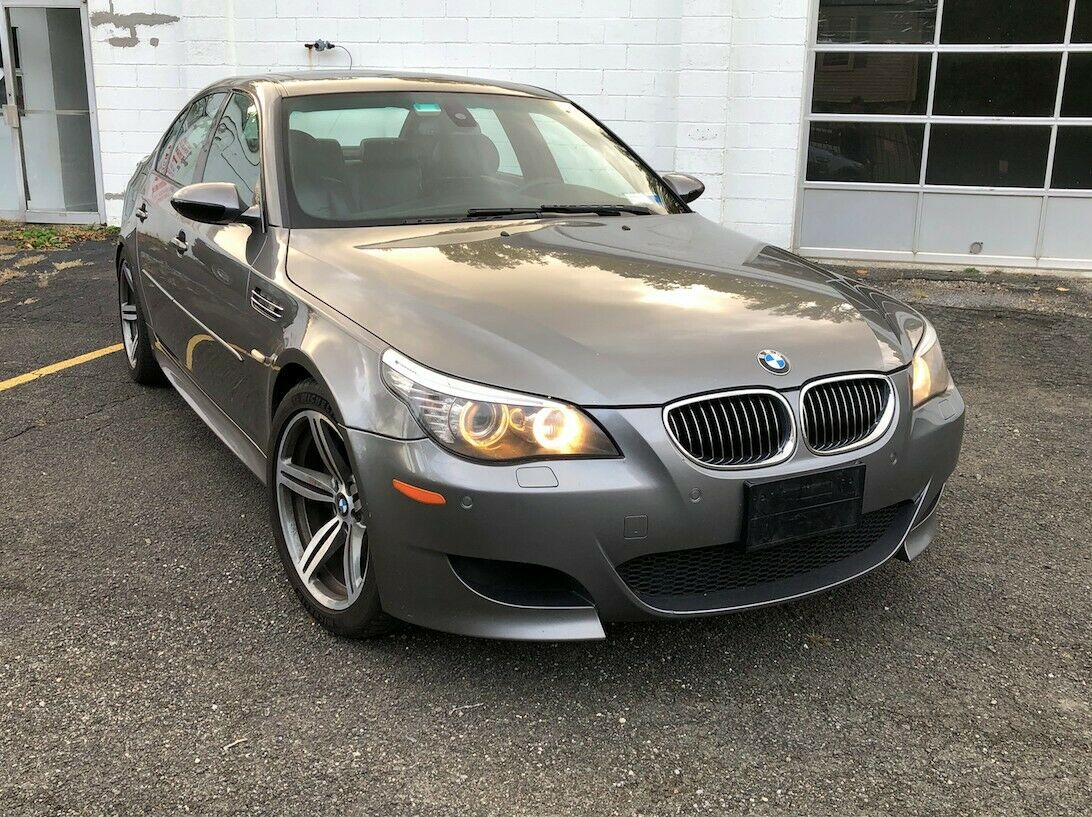 Year: 2008
Model: M5
VIN: WBSNB93578CX08700
Engine: 5.0 liter V10
Transmission: 6-speed manual
Mileage: 179,000 mi
Location: Highland Falls, New York
Price: $17,900 Buy It Now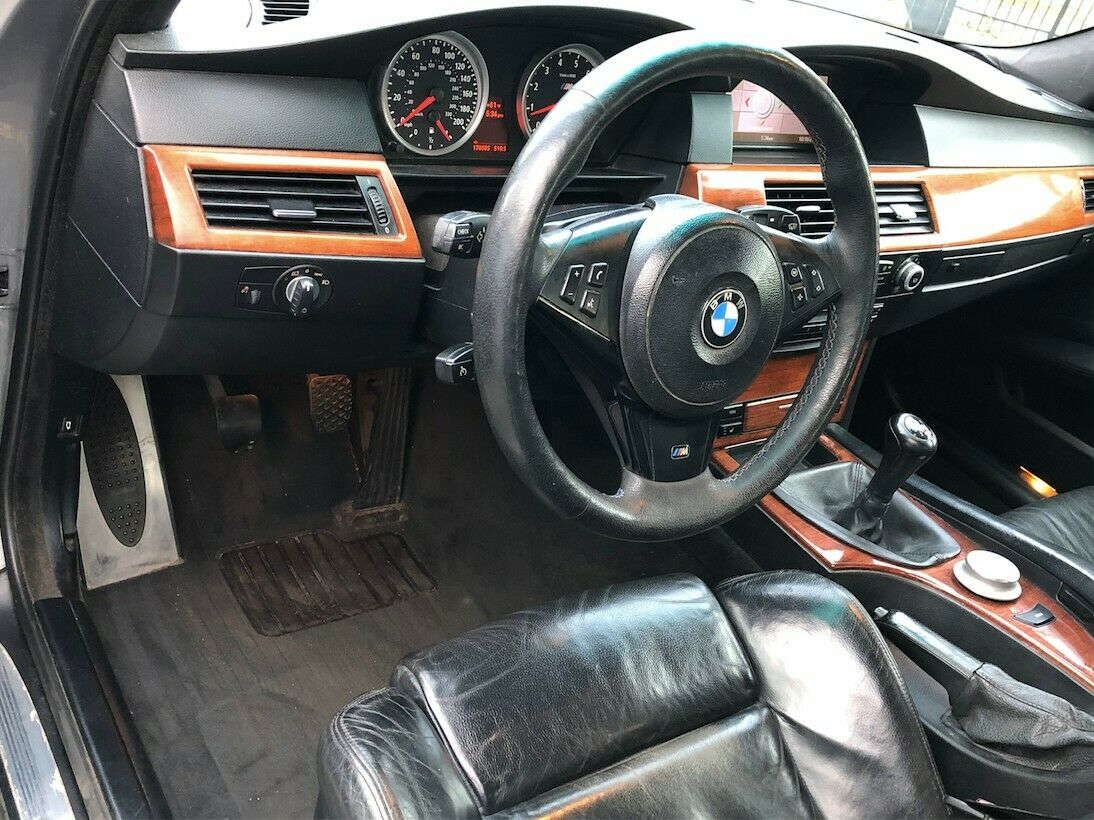 Selling my 2008 BMW M5 six-speed. Car Has around 179,200 miles and drives wonderfully. Every major system works, including the A/C, iDrive system, and electronically adjustable suspension. Clean NY title. I purchased the car in September 2017 with 154k miles. Oil changes every 3000-4000 miles using Liqui Moly 10W-60. I've poured a large amount of money into maintenance and parts replacement to ensure the car works as it should. Some of the bigger items replaced under my ownership include the front control arms, tie rods, differential input seal, alternator, A/C condenser, right-side oil scavenging pump, and fuel filter. I've kept meticulous records of every maintenance item since I bought the car, and can send you the full list if you'd like. The V-10 engine pulls to redline as it should, no check engine light or warning lights of any kind on the dash. Clutch uptake feels solid, with no slipping or grinding from the trans. Considering the clutch's low uptake, weight, and chattering, it's likely an aftermarket piece, though I can't tell since I'm not the one who put it in. The only visible modification from stock is a muffler bypass added by the previous owner. Sounds great. Haven't replaced the throttle actuators or rod bearings, but had a Blackstone oil analysis done this month and it came back clean (report is attached as an image in the gallery above). Considering the mileage, I assume the bearings were replaced sometime in the past, though I have no records to back up my assumption. The body itself looks good, though there are some small dings and rock chips visible once you get close. Rear driver side door and fender were likely repainted before my ownership at some point. All of the lighting works as it should. The car will be sold on the OEM style 166 BBS wheels, NOT wheels shown in the photos. I also have a set of black-painted style 166 replicas available. Cash only, with a $1000 PayPal deposit required. Pickup/shipping is the sole responsibility of the buyer.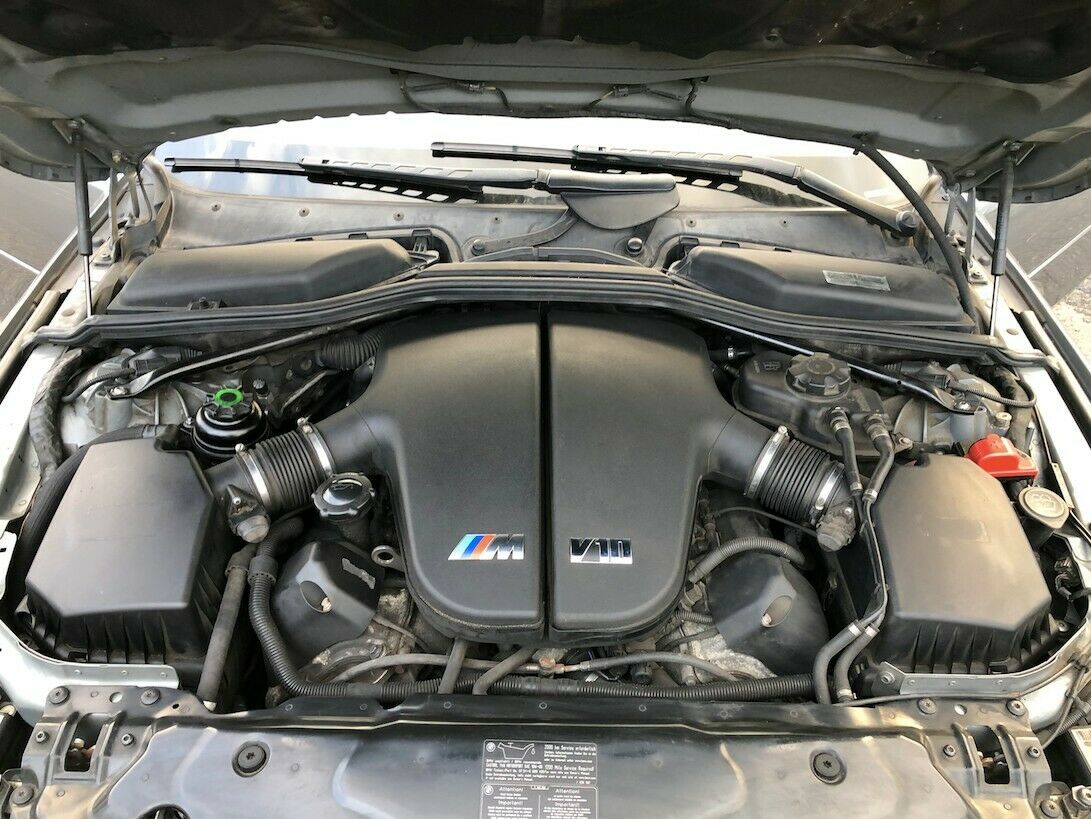 There's this interesting progression of looking at a car for me. I see it and decide from the first picture if I want to take a closer look. Then I click and start to scroll through the details. 'V10'….hmmm, interesting….'6-speed'….ooooh, that's neat….'not black'….still here! Think about it – what cars can you get with a V10 and a manual transmission? I think there's the Gallardo, the Audi R8, and the M5/M6 twins. That's it. And realistically you can't touch either of the two former examples for anything under $80,000 today. So the $18,000 asking price here is really, really tempting in that regard! Then there's an audible record scratch. 180,000 miles? Oh man. I have owned an E61 with around half that mileage. It was a very, very nice car. It also had some glitches associated with being advanced technology that was no longer advanced. Throw into the mix that this car has traveled over twice that amount of mileage, and is not BMW's tried and true inline-6 but a 5.0-liter V10, and you can imagine the masochist that would say yes. I might be that person. If you're reading this, you're probably that person, too.
I watch a wood-turning artist's videos with my son, as he enjoys the creative process of starting with a lump of wood and ending up with a beautiful work of art. The man we watch uses a lathe, and my son one time asked about what would happen if you just 'stuck the tool in' while the wood was rotating at full speed. "Simple: E60 M5", I replied. I kid, yet I also sat there wondering what the outcome would be. And looking at this M5, I sit there and wonder effectively the same thing. Would I really want to own a high-mileage V10 M5 with two-decade old computer technology? Not really. But there's a morbid curiosity I have…would it not be cool to make a E60 M5 'beater' that you just thrashed on and used as a daily driver? Would it not be awesome to throw studded snows on one and take it to an ice driving event? Yeah, those eventualities are neat to conceptualize. Would doing either of the above be akin to sticking the tool into the rotating mass of wood on the lathe? Yep.
-Carter