The BMW M3 has been the mark that all other manufactureres strive for when it comes to the mid-sized sports sedan, and the E90 M3 is no exception. A departure from the legendary BMW inline six cylinders, the stout 4.0 Liter V8 in the E90 M3 is a welcome upgrade. The S65 V8 is capable of 414bhp and 295lb/ft of torque, 0-60 mph in just around four seconds and a staggering 8,400 RPM redline, all in a package that is almost 40lbs lighter than the inline six predecessor.
The E90 M3 is certainly the highest evolution of BMWs 3 series, and while you may not be making 8:10 passes at the Nurburgring, this M3 for sale in Alabama will be sure to put a smile on your face all the same when you mash the go pedal.
Year: 2008
Model: BMW
Engine: 4.0 liter V8
Transmission: 6-speed manual
Mileage: 40,966 miles
Price: Reserve auction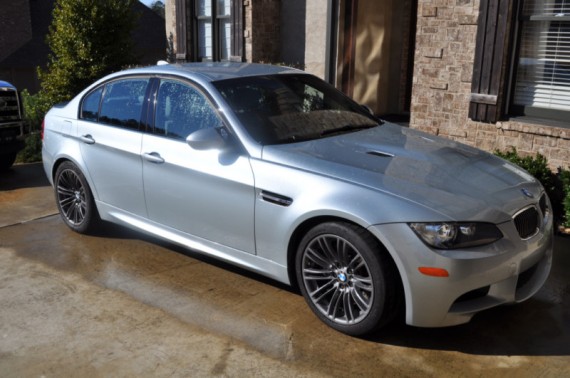 Up for auction is my 2008 M3 Sedan I purchased August 4, 2012 from Global Imports BMW. I'm sure you are asking why I'm selling so soon. Well here's the story. We were shopping for a car for my wife – looking at X5s, Q7s, and GL500s. We drove to Atlanta to spend a weekend together and goof off looking at cars. We happened upon the most beautiful, outrageous BMW I had ever seen. It has this trick leather interior that goes perfectly with the Silver exterior and I fell in love. I was/am turning 40 in March 2013 (purchaed the car August 2012) so my wife told me I should get it. What would you do? I've had a lifetime of buying myself a car every other year – mainly watercooled VWs and Porsches. I never had an M3 and it was on the list. The difference for me was this car is a $40,000 car plus warranty. I never had a problem with $5-10k cars just sitting in the garage but it seems a waste to have a depreciating asset in the garage. I love the car but I do not like driving dirty sports cars so it's only driven once a month or so and now that I've got the car out of system I'm ready to pass it on.

The really good news for you is that I purchased an "Easy Care" "Total Care" warranty for 3 years/75,000 miles for a price of over $3,400. This is a transferable warranty and not some junk aftermarket warranty. You can call your local BMW dealer and ask if it is a legitimate company or not. I have acquantainces that work at the BMW dealer and they say the fix cars with this warranty all the time and there is no hassle. I have placed a little over 1,000 miles on the vehicle from the time of purchase of the warranty. The vehicle came to Global Imports as an off-lease car from a local doctor. This is a no stories car and I have kept is garaged the entire time of my ownership. The pictures will tell the story. No mechanical issues whatsoever.

It is a used car. There are maybe 3 or 4 small rock chips on the car, no dings, a few small scratches below the front spoiler that you need to lay on your belly to view, and the rear tires will need replacing in a few thousand miles (I was not harsh on the car but I did play in it a couple of times and it will smoke the tires – the car was not abused, I just had a little fun it one day 🙂 – if anyone tells you they never drove their M3 fast they are a liar).

Bottom line is this, if you are in the market for this car you will not be dissapointed. I have my own business, a wife, and 3 daughters and I do not sell vehicles for a living. Please have patience and send your questions to ebay or my email at sobrien@charterfire.com. I'm not a moron so don't waste your time trying to scam me with too good to be true stories and outrageous lies. There is a lien on the car, after payment is received and funding is verified you can take possession of the vehicle and I will provide you with a bill of sale. I will pay off the remainder of the loan and have the title sent to you with urgency. The reserve is fair and I know I will not recoup my warranty cost and will lose some depreciation from original purchase price. Thank you for your interest.
This is a reserve auction, which may hinder a buyer's ability to get a bargain.  While the silver is a great color for these cars, trhe light interior is certainly less desirable than the other options available. Preferences aside, this M# appears well kept, and with the warranty available this would make a great car for the right price.  With clean retail prices in the $37,000 range, this car should sell in the $34,000 to $35,000 ballpark given the options.
-Brian