Please give a warm welcome to our newest writer at GCFSB, Andrew Maness. Andrew is active with his own page over at Jalopnik, The Road Less Driven. Welcome Andrew!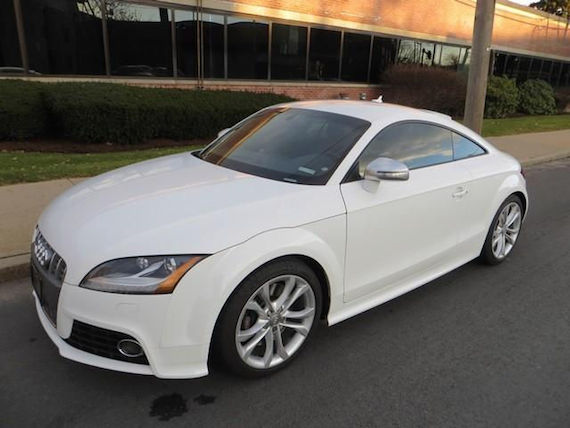 Given that I am currently a card carrying member of ACLA (Audi Club Los Angeles) and I am about to put my B7 S4 Avant up for sale, I am frequently asked "well what kind of Audi are you going to get next?". It's a bit presumptive on the persons part to assume that just because I'm a club member that I'm going to stick with the brand. True I do have a lot of love for Quattro driven vehicles but since moving to Southern California from Vermont that love has wained a bit over the last 6 years.
I fell in love with Audi because they're the oddball of the German brands and I like things that are different. These days their vehicles have lost some of that character but I suppose that's to be expected given how much the brand has grown in the last decade. 2009 marked a turning point for the brand as that's when they killed off arguably the best body style they ever had (B7 pride!) and dropped their partnership with Recaro. However 2009 wasn't all bad news as they also offered an S model of the TT coupe for the first time. I've always had a soft spot for the TT ever since Tom Cruise spun one off a cliff in MI:2 and the second generation body style is one of my favorite Audi designs. It looks especially good in white but one must resist the urge to "stromtrooper" the vehicle. Black wheels are overrated people, trust me, been there done that. I would however support powder coating the signature TTS gas cap, that's a tasteful modification.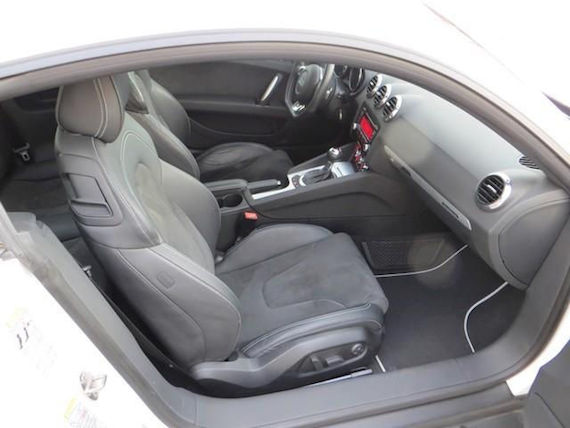 Year: 2009
Model: TTS
Engine: 2.0 liter turbocharged inline-4
Transmission: 6-speed S-Tronic automatic
Mileage: 33,617 mi
Price: $27,995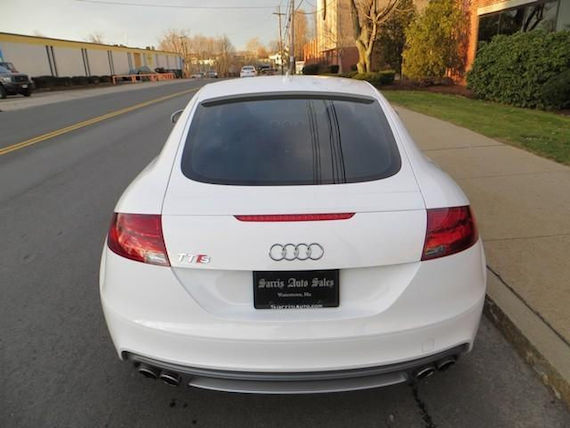 THIS IS A 2009 AUDI TTS COUPE QUATTRO S TRONIC IN IBIS WHITE WITH BLACK LEATHER/ALCANTARA INTERIOR WITH MANY OPTIONS AND ONLY 33,517 MILES. THIS AUDI TTS HAS A CLEAN CARFAX.IT HAS MANY FEATURES SUCH AS 6 SPEED AUTO S TRONIC TRANSMISSION, PREMIUM PLUS PACKAGE,10 WAY ADJUSTABLE POWER SEATS DRIVERS AND PASENGERS,INCLUDING FOUR WAY POWER LUMBAR HEATED SEATS BLUETOOH PHONE PREP, RAIN SENSING WINDSHIELD WIPERS, TRACTION CONTROL,AND XENON HEADLAMPS. BALANCE OF A 4YR/50K WARRANTY. THIS VEHICLE IS FULLY SERVICED AND ALSO INCLUDES A COMPLETE SET OF OWNERS MANUALS,AND FOUR KEYS. WE HAVE BEEN SERVICING AND SELLING VEHICLES FOR OVER 50 YEARS! EACH CAR ON OUR LOT HAS BEEN HAND SELECTED. WE PRIDE OURSELVES ON FINDING LOW MILEAGE VEHICLES IN EXCELLENT CONDITION. EVERY CAR IS 100% SERVICED AND INSPECTED IN OUR FULL SERVICE SHOP! COME DOWN AND FIND OUT WHY WE HAVE BEEN VOTED WATERTOWN'S "BEST USED CAR DEALERSHIP" FOR EIGHT YEARS RUNNING!
If I am honest with myself there isn't a new Audi that I'd even consider owning that doesn't have an S badge and even then I'd always be pining for an R to precede that S. The trouble is knowing all the amazing models that are available to those living on the brand's home turf. S1, RS3, RS4 avant and so on and so forth. Like so many other brands Audi doesn't ship it's best and most lust inducing models to the US and that leaves me angry, confused and disillusioned. Why can't they send over S5 Sportbacks? Why?!
Anyhow, getting back to that question I am so often asked, the answer is I probably won't be getting another Audi but if I was going to it'd most likely be a TTS like this one. The seats and the steering wheel are reasons enough to consider one of these sprightly little coupes. I've sat in one and let me tell you, the bolstering, especially on the legs is just perfect. Of course I would much rather walk outside everyday to find a TTRS waiting for me but those are still trading at a hefty premium, mostly over $50k. So for now it is the TTS with it's modified 2.0 TFSI 4cyl putting down 268hp and 258 lb-ft of twist that'll fall into the "I could" category. This particular car is a Premium Plus and it doesn't have navigation but that's great because the RNS-E system sucks and you'd want to take it out anyway. Besides, you're in a car that's all about the driving experience, getting a little lost should only add to the fun, provided you've got enough gas to get back to civilization of course.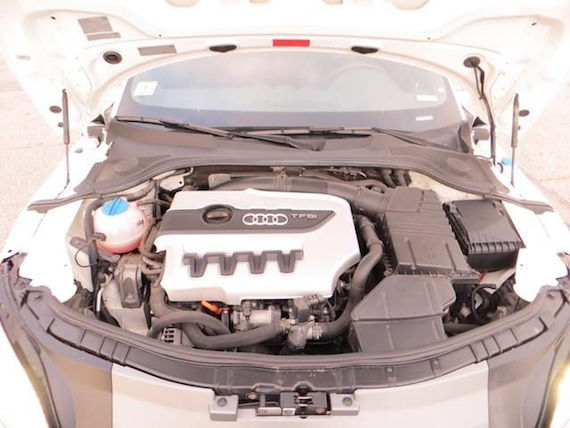 The main gripe that I have about this car is that it wasn't available with a 3rd pedal option in the states, that would really fit the personality of the car. Luckily for us there is another car that's very similar to the TTS that is available with a manual, it's spiritual cousin, the Cayman S. The choice between those two vehicles is a tough one and would most likely come down to whether you think you need AWD. Perhaps a "would you rather" will be in order in the coming weeks because the question of Cayman vs. TTS is a very real debate raging in my head.
-Andrew