The 4.2L V8 S4s are a hard act to follow. In 2009 when Audi announced that the S4 was returning to forced induction, many were skeptical that this car could live up to the S4 name.
While the supercharged V6 gives up 7 bhp to the predecessors V8, it makes up for it with a 20 ft-lbs torque increase and cuts the 0-60 by about .5 seconds. The B8 S4 puts the power to the ground via Audi's legendary Quattro AWD and their new active sport differential. With more usable power, better gas mileage and loads of technology, and refinements, the new S4 takes Audi's sports sedan in to the future, while living up to the S car heritage.
This clean Brilliant Black over Silver Alcantara S4 for sale in Houston, TX is a true gentleman's sports sedan.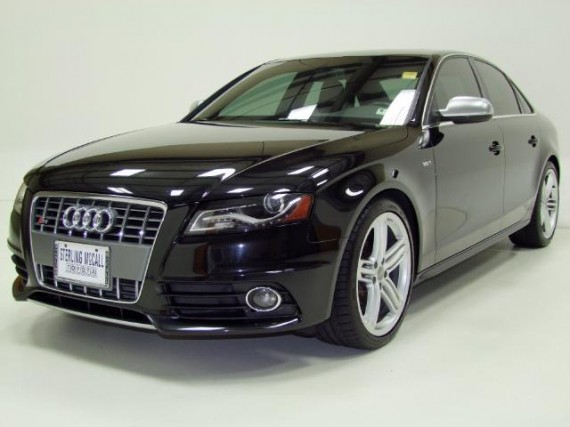 Introducing the 2010 Audi S4 that comes with legendary 3.0L V6 Supercharged engine, 6-speed manual transmission, Premium Plus Package, navigation, power sunroof, heated front seats, leather interior, Bluetooth phone system, rear backup camera, rear parking sensors, Xenon headlamps, Sirius Satellite Radio, alloy wheels, fog lights, power front seats, power locks/windows and so much more.
The B8 S4 is leaps and bounds beyond its predecessor, the only gripe that myself, and many other Audi enthusiasts will have is the loss of the 4.2 V8's exhaust note, which when approaching the rev limiter is one of the best noises any car could make. That being said, it's a small price to pay for what you get in the B8. Priced just a hair below retail, this S4 checks all of the right boxes with its black exterior, Alcantara seats, and the 6-speed. The only major option I wish this had would be the dynamic chassis, but that's certainly not a must have for me. The mileage on this car is a tic high at 42,000, but that's still relatively reasonable. Given the mileage, if this could be had for around $34,500 this car would be a good buy.
Given the current "competition" from BMW and Mercedes-Benz, the S4 is outgunned in the power department; however with Quattro AWD, dead sexy styling, and enough power to get anyone in to trouble, the S4 seems to be the most civilized option in the group.
-Brian