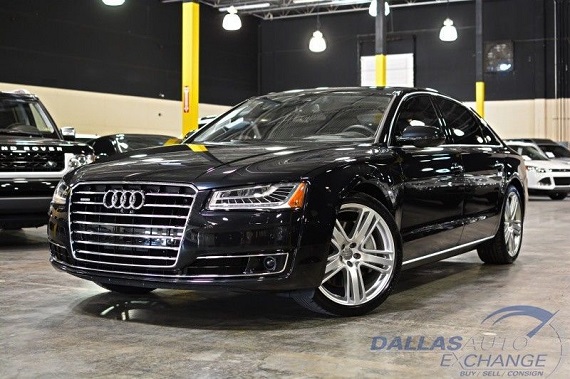 Through the 1980s, Audi was known for doing things a bit differently than everyone else. In the 90s, they struggled to redefine their imagine into a new, progressive lineup with the aluminum heavy A8 while still appealing to their target market with cars like the S4 and S6. But in the 2000s Audi underwent a major change; the acquisition of luxury brands into the VAG fold meant Audi moved in a new direction. Increasingly, it was the interiors of Audis that were making headlines. First, the TT did a retro-modern take on a sports coupe. But the real money was in the luxury car market, and with the D3 and C6, Audi narrowed the gap between the newcomers and the established luxury brands like Bentley and Mercedes-Benz. The cabin layouts grew increasingly tech-heavy, but also filled with supple leather and the dash had beautiful inlays of warm woods. Like a Scandinavian ski resort, they pampered their guests with modern designs in slick packaging. Move on to the D4 Audi, and the change in engine lineups in addition to the further revised cockpit meant you now had the setting and motivation to shock your Wall Street business partners. Today's 4.0T, for example, comes stock with 414 horsepower and 443 lb.ft of torque – good enough to launch the Audi from 0-60 in under 5 seconds. Yes, you read that right. The massive bank vault-esque A8L will hustle from a standstill in 4.6 seconds. What's perhaps more amazing about that is that within the A8 lineup, that's actually third from the fastest model, with the massive W12 and S8 models both being a few ticks quicker. What an insane world we live in. Speaking of outrageous, massive luxury and speed cost, and when you consider this Audi Exclusive model, you've racked up charges close to $160,000 by the time you've signed on the dotted line….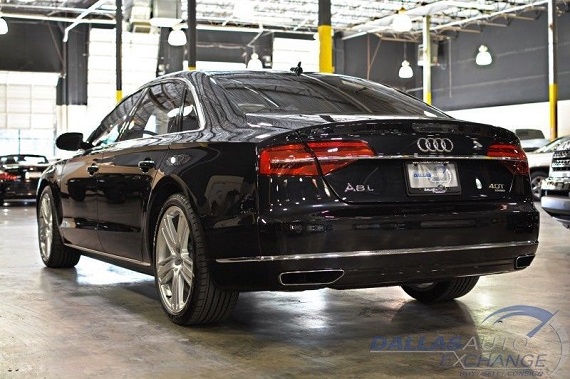 Year: 2015
Model: A8L 4.0T
Engine: 4.0 liter twin-turbocharged V8
Transmission: 8-speed automatic
Mileage: 5,193 mi
Price: $104,989 Buy It Now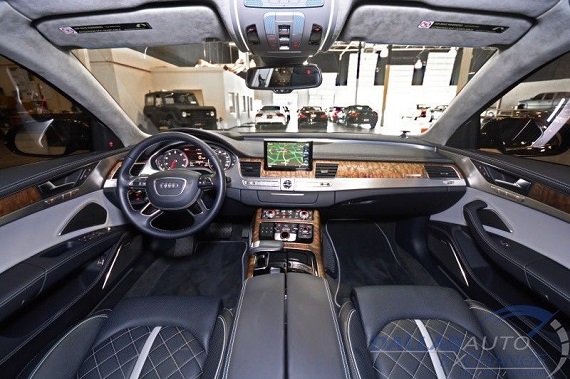 ***157,175 MSRP! Audi Exclusive Package! ($35,600) Audi Exclusive Color! ($3,900) Bang and Olufsen Sound! ($6,300) Premium Package! ($3,950) Sport Package! ($3,700) Luxury Package! ($3,400) Rear Seat Comfort Package! ($3,000) Driver Assistance Package! ($2,250) 21in Wheels! ($2,000) Panoramic Sunroof! ($1,000) Cold Weather Package! ($750)***

Dallas Auto Exchange is excited to offer this INCREDIBLY well equipped 2015 Audi A8 L Exclusive Package with only 5k miles. This is not your typical A8, and the window sticker proves it. This car was custom ordered with literally every exclusive option imaginable. The hand-stitched custom interior is absolutely stunning, and the details will blow you away. No expense was spared, and the result is an interior that is on par with what you would expect to find in a Bentley or a Rolls Royce. The finest hides, and the most beautiful veneers were hand selected to build this masterpiece, and the attention to detail is breathtaking. In addition to the Exclusive interior, every expensive option on the order form was checked, so you won't have to want for anything. We purchased the car directly from Audi/VW USA, and it passed their rigorous certified inspection with flying colors. It is flawless, inside and out, so you are essentially getting a brand new car for close to $50,000 less than it cost the original owner. This is a one of a kind vehicle, and the price is outstanding, so we expect it to sell very quickly. If your jaw just hit your keyboard, you probably aren't the first person it has happened to, but you can ensure that you'll be the last. Your chin is typing random buttons right now, so pick it up and head this way. This car will not disappoint. *The owner's manual, both keys, and great customer service are all present and included.*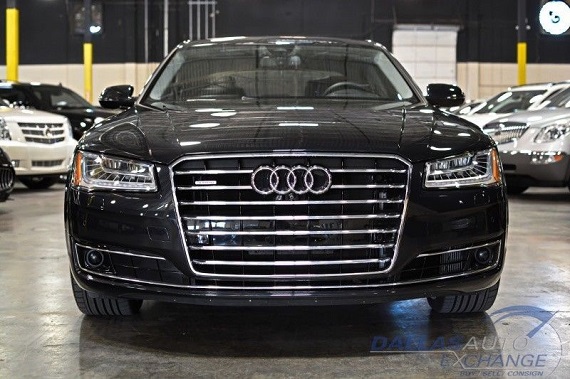 If you missed it, the charge for the Audi Exclusive package was $35,600. No joke. And for that, you chose black with black interior? Clearly that was just spending money for spending money's sake. There are literally hundreds of options and thousands of configurations one could chose from with the Audi Exclusive package, and since you're paying for it why not go outrageous with something like Merlin Pearl Effect? But I guess it wasn't my money, and in the second hand market you're not paying the up front premium. What you get is one hell of a price reduction over stock MSRP for what is effectively a brand new car. $53,000 cheaper for 5,000 miles covered boggles my mind – just in depreciation alone, you've spent $10 every single mile you drive. Considering the 155 m.p.h. top speed, that'd be $26 a minute in depreciation which is comprehensibly unfathomable to me. Personally, were I in this market, I think that I like the revised front end of the 2016 model a bit more and you can select your own options carefully and stay around the asking price of this used example. Or, if you really want to say you went the Audi Exclusive route, I'd buy one in a really neat and unique color. Maybe it wouldn't be purple – but you can bet it wouldn't be black over black.
-Carter