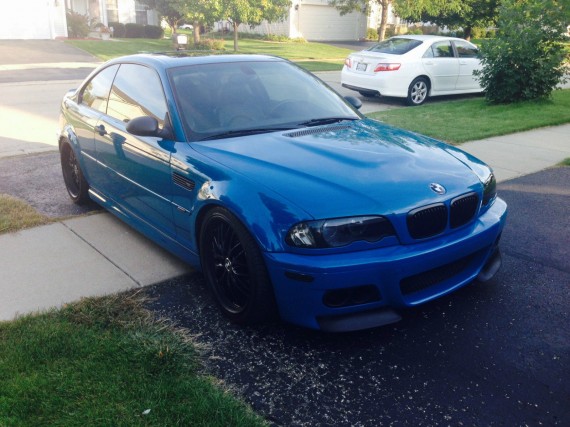 While my personal inclinations lie in having M-cars as close to the 80s as possible, there's no question that the E39 and E46 combo are extremely desirable. The E46 M3 continues to grow on me as a relatively-analog total athlete. It's not quite a top-5 "must buy" yet, but it's certainly entering the conversation. Today, we have a remarkably similar duo, both examples dressed in the distinctive Laguna Seca Blue on black dubs with moderate modifications. The owners are clearly proud of their car, resulting in prices significantly higher than other E46s on the market.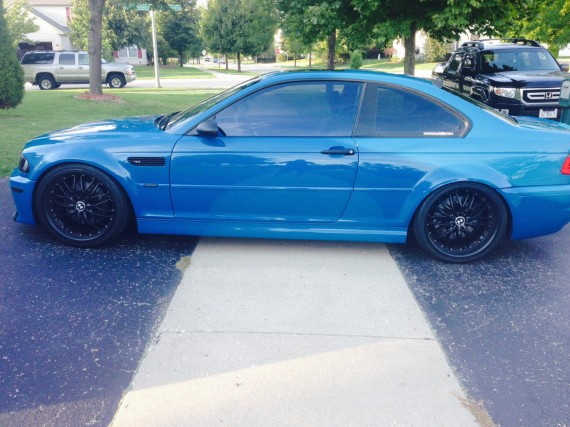 Year: 2002
Model: M3
Engine: 3.2 liter inline-6
Transmission: 6-speed manual
Mileage: 56,000 mi
Price: $25,000 Buy It Now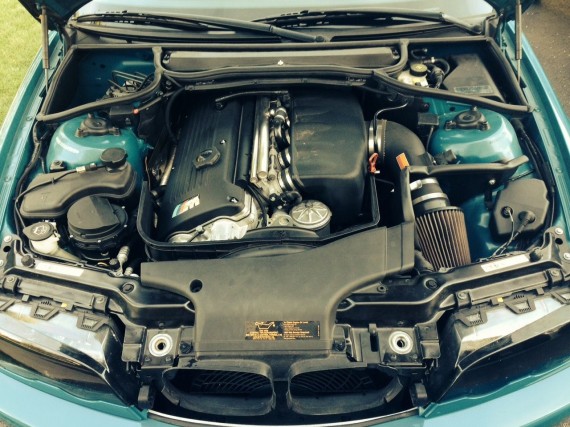 2002 BMW M3- Excellent Condition….Second owner

I have clean/clear tittle in my name for buyer ready to go. I will NOT ship..Buyer will pick and cash in hand.

I got this car when it had 38k on it about 10+ years ago and since then I have not drive the car much..

2002 BMW M3 Coupe, 3.2 liter, 6 Speed

Black leather Low mileage, perfect history report, No accident, performance machine!

2013 : StopTech Drilled & Slotted Sport Brake Kit/ front and rear ( maybe few hundred miles since then)

New Battery this year

I have done bunch of upgrades:

Active Exhaust, Ebay headers, AA tuning, Full K40 radar ( front and rear and jammer with remote) K&N air filter, Angel eyes, LED tail lights, rear carbon diffuser, rims, coilovers, shocks, can't think of the brands since I did them all Long, Long time ago, some mate black paint job (mirrors, rims, side grills ) and more..

It has been meticulously maintained and is in excellent condition. All the books and manuals and keys (2 Master, 1 Valet, and 1 wallet) that came with the car originally. There are no dents or dings on the exterior, original paint; no stains or damage to carpets, leather is in excellent condition and all dashboard, panels and trim are in perfect condition, as well, it has sunroof and everything works. You can't find any cleaner car with this age and only 2 owners/low mileage. I have bunch of stock spares parts that comes with it. Please contact me if you have any questions. I am fast to respond. Thanks for looking and good luck.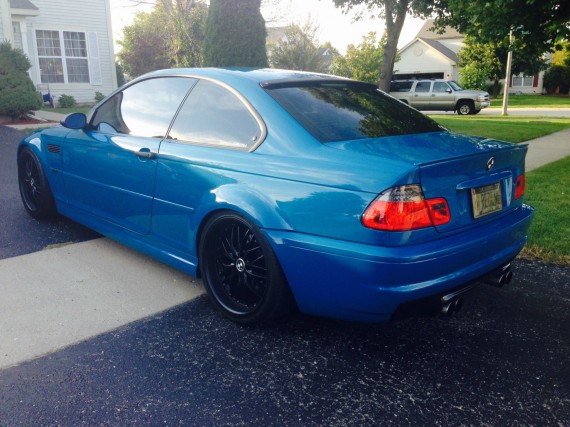 Small adjustments would make this palatable for me, but the combination is a bit much – too low, too big, too many black accents. It's probably a fun car, but I won't be buying an E46 M3 from a dude who lists "Ebay headers" as one of his modifications.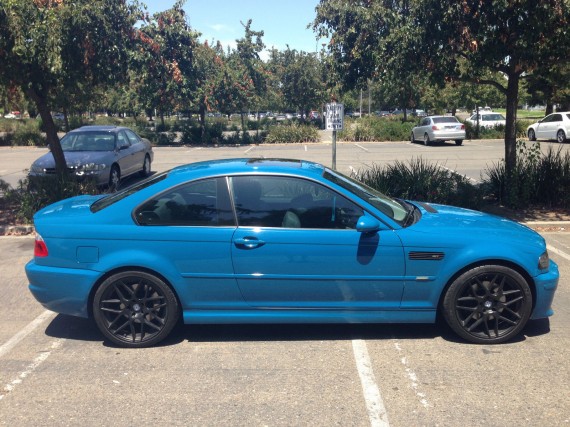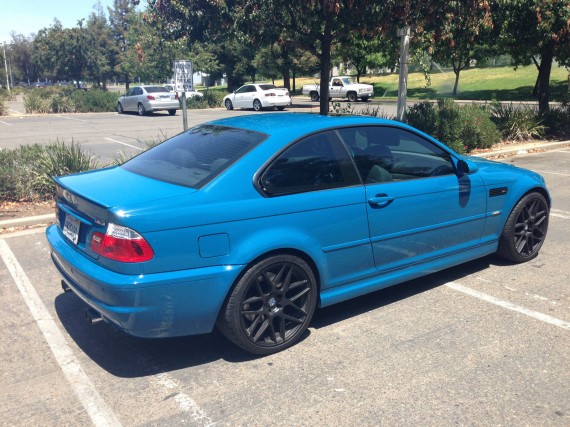 Year: 2003
Model: M3
Engine: 3.2 liter inline-6
Transmission: 6-speed manual
Mileage: 69,785 mi
Price: $27,500 Buy It Now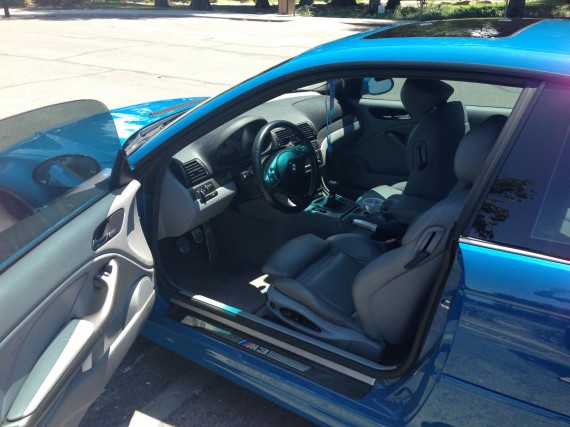 2003 BMW M3 Coupe
Laguna Seca Blue (LSB) / Gray
6-speed manual transmission
Cold Weather Package (heated front seats, retractable headlight washers, ski bag)
Premium Package (Power glass moon-roof, Rain sensor, power seats w/drivers memory, Nappa Leather Upholstery)
Adjustable Seat Width/lumbar
Park Distance Control
Xenon Headlights
Navigation System
Harman-Kardon Sound System
19″ Matte Black Vorsteiner Wheels w/ Michelin Pilot sport PS2 tires

69,785k original miles
*I drive the car at nights to go to gym and on weekends.
*Previous Owner used the car mainly on the highway and to commute to college and work.
4th owner
Clean Carfax

Bone stock except the following:

35% Tint
Painted reflectors
03.5 Taillights + OEM 03.5 LSB Bootlid
UUC Shift knob, UUC E-brake handle, UUC Pedals
Auto solutions Short Shifter Kit

Details:

1. I am the fourth owner. I bought the car around 58,000 miles and during the time I have had the car, it has been an absolute amazing experience. The previous owner bought the car with less 15,500 miles from a Middle aged man named Ali who used the car as his weekend car. He was having a baby so car had to go. I have all the records of the car from day 1 of purchase including all books and window sticker. Ali bought the car from his rich uncle with 5,000 miles on it. His uncle just bought it as a toy and changed his mind.

2. EVERY SINGLE service has been done on time and added oil changes at 5,000 miles instead of 15,000. Every single record was kept and documented from BMW. At 50k miles, all services with all OEM BMW parts and fluids were completed. Inspection II (everything including valves) @ 50k. Just put in a new Everstart battery 2k miles ago. This car is perfect and ready to go. When I bought the car, I purchased ($2200) brand new Matte Black Vorsteiner staggered rims and I spend ($1800) and brand new Michelin Pilot Super Sport tires. 275/30/19 rear and 245/35/19 front. Tires have less than 10k miles on them. I also spend $2200 on replacing DME – EMS which has 2 years warranty. The only thing that needs to be changed is the brakes. The car has NEVER broken down on me. As reliable as solid German engineering gets. No lights on the dash, no weird noises, NOTHING. Mechanically as great as day 1.

3. The car is meticulously cared for outside of maintenance. It has been garaged since day 1, gets fully detailed twice a year, and wax every other month. The car is warmed up before driven, no food is allowed in the car, and rear seats were almost never used. This cigarets allowed in car. Smoke Free!!! This car has truly become a huge part of my life and everyone who knows me knows me by my car also.

In summary, you will be hard pressed to find a cleaner 2003 with less than 70k miles in this rare and desired color, guaranteed. It is not off the manufacturing line show room condition, but it is MINT for it's age.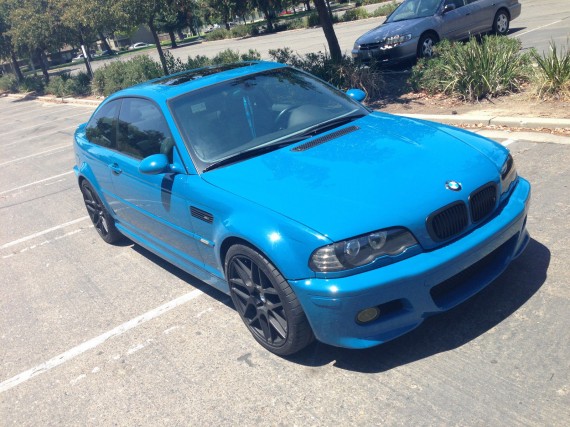 Fewer modifications, preferable wheels, and an apparently more cared-for history make this one my choice of the two. Laguna Seca Blue does look good against black with moderation. Despite more miles and a higher price, this one just presents better and looks like it has been appreciated rather than just used.
In reality, if you want an E46 M3, you should spend $6-8k less and get an outstanding, non-Laguna, unmodded example and start your own adventure. But if you call it "LSB" and read A LOT of E46 forums, maybe you want one of these enough to spend the extra money.
-NR