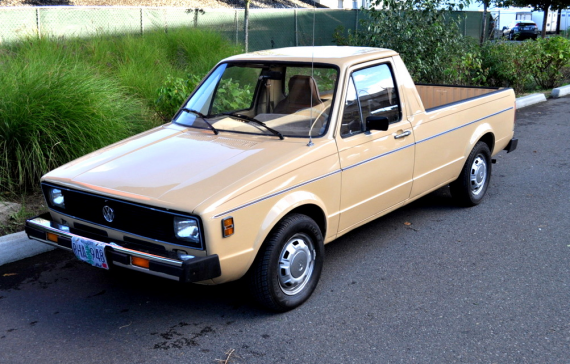 As I discussed the ins and outs of acquiring your first drivers license with one of my athletes this morning, I was unexpectedly overpowered by fond memories of my first car: a 1981 VW Rabbit Pickup. The smells, sounds, and feel of packing my 6'4 frame into the tiniest of trucks all rushed back. I loved that truck, and was truly crushed when my dad decided we could no longer put any more money into it. Luckily it went to a great VW collector from the midwest who ventured to the Pacific Northwest every so often to visit friends and find some rust-free chassis to play with. Diesel versions are beginning to pull some serious money as their insane gas mileage and imminent utility find resurgent appreciation in the face of scarcity, but gas versions seem to be one of the few German cars from the 80s that can still be had for crazy cheap. Today's has covered an insanely low 42k miles and it shows. Completely straight with a fresh coat of Mexico Beige, as perfectly subtle as the little truck itself.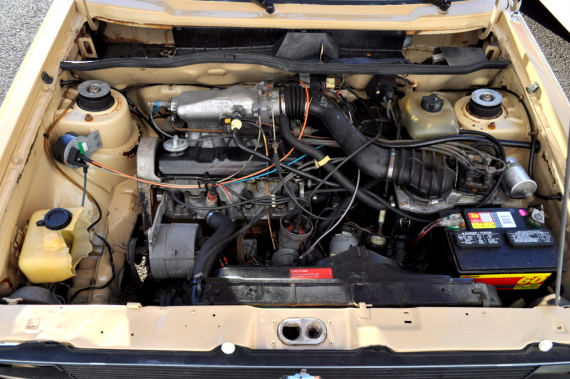 Year: 1980
Model: Rabbit Pickup
Engine: 1.6 liter gasoline inline-4
Transmission: 4-speed manual
Mileage: 42,000 mi
Price: No reserve auction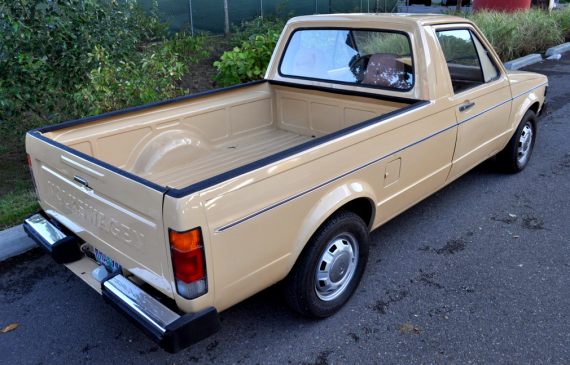 Welcome eBayers! Thanks for checking out my ad. First of all I want to point out that this is a NO RESERVE AUCTION and the starting bid is a penny. Someone is going to own this truck after the weeks run. With that said please realize that any bid could be the last and the last bidder owns the truck. Any questions or inspections need to be answered before the end of the auction.

Okay, with that out of the way let me describe this truck to you folks. This is a 1980 VW Pickup with a 4 cylinder gas, fuel injected engine. These were also known as a Rabbit Truck because of the obvious similarities. This is really a clean and nice rust free little pickup. I was told that the miles are actual, but can't vouch for a 33 year old rig with a 5 digit odometer so you be the judge. I am selling the truck as EXEMPT MILES.

The paint is fresh and done in the striking and factory shade of Mexico Beige. Funny thing about beige cars. They always seem to be well cared for. Maybe because they were like the ugly Charlie Brown Christmas tree or something. People felt sorry for them so they made sure and change the oil?? Just a thought. Anyway for the most part this car is no exception. It looks great, and runs great too. The engine starts easily with no hesitation or smoke. It does not drip oil or run warm on hot days either. The transmission is smooth and all the syncros are smooth and nice. The clutch is strong and chatter free. The tires are almost new. The brakes stop straight and true. The shocks and struts are all good and the Volkswagen drives straight down the road without any wondering.

The interior is where this little truck could use some love. It is all cosmetic, and wouldn't be as bad if the rest of the truck was not so nice. I almost took it to my guy and let him go to town, but thought maybe I would leave it for the next guy or gal and let them put a few personal touches in there. The seats are ok but a little tired like the carpet. The door panels need some clips and the radio is vintage and not in the good way. The speakers are trash. The dash is cracked and covered in fuzz the headliner is non-existent, not that there was much to them anyway.

All of the gages work properly though, and the heat and fan and wipers and headlights. There is a small bullseye in the windshield and the passenger wing window is plexiglass. One of the lenses of the rear lights is cracked, but still works. The windshield washer bottle is broken from age.

This truck is a keeper though. The kind of vehicle that you give a name too and keep forever. Hopefully this little pound pooch finds a good home for a good long time. Its new owner will get a dependable little worker-mobile with lots of life and style too. This VW has all of the vintage appeal and legendary reliability that people want and it is not going to break anybody's pocketbook either.
I will own another one of these some day. They are too much fun and surprisingly useful, if a little cramped on the inside. It is becoming harder to find nice examples, but this low-mileage sweetheart in Portlandia would be a great buy. Despite hot bidding, the price is still extremely reasonable and will probably stay that way. While the diesels are cool, the ease of engine swaps in these is tempting; you could go TDI or hot minitruck if you pleased, as we'll see in the second installment of this Tale of Two Caddies…
-NR