Richard contacted me about listing his 83 BMW 320i for sale on the blog, and how could I say no? It has the blessing of Paul from Sports Car Shop who recently told me that the car was "immaculate" after doing the recent service mentioned in the Craigslist post for the black e21: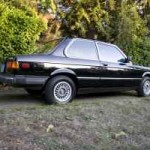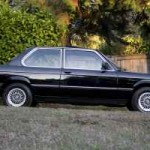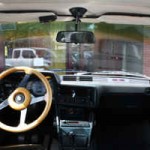 quote from Craigslist posting (Eugene/Portland):
Beautiful BMW 320i – $3200 (Eugene/Portland)

Selling my great little 1983 e21 because I'm traveling out of the country and feel bad about letting my car sit for a year. I just had a service review done at the Sports Car Shop in Eugene and they found very little wrong with the car. The crank case seal needs replacing along with the read diff seal. The motor mounts could stand to be replaced along with the various engine belts. The car has a long service history and really is in great shape. The engine bay is very clean, with no build up anywhere, the GETRAG 5speed gearbox shifts smoothly and the suspension is firm, with not seepage or leaks. I'm a BMW CCA member and the car won the 2007 BMW ACA Octoberfest People's Choice award and Best Classic award. Email for more images and contact info. This car is located in Oregon, all transactions must be done in person and in cash.
196,700 Miles
5speed Manual
Flawless Paint (Black/Black)
4 brand new OEM wheels (from BMW Mobile Traditions) with good Turanzas
Sunroof
Paul went so far as to say he was almost considering buying this car himself, but was instead inspired to continue the work on his own classic BMW after seeing Richard's car! Considering he's only asking $3200, someone should snap this up cheap!
dc