The 560SEC was not a common car to begin with, as just a little over 5,000 were produced for the 1989 model year. In total, during its entire production run, almost 29,000 were produced. Considering Toyota makes over 400,000 Camrys a year, this kind of gives you a perspective on just how rare these W126 coupes are. Finding a clean one these days proves to be quite a challenge, however, there are still some out there. Take for instance this example, which has evaded the harsh Northeast climate, advertised in Hemmings Motor News:
1989 Mercedes-Benz 560SEC on Hemmings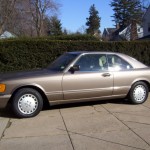 The seller notes:
1989 Mercedes-Benz 560SEC, Desert Taupe mettallic / Creme beige leather. FLAWLESS, only 48,000 documented miles. Spectacular original paint, clearcoat, glass. Impeccable interior, carpet, wood trim. Fully sorted by obsessive owner and his German born Mercedes (only) mechanic. NEW: A/C compressor, condenser (conversion to R134), water pump, valve cover gasket, brakes (rotors & pads), wheel bearings, tires, alignment, sway bar linkage, window regulators, steering shock, headrest guides. All electronics work perfectly including orginal Becker radio, sunroof, seatbelt extenders, antenna. Remote locking, alarm, 6 disc CD changer. Beautiful!
I haven't seen one of these for sale with under 50,000 miles for a while, so $22,900 seems pretty fair, especially if it as well documented as the seller describes. This is a lot of car for the money, especially considering this was the most expensive Mercedes-Benz for sale in 1989.
-Paul