The Hungarian red E21 was a fun writeup, and I enjoyed the comments regarding the style. Specifically, the detraction of the add-ons from the otherwise-pristine, untouched look that just 47k miles can do. Well, I found another E21 that has covered all of 83k miles and has a much cleaner, "how it shoulda been done" look that comes with simple and well-chosen Alpina upgrades. From the cream color to the front spoiler to the much-more correct rear spoiler to the open-lug classics, this is how an E21 should be. It outdoes the red's cloth interior-with-seat covers as well, achieving the TKO via immaculate leather and Alpina wheel and shift knob. Bidding is at 1/3 of the Hungarian's at $5,100, though the reserve hasn't been met and there's a week to go. No question, nicest E21 I've ever seen.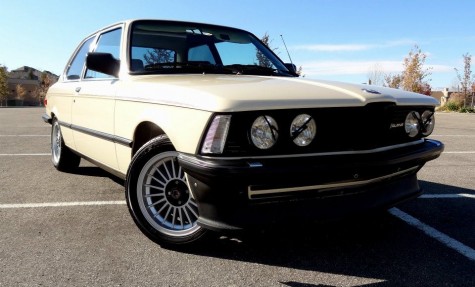 Wow:
So this is a pretty rare little car here.
Purchased a few months ago while looking for a commuter vehicle that still had some vintage BMW appeal.

The car is truly a one of a kind. A true head turner, with a bit of spunk in it as well. There is literally nothing that this car needs.

This little gem showed up and was about 7 out of 10 based on running condition and maintenance. However, right off the bat, the starter died. I took it to BMW of Murray (yes, a dealer), who went over it with a fine tooth comb. They found a ton of tiny things wrong but nothing major. All work was performed by them including valve adjustments and factory recommended plugs (which were roughly $40 each), and a new starter. End result is that it purrs like a kitten and while its not a rocket off the line, it will cruises along at 110mph as smooth as a 7 series. (Yes, a good e21 will cruise at high speeds)
Discussions with the techs at BMW lead me to the conclusion that this was not a cloned car. Basically all its missing at this point is a euro motor. The suspension is a full Alpina spec set up. We looked at the installation and the parts, the work is just too old to be new.
It was his opinion, that the car was probably dropped at an Alpina tuning shop to get what upgrades were possible for a US spec car. He was also in awe of how clean it was, in, out, and under.

From that point I had the car professionally cut and polished at a very reputable local body shop. That did the final trick. The color came back with a vengeance and the paint is smooth like glass.

My problem now is that I live in a state infamous for its salt, snow and weather. Weather that will destroy a car like this. So its up for sale, to a new owner who can hopefully keep it well.

It needs absolutely nothing. Drive it anywhere.

A list of pro's for the little e21:

Completely original. No crappy add ons.
Coolant overflow in Alpina method.
Front Strut tower brace
Rear strut brace with battery relocation
New YellowTop Optima
New starter
Boge Coilovers
3.93 LSD
No leaks, no oil, no trans, no nothing.
5spd Getrag Trans.
Full Ansa Exhaust
New ball joints in front
Front end gone over and all seals and bushings replaced.
All bushings in the rear replaced (links and such)
Interior is perfect.
All seats are 100%, no rips, splits or tears.
Carpet is green. thats all I can say.
AC works well and blows cold
Heater and fan are 100%
Defroster is working correctly.
Hazard switch is not broken.
Aftermarket Alpine headunit with IPod interface.
NO RUST ANYWHERE.
320is steering wheel
Alpina Dead Pedal
Alpina VIN tag (was in glove box)
This car really is too nice to daily drive. The only thing that keeps it from being an absolute 10 is the pin-striping is a little faded and there are a few tiny dings on the rear quarter panel. Difficult to see but they are there.

She starts and runs flat and true. Really does not need anything. Another item of note is that she is running all synthetics, and no leaks. If you have played this game before, you know that putting synthetics is most older cars will create leaks.

Questions, please ask. Its a true, rare collector piece and there aren't a whole lot of e21s around anyway.
It will be very interesting to see where this bidding goes compared to the high Buy-it-Now of the red E21. Even for more money, this would be the one to buy if you are looking for the best E21 out there.