A while back, I wrote up an E30 M3 that gave me weird feelings – I couldn't tell if it was awesome or terrible. Flat black with an S52 turbo swap and a rebuilt title, it was otherwise pretty straight and seemed to be free from the normal constraints of E30 M3 respect. Well, it's back on the market, albeit this time with a new paint job and some more eurotuner-appropriate polished-lip, painted-center BBS RCs. Those are pretty much the only changes, other than some further confusion regarding the state of the title. It now stands more as an M3 pushed closer to 11 as opposed to a true oddity, but the core remains the same: it will be a less-expensive, blisteringly fast E30 M3.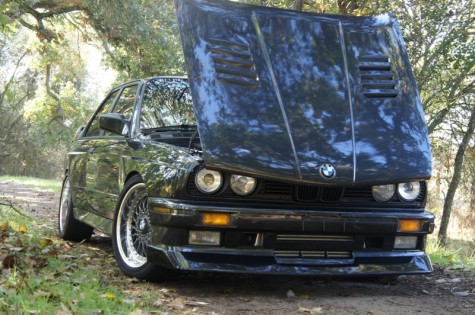 A straightforward description:
1988 BMW E30 M3
Diamondschwartz Black.
158K Miles
M52b25 Engine- 140MLS Headgasket with ARP Studs, New gaskets, seals.
e36 M3 cams, Excellent Compression
HID Headlights
255 Walbro Fuel Pump
GT35R ball bearing turbo
V-band External 3″ downpipe 42lb injectors
Super sequential blow-off valve HKS
OBX Wastegate Kit 44mm w/ V-band External WG
Treehouse Wiring Harness Adapter
Custom dyno chip
Power Steering
With 5 speed transmission
UUC Stage2 lightweight flywheel with less then 10,000k since install
RACING DYNAMICS Thick Sway Bars front and Rear
LSD Rear- 2.93
D2 RACING RS Coilovers: 36 levels of adjustable damping plus Height
Stainless Steel brake lines
Upgraded Rotors and Ceramic Brake Pads
RACING DYNAMICS Steering wheel
SPARCO Sport Seats
Alpine CD Player
BBS 17" Style 5 RC rims- Freshly Polished with Dunloop tires at about 50% tread life left.
Gauge cluster is 100% working
New windshield. Tinted Windows front and rear
Custom Vented Hood
Fresh Body work: Re-sanded, primered, block sanded and then painted, cleared all with TOP notch PPG Paint. Then Wet Sanded and Buffed out.

The Bad: Has a Salvage/Branded title. Bought it with no engine no interior. Didn't care as this was a project car for me. Was not wrecked the only reason it's salvage is because the tow yard could not provide a smog so to save them self's they wrote the car off.
Biggest issues are fleshing out what the hell actually happened with the title and preparing to deal with scornful looks from the S14 faithful. I think the seller made a good choice getting the car painted in that deep Diamondschwartz, and while I might do without the vented hood and Evo II front lip, they certainly signal that this M3 is packing a lot more heat than the S14 could muster. The lack of S14 and provenance are its downfall as well, and the price will reflect that. Bidding is warm, with 14 bids pushing it close to $8k with 5 days left and the reserve still on. With the pros and cons factored in, I'd say this car is worth less than $15k, but not by much.
-NR