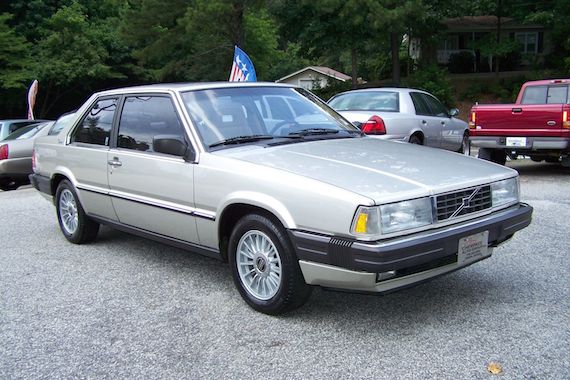 You wouldn't know it from looking at the current product portfolio, but Volvo carried a bit of a staid image up to and around the turn of the millennium, with 90 degree angles and boxy styling ruling the day. The cars had their following though, with a reputation for safety and reliability unmatched by almost every other manufacturer in the world. Looking back on Volvo's history, there were a few flash in the pan moments in terms of styling, such as the P1800ES, the 480 and these cars we see here, the 780 and Coupe. Essentially the same car, Volvo decided to produce an encore to the chopped top 262C, employing Bertone once again to have their hand at a two-door version of the 700 series. Just over 8,500 examples were produced from 1986 to 1991, with the final year seeing a name change to "Coupé." We'll start off this Double Take by looking at a 1987 780, with the venerable 2.8 liter V6 engine.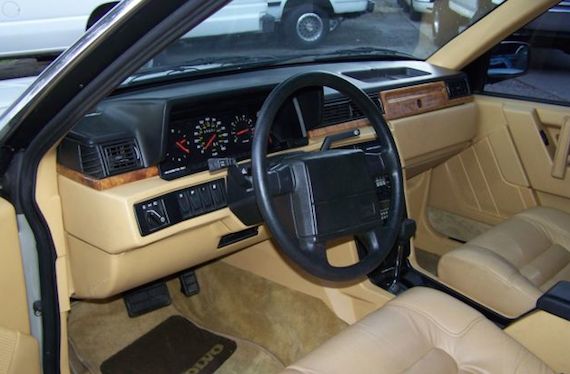 Year: 1987
Model: 780
Engine: 2.8 liter V6
Transmission: 4-speed automatic
Mileage: 30,620 mi
Price: $10,890 Buy It Now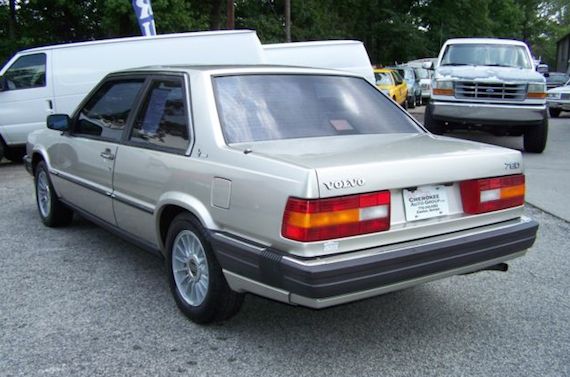 "Greed is Good" said Gordon Gekko in the 1987 film Wall Street. In Swedish, thats girighet r god, and in Volvo-ese, that sentiment translated to the factory hand built 780 GLE Bertone coupe! Check out this very sharp nice well documented pampered California 1-owner 30k org mile loaded Bertone pkg 780 Coupe! This is a very mint quality zero rust true survivor! Only 2099 of these were built in 1987 in Europe and USA and very few exist in this truly collector quality condtion and was a very earley build 7 series it was the #2272 off the line and looks to be one of the very first Bertones built so its pedegree does not get much better we bet you will not fine a better fresher original one! Its hard to beat a original unrestored rock solid car they are only org once folks and this car new in 1987 was over 34k in 1987 dollars! It has very nice colors and nice equipment with super nice perfect org heated glove soft tan leather and dare we say it still smells new, nice Beechwood lined custom interior, very very nice high luster clean all original paint, dual power memory seats seats, am/fm/cass, factory r-134 ac, cruise, nice correct alloys, factory alarm system with both remotes, power glass moonroof, 2.7L fuel injected v6, automatic, full power, clean tidy engine bay, clean trunk with original spare, org keys and much more! This car runs and drives and looks super nice and is very presentable! This vehicle is parked in our showroom it is that nice! Please call ahead to set up a time to check it out! The new owner should really like it!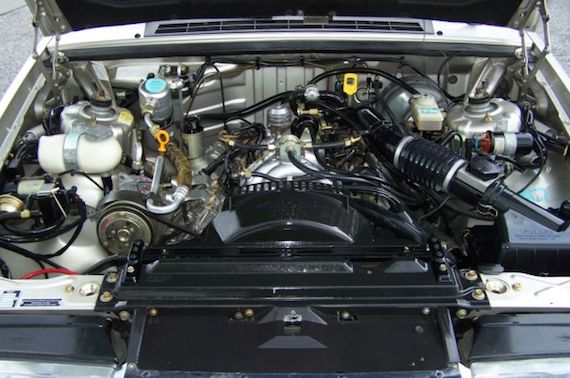 Beige has never been my favorite color, but I haven't seen a 780 look this crisp in a long time. From the tidy interior to the unfaded black trim on the bumpers, it looks as if this Volvo just rolled off the dealer lot. There are certain vintage Volvos which carry a strong following, but at almost $11,000, this might be a bit of a strong ask for a relatively obscure model amongst collectors. However, I wouldn't be surprised if there was one particular Volvo enthusiast out there who would pony up the cash for this.
Moving on, next up we have a 1991 Volvo Coupé, which was what the 780 became in its final year of production. This Coupé has even less miles on the clock than the 780 above but has the 2.3 liter turbocharged inline-4 under the bonnet instead of the 2.8 liter V6 we saw in the 780 above.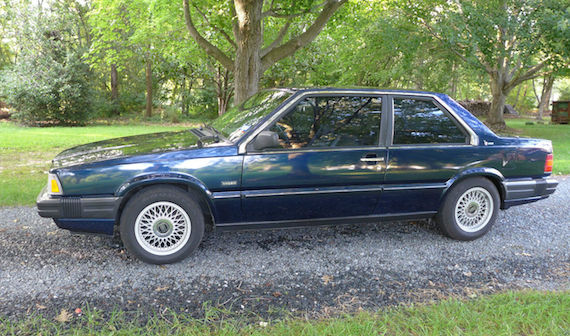 Year: 1991
Model: Coupé
Engine: 2.3 liter turbocharged inline-4
Transmission: 4-speed automatic
Mileage: 59,900 mi
Price: Reserve auction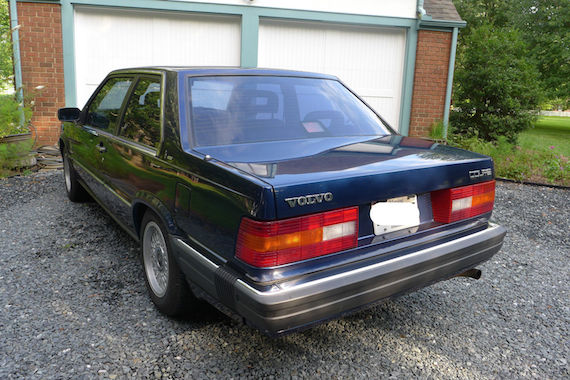 1991 Volvo Coupe

This car is the last of the line Bertone-designed 780 Coupe with all the refinements for the final model year 1991.

Texas car until last fall (and climate controlled storage in Maryland since then), this car has 59K original miles.

Interior is very good – with only slight imperfections on drivers door sill leather and passenger side seatbelt panel keeping it from being nearly perfect. Seats do show some wear expected with age and miles, but overall the soft Italian leather is in excellent shape. Presents extremely well. Carpets and original floormats are in excellent shape, no stains.

Exterior is great – all glass, chrome, rubber in terrific shape. Wheels are great, meaty Goodyears have plenty of tread. Due to minor hail damage according to the previous owner, the car was repaired, taken apart and totally repainted at some point. Very high quality job and there is no evidence of any residual damage, overspray, or faulty work of any kind. The car has not been detailed in any way since I got it, so the pictures portray accurately the kind of shape it's been in for some time. It has been living under cover in garage and was garaged previously as well.

Things that need attention: The climate control module is faulty, and the previous owner had purchased a couple of extras off ebay that will come w/ the car. Also the sound system is currently not working.

I had purchased this car from a collector in Texas last year with the intention of making the modest investment required to bringing it totally up to date. Unfortunately work and other priorities have made this unfeasible, and I hate to see the car sit.

Mechanical condition – car starts, runs, stops great – runs down the road w/ no vibration, brakes stop hard, straight and true. All lights, windows work, cruise, sunroof, etc, all ok. Trans shifts as a 59K Volvo transmission should – i.e. perfectly, firm and precise. Turbo spools up great and car has great power. Have receipt for water pump and timing belt replacement about 2k miles ago in Dec 2013.

Great opportunity to own the last of the line of the handbuilt Bertone-designed Volvo Coupes.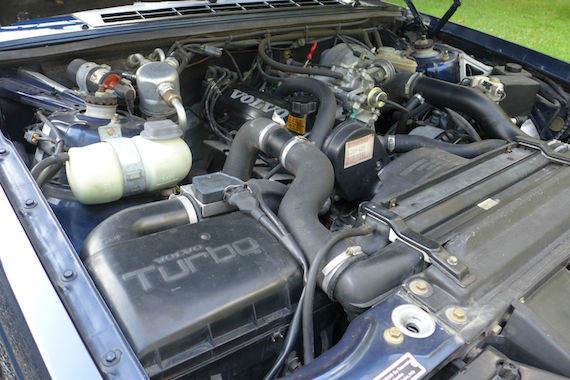 I remember seeing these coupes on the local Volvo dealer's lot and was quite curious about them, as they didn't seem to mesh with the vehicle lineup at the time. They weren't the most exciting coupes, but they have aged rather gracefully, if they still have a bit of a staid air. Which one would I choose? Hard to say. Very few of these came with a manual gearbox, and none of those arrived stateside. But these cars weren't the sportiest of Volvos, so the automatic suits the character. With that in mind, I'd probably go for the more relaxed V6 variant. A part of me always thought these cars would be ripe for one of those V8 conversions that you see with some Volvo wagons, making for the ultimate sleeper coupe. I probably wouldn't attempt such a conversion on well preserved examples such as these, however.
-Paul