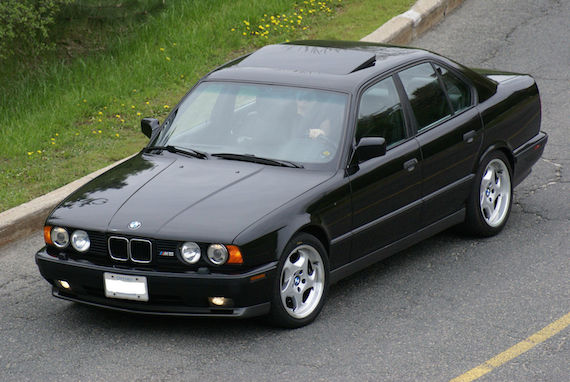 Usually, the M5 is the top dog of the BMW 5 series range. This model has been with us for almost a full three decades now, dazzling enthusiasts with supercar performance in a sedan package. When the E34 series debuted in 1988, the second car to wear the M5 badge would appear shortly thereafter, with a 3.5 liter inline-6 under the hood, good for 315 horsepower. The M5 would be pulled from the US market after the 1993 model year. Then, in the final year of E34 production, we would see a new model emerge for 1995: the 540i M Sport.
The 540i M Sport would be a sort of preview towards what BMW was planning for the M5 of the forthcoming E39 generation. With a new series of V8 engines in the BMW product portfolio, the company took it upon itself to create a sort of modified M5, with a 4.0 liter V8 under the hood mated to an available 6-speed manual gearbox with a few styling tweaks, firmer suspension and sports seats. Today we'll look at two powerful E34s, beginning with this 1991 M5 for sale in Ontario, Canada.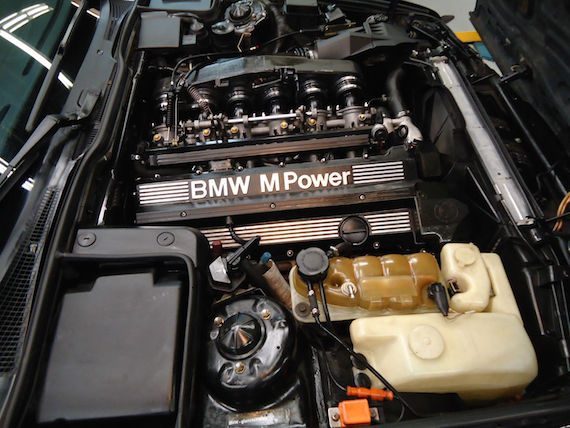 Year: 1991
Model: M5
Engine: 3.5 liter inline-6
Transmission: 5-speed manual
Mileage: 150,000 mi
Price: $25,500 Buy It Now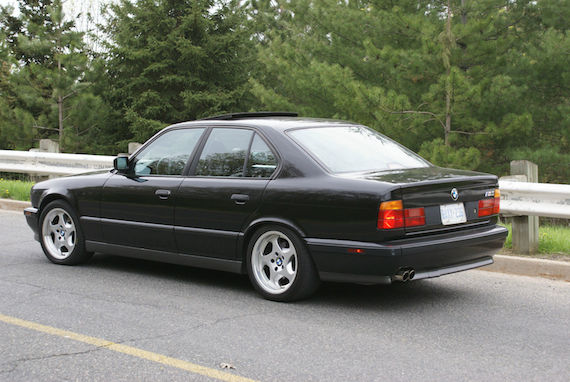 1991 BMW M5 for sale, this is a Canadian spec car with heated seats and headlight washers. I purchased this car in 2000 and it still has its original paint and interior.

This car has an extensive service history with all original books, tools, jack kit and original spare tire. It has always been winter stored in a heated facility and maintained to the highest standards possible. The engine has never been rebuilt and it runs as good as the day it left Germany, never failing and emission test. The gear box has been rebuilt as has the suspension and steering system.

Several modifications have be performed
Bilstein shocks front and rear
Full euro spec head light and fog lights (original bmw units)
17×9 rear wheels (nos BMW)
throwing star covers and centers (nos BMW)
(original 1991 fan wheel covers included)
Fly into Toronto and drive home, this car is tight and drives like a car with 40k. Everything works as it should even the radio.

This is bench mark car in BMW's history and possibly the best M5 ever made, the engine, chassis and suspension are spectacular. The kids have grown and I have no need for the four doors, this M5 has been a great reliable super car. It's time to let some else enjoy this fantastic car.

The car presents very well and looks like a car with ½ the recorded miles. Yes there are stone chips on the front end but it original paint and rust free. The major service has just been completed (including valve adjustment) and the car is ready for delivery

Willing to export at buyers cost.

FOB Toronto

Happy to answer all questions

All service work has been performed by Rocksauto.ca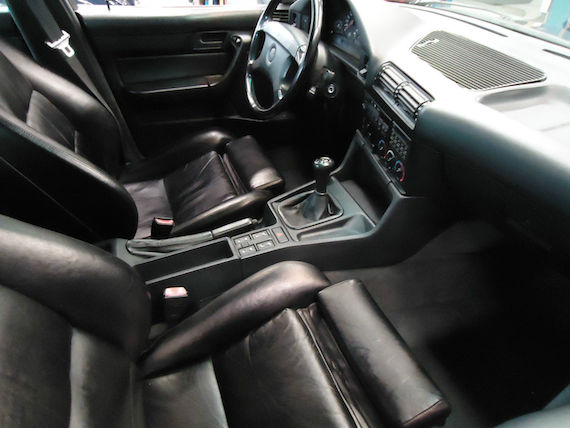 This is another one of those cars with higher mileage that makes it hard to believe its seen so much use. It really shows that given proper upkeep, you can really keep a car looking fresh no matter the mileage. The asking price here is a bit eye watering, considering you can get an M5 with much less mileage for a lot less, typically in the $12,000 to $15,000 range these days. With a recent major service and other upgrades, it's a compelling car, but the price will probably need to drop a bit before there are any bites.
Next up, we'll take a look at this 540i M Sport for sale in California. With M parallel wheels and patterned velour upholstery, this is one tasty package.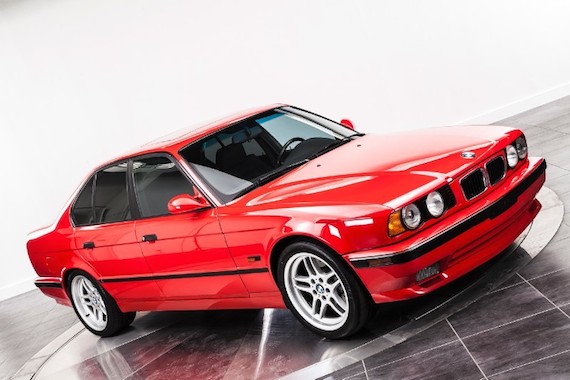 Year: 1991
Model: 540i Sport
Engine: 4.0 liter V8
Transmission: 6-speed manual
Mileage: 87,230 mi
Price: Reserve auction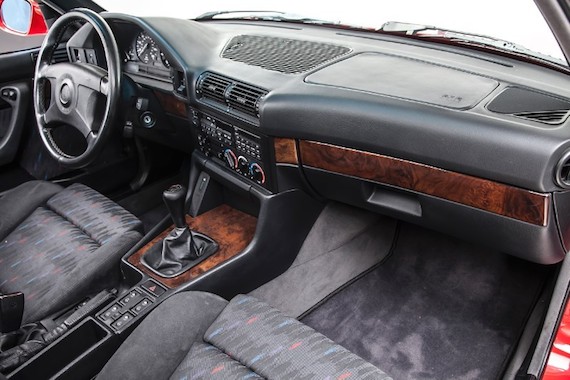 Eurocar is excited to present this outstanding BMW 540i M SPORT Edition with factory 6 speed Transmission. Finished in pristine red Exterior and a multi color velour Recaro M series Interior, this 5 Series is simply stunning! This 540i has been very well maintained, recently serviced and it is in outstanding condition! In addition to its luxurious standard factory equipment, this BMW 540i M SPORT is a true collector vehicle. Super low production numbered car.

"HISTORIC FACTS"

The 540i M-Sport model was built in 1995. This package included not only a firmer suspension and sport seats, but also used many parts from the M5, save for the engine and transmission. 205 "M-Sport" models were built, 139 of them with a 6-speed manual.Canada also got a special version — the M540i — which was similar to the American 540i Sport but had even more M5 parts, such as 345 mm floating front rotors, 18-inch M-Parallel wheels, and various trim pieces. Only 32 of these cars were built, all with a manual transmission. Australia was the final market that received one of the M-Sport 1995 540i 6 speeds. 70 "540i Manual Limited Editions" were produced, all manual and all individually numbered. They came with full M5 interior and the "throwing star" M-System II wheels, but did not have the Motorsport S38 engine nor the M-tech exterior kit fitted.

Please view the photos of this stunning 540i or view it in person at our 55,000 sq. ft. facility.

You may also request a LIVE viewing of this beautiful automobile through "EUROCAR LIVE". Email Sales@EurocarOC.com or call us at 949.722.7121

Please feel free to have this car inspected by anyone you wish. Our friendly and courteous Sales Team is ready to help you with any questions or concerns you may have regarding the purchase of a luxury pre-owned vehicle. Eurocar is a family owned business that takes great pride in our high customer satisfaction rating. We have over 25 years of experience and an owner who hand picks each car you see in our inventory. It takes a very special and high quality car to become a "Eurocar." We offer attractive financing up to 96 months as well as the option of leasing your vehicle. You can email us at sales@eurocaroc.com or give us a call at 949.722.7121. We look forward to meeting you and would like to invite you down for a test drive. Thank you for taking the time to view our inventory.
The contrast of the black M5 with Style 21 Throwing Stars against the red 540i M Sport with Style 37 M Parallels is striking. Both combinations are a great look and represent E34 styling at its height. Which one would I choose? As tempting as the M5 is, V8 performance trumps it for me. The M Hurricane cloth interior in this car is an awesome option and there's something about a large BMW sedan in red that hooks me every time. There's not really a right or wrong answer in terms of which is the better drive, it really depends on user preference. Which one would you choose?
-Paul