Warning!
This post is in our archives. Links in this post may have been updated to point to similar cars available to bid on eBay.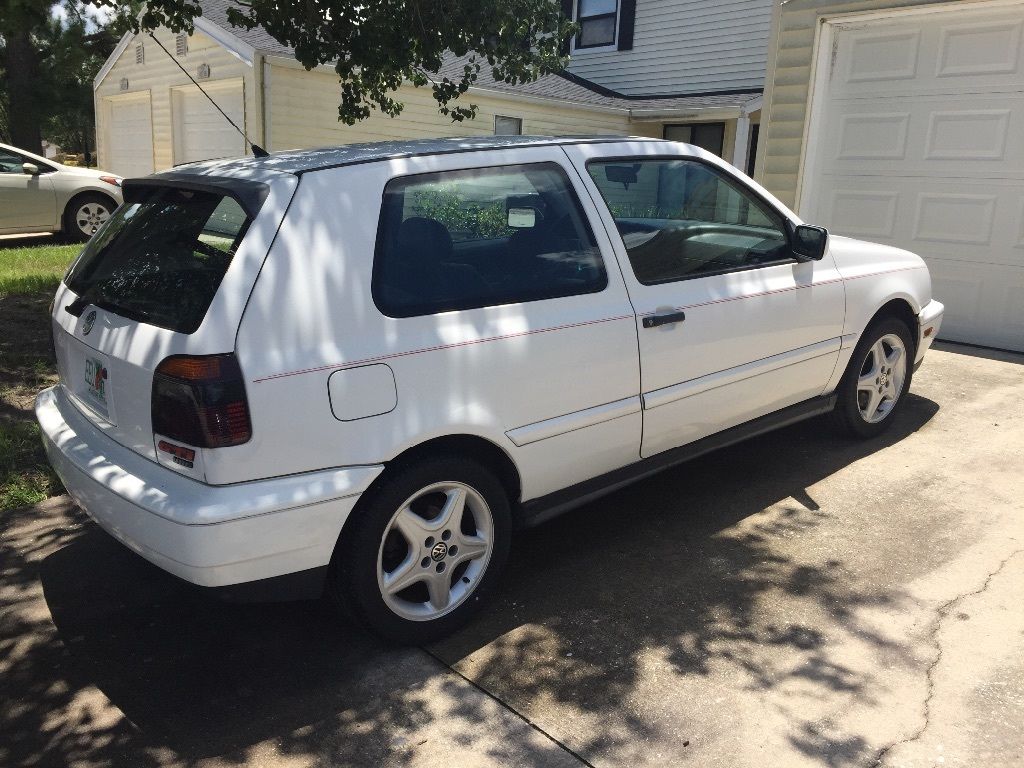 Do you want to maximize your budget and fun? Need an affordable ride that will reward you nearly every time you turn the key, but is also practical enough to daily drive?
Look no further. We may all want a car collection of virtually new, unused and perfect condition examples of our favorite car designs, but frankly that's just not a reality most who's names don't start with "Sultan" and end with a small southeast Asian country's name can contemplate. And even he needs to liquidate his massive Ferrari collection from time to time when small rebellions pop up.
Jumping in to a third generation Volkswagen Golf won't get you much respect outside of dedicated brand enthusiasts. But what it will do is reward your decision. Like the E36 M3, adding two cylinders to the model may not have sounded as sexy on paper as the high-revving double cam inline-4, but the result was better performance, better reliability, and cheaper prices for that speed. With 172 horsepower and 173 lb.ft of torque on tap, the VR6 took the Mk.3 into a new performance territory. It brought with it a more grown up feel, too – leather, a quiet(er) cabin, power windows and sunroof – these were unthinkable a decade earlier in the budget hatch. In fact there was only one option – a trunk mounted CD changer. Everything else? Standard. The increase in performance dictated upgrades throughout; sport suspension with sway bars, larger brakes with 5×100 mm hubs and accompanying 15″ wheels. 0-60 was firmly sub-7 second range, and the boxy hatch could brush 130 mph flat out. In a flat-out drag race, this economy car was on par with the Audi S6.
At nearly $20,000, the price tag didn't seem cheap at first. Indeed, in a little over a decade the base price of the GTI had increased 100%. But the Golf was still about cheap speed, and so you need to view this package in relative performance. It wasn't much slower than the U.S. specification M3, for example, but was about half the price. More appropriate, though, was that it was some $6,000 cheaper than the Corrado with nearly the same setup. Today, that cost savings carries over – Corrados are easily twice to many times the asking price of this example: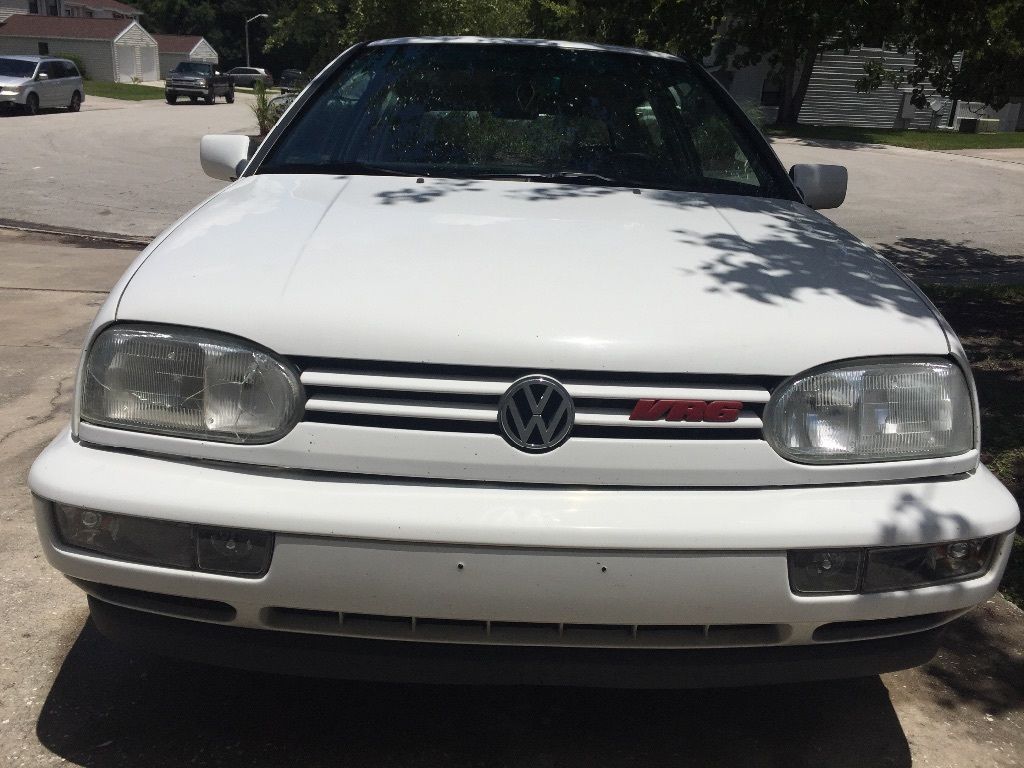 Year: 1997
Model: GTI VR6
Engine: 2.8 liter narrow-angle VR6
Transmission: 5-speed manual
Mileage: 146,346 mi
Price: $2,500 Buy It Now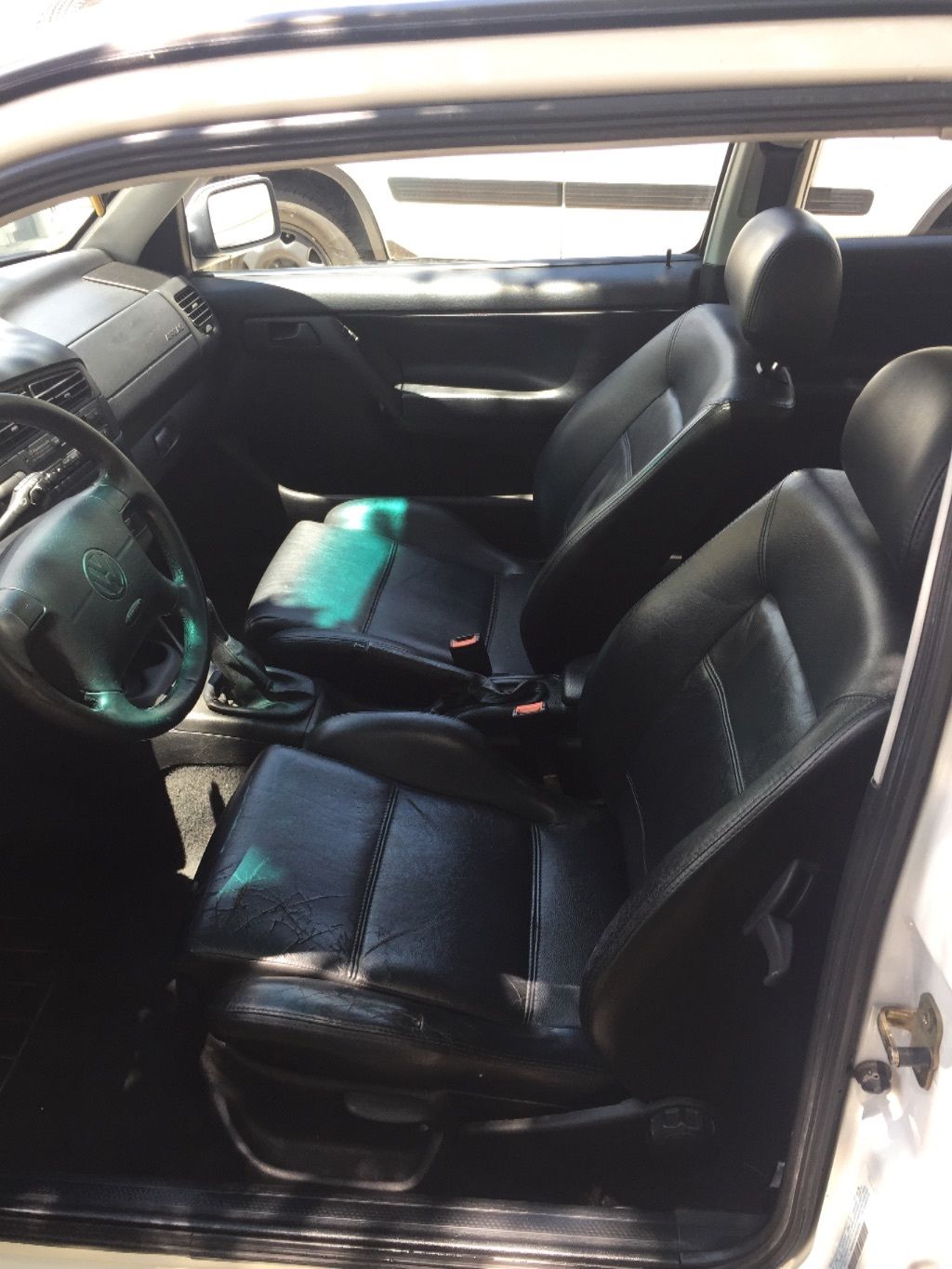 Great commuter car, gas saver! Selling due to moving. Drives great, leather seats, no mechanical issues, no a/c, tires have less than 6k miles on em, minor body damage, sunroof works, driver side power window does not work. Pics of tires from left to right= front and back tread depth. Sunroof works. Radio/cassett. Aluminum aftermarket radiator. Car is in a lien status. Just asking what I owe.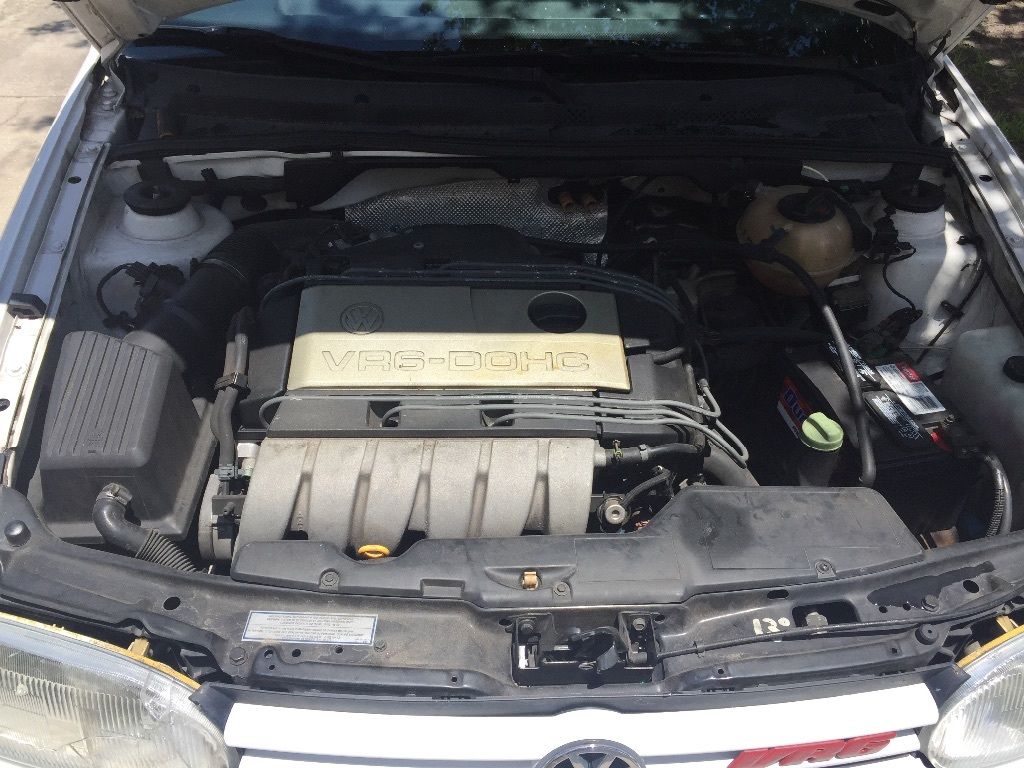 LB9A/B4 Candy White is pretty rare to spot on a GTI of this ilk, and especially so of the VR6. The original Pininfarina BBS design wheels are in place, as is the original allroad-esque ride height – also rarities at this point in the game. Inside is black leather that shows obvious wear on the driver's bolster, but otherwise looks pretty acceptable. Important is that there doesn't appear to be rust on this southern car, though the seller claims "minor body damage". The tires are budget throw-aways and the air conditioning isn't functioning, but hey – at least it doesn't need a charge (or, maybe that's ALL it needs?). One of the twin-chamber headlights is cracked, but as with most Volkswagens of this period, parts are pretty plentiful and cheap. That the seller has a lien on a '97 GTI probably indicates that maintenance is a bit behind.
But hey, this is a $2,500 driver, and as $2,500 cars go, it looks pretty damn good. A bit of time detailing and some mechanical freshening will probably reveal a car well worth it's rather hefty curb weight in inside-wheel lifting action for a commuter car that is infrequently seen today.
-Carter