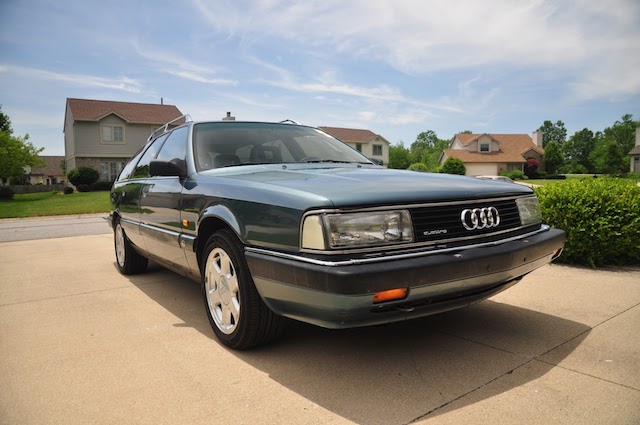 1991 was a great year for Audi and Volkswagen enthusiasts in America, robust with performance options all around. Fans of normally aspirated motors had multiple double-cam choices; the 16V twins from Volkswagen with the GTI/GLIs, each with heavily bolstered Recaros and awesome BBS wheels. Going slightly less boy racer and more upscale yielded the equally impressive 20V inline-5 duo from Audi, with the Coupe Quattro and 90 20V quattro. They weren't as quick off the line, but they were certainly well built, solid performing luxury vehicles. Of course, the big daddy of normal aspiration in the lineup was the V8 quattro. Still at 3.6 liters and 240 horsepower for 1991, it was also available with a manual transmission and was in the midst of a winning streak in the DTM series, usurping power from the E30 M3 and 190E 2.5-16 in monumental style.
If forced induction was more your choice for speed, there were plenty of options there, as well. 1991 featured a slightly revised Corrado, now also with BBS wheels and the 1.8 liter G-lader supercharged motor. Audi offered you a luxury cruiser still in the 200 Turbo, as well. But the big news was finally the release of the 20V Turbo motor into the lineup. Long featured in the Sport Quattro, then RR Quattro in Europe and later S2, in America Audi brought the 3B turbocharged inline-5 package in the 200. As an added bonus, it was available in both sedan form and the innovative Avant wagon. Producing 217 horsepower and a bit more torque, the Audi was capable of 0-60 runs in the mid-6 second range if you were quick with your shifts. But this wasn't a bracket racer – the 200 was a luxury car through and through, with a well-appointed cabin full of the things you'd expect – Zebrano wood trim, electric powered and heated leather seats front and rear, and a high-quality Bose stereo. Unusual for a luxury car of the time, but underscoring the German's feelings towards driving, were the number of driver-oriented items. The dash was full of gauges, and unlike the V8 and 200 Turbo, the 20V was manual-only. Next to the shift lever was the manual rear differential lock, though as with all the second generation quattro drivetrains, the electronic lock disengaged at 15 m.p.h. automatically. The center differential was a Torsen unit capable of varying power as well. And the brakes were unconventional floating-rotor designs, intended to help haul the heavy 200 down from triple-digit Autobahn speed with ease. Unlike the normal 200, the fenders on the 20V were flared slightly to accommodate BBS forged wheels, 15×7.5″ all around and shared with the V8 quattro. It sounded like a recipe for success, and was a well regarded car when new even if the unconventional manual/turbo-5 setup lacked some grunt compared to the V8s of the day.
Yet this was still the fallout period of both the recession of the 1990s and Audi's fall from grace in the U.S. market, so the 200 was a slow seller. On top of that, the C3 was at the very end of its life cycle, replaced mid-1991 with the C4 chassis. As a result, very few of the 200 20V quattros were built; Audi claims 4,767 sedans and a scant 1,616 Avants were produced with the 3B motor. Of those, only about 900 sedans made it to America. But the number you care about? Well, this 1991 200 20V quattro Avant is one of the 149 originally imported here.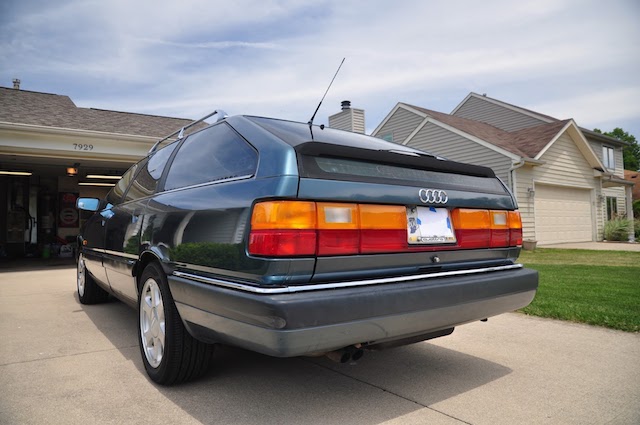 Year: 1991
Model: 200 20V quattro Avant
Engine: 2.2 liter turbocharged inline-5
Transmission: 5-speed manual
Mileage: TMU
Price: On Request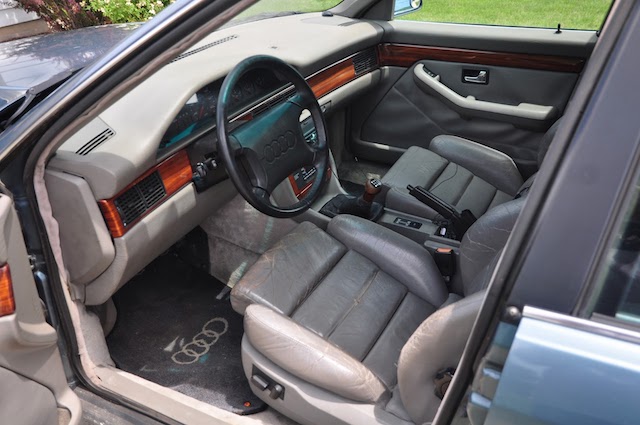 I've had this car for a little over a year but it has seen little time on the road. I'm selling in hopes to have somebody who knows what it is will enjoy it for what it is. The car has been enthusiast owned for many years and I have been in the Audi game since 1999.

Located in Fort Wayne, IN.

Basics:
Lago Blue
Gray interior (UrS4 front seats)
3B 20vt engine
True mileage unknown. Cluster replaced by me a year ago, which currently has 209k.
Euro headlight housings with relayed harness
UrS6 Avus wheels with Hankook Ventus tires (around 5k on the tires themselves)

Service under my ownership (4/16 to current)
– New hatch struts
– Replaced speedometer and various cluster bulbs
– Installed UrS4 front seats
– Radiator fan switch, new coolant tank, G11 coolant
– New grill trim clips
– Recent oil change with 5w40 Rotella and Mann filter

I drove about 4 hours to acquire the car, drove it home, and turned around 3 weeks later and took it on a 16hr round trip to PA. I recently did the same trip to PA almost a month ago. Car is ready to drive anywhere and if it does not sell this week it will be going with me on a 5hr round trip next weekend.
The car is extremely well documented, has been cared for, and is a true survivor of what a 200 20v wagon should be. The car has only traveled about 5000 miles since I've owned it. Like any car of this age there are things the new owner should be made aware of. These are listed below.

– ECU has been chipped. Previous owner states it is an IA chip, but I never opened up the ECU to verify. Wastegate has been modified in the past but I have not touched it since I owned the car.
– Slight knock from drivers front when going over bumps or turning. I suspect lower control arm bushing, but that's an educated guess.
– Lazy water temp gauge and optimistic fuel gauge. MFTS may need replacing (a new one may go with the car). Fuel gauge sender needs looked at. Reads good when full or empty. Autocheck will throw the low fuel icon when tank is completely full.
– Catalytic converter heat shield rattles at times
– UFO brakes shake a bit when slowing from a high rate of speed (calipers, pads, rotors replaced in 2008)
– AC inop. Belt is not there, but everything else for the system to operate is.
– Shifter bushing could stand replacement. Car goes into and out of gear no problem.
– Various LED's for window switches, mirror control are inop.
– Cruise control inop.
– Small oil leak if the car sits for more than a week. I suspect the oil pan extension gasket.
– A few small stains on the gray carpet that the floormats casually hide.
– Drivers side heated seat inop
– Fuse for door locks was pulled prior to my ownership. Was told that the alarm would sometimes go off over bumps.
– Fuse for afterrun coolant pump was not present when I acquired the car. Pump looks fairly new.
– Some hatch trim needs reglued and some of the mouse fur trim around the doors could use the same.

Photos really tell the tale of the car. If there are any specifics or more detailed shots of particular areas needed I'm happy to work with prospective buyers to get them what they want.
The car has lived a cushy life since I've owned it. I do not drive this car or any car I own hard at all. Change in direction with what Audi I want drives the sale of this one. Looking to sell asap but will not give the car away as I know what it is.

Spare parts in photos go with the car as do the parts listed below (they did not make the photo shoot, unfortunately).
– Original gray comfort seats
– 3 instrument clusters as spares
– Set of UFO rotors and calipers

I will work with interested and loving Audi enthusiasts who will take care of this gem. Car is located in Fort Wayne, IN.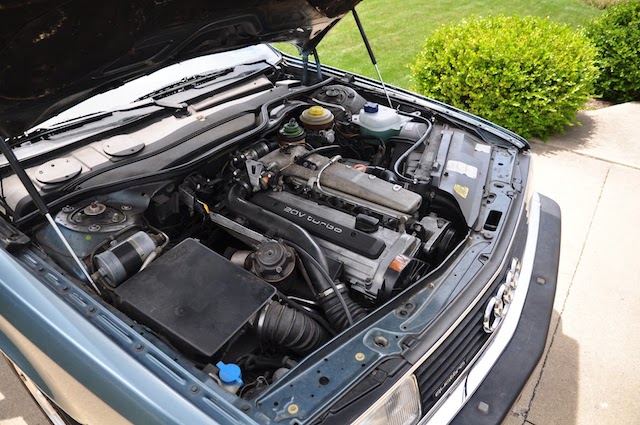 The 200 20V quattro Avant long ago achieved near Valhalla status among VAG enthusiasts; they've been highly sought as long as I've been in the game, and that's been effectively since they were new. This one is presented in one of the two signature colors – Lago Blue Metallic, and generally the exterior looks good. There are typical C3 Avant issues like the shrinking rear window seals and a few scratches, but then this is a 26 year old car with an odometer reading north of 200,000 miles. The S6 Speedline Avus wheels are a nice upgrade in the right offset though I'll always love the look of the BBSs on these. Inside, the C4 upgrades continue with the very comfortable sport seats – a much better fit than the standard comfort option in the C3, having owned one. Again, inside there are typical C3 needs; the headliners always delaminate from the sound insulation (from experience, get this sorted before blasting around with the windows down unless you like being covered in orange fuzz) and the leather needs some attention. There are a few electronic gremlins but few of these 200s don't experience that. The chipped ECU should also make it a bit more lively, while the spares are a nice bonus as NLA part lists continue to mount for older Audis. Despite that, there is a very active group of enthusiasts capable of keeping these cars going, and thankfully this example comes from a line of such individuals. The seller has been upfront both about the needs of this example and the condition, offering a gallery and video below.
Generally speaking, excellent condition 200 Avants are now north of $10,000 and will continue to climb in my estimation. Wrecks can be had for $3,000 – $4,000, but require thousands of dollars of maintenance and upgrades to make them viable. This car strikes an excellent balance between driver quality and good looks with a reasonable price point.
Check out the Gallery
Check out the video walkthrough
Email the seller by clicking HERE!
-Carter