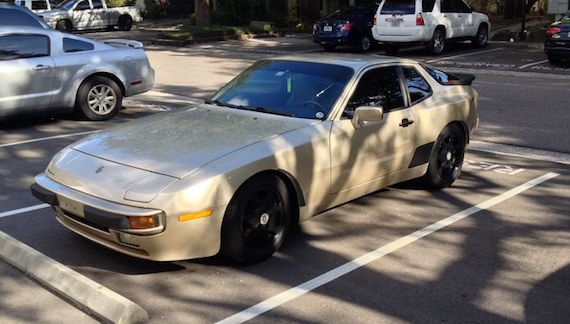 Having stopped by the local Porsche dealer two weeks ago, I came across a rather mint 1997 911 Turbo with a gulp almost $200,000 price tag. As outlandish a figure that might seem, such is the world of air-cooled 911 values we live in, scary enough to make me stand about five feet back from this specimen. There are still plenty of options out there for those P-car fans of more modest means. This 1989 Porsche 944 for sale from our reader Joey in Florida is a well kept example in a not often seen hue of Bamboo Metallic. Looking for an entry into the realm of vintage Porsche ownership? There are few better chances than what we see here.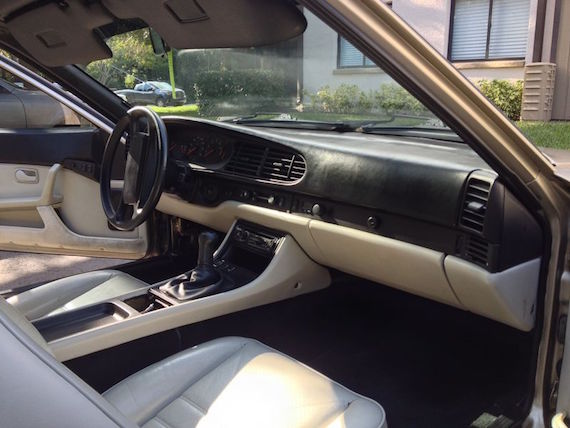 Year: 1989
Model: 944
Engine: 2.7 liter inline-4
Transmission: 5-speed manual
Mileage: 134,000 mi
Price: $5,500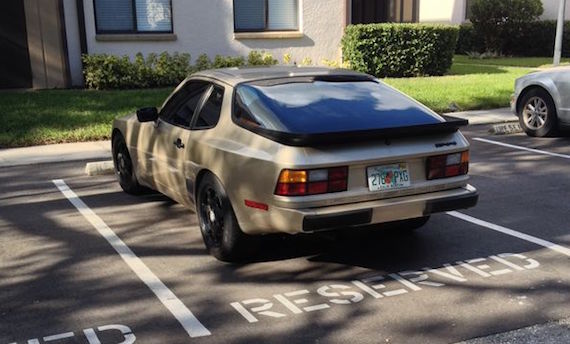 One of Porsche's many traditions is the ability to create and produce a sports car concept so correct that it becomes the standard for it's type in the industry. Introduced in the fall of 1981, the Porsche 944 was hailed as a breakthrough, a sports car to inspire imitation among it's competitors. Car and Driver called the 944 "America's Best Handling car" and "One of America's 10 Best" four years running. In spite of all the praise, Porsche engineers at the famed Weissach Development Center never stop trying to make it better. To refine it into an optimum configuration. So, in true Porsche tradition, 944 project engineers keep making it handle even better, making it faster, even more solid, more fun to own. Unfortunately, those who drive the Porsche "look alike" will miss the exculsivity of owning the real thing: in 1989, fewer than one new car in eight hundred sold in the U.S. will be a 944 Series sports car.

The 1989 944 series is an eloquent example of Porsche AG's refinement philosophy. The new Porsche 944: a higher performing 2.7 liter 165bhp engine and newly standard comfort and convenience features. At Porsche, rarely is a single change made to realize one benefit. Rather, goals are clearly stated and then existing technology is synergistically improved to reap an optimized new configuration having multiple benefits. The new 944 engine is a case in point. In seeking better pulling power from low rpm, Porsche engineers specified a displacement increase, from 2.5 to 2.7 liters. But the didn't stop there. They also: raised the compression ratio to 10.9:1; enlarged the intake valves; gave the engine a new camshaft with modified timing;and revised the digital motor electronics (DME) settings. These optimization efforts paid off in an impressive increase in torque, particularly at low rpms. Elsewhere in the 944, there are other refinements… ABS braking and automatic speed control are now standard.

This 1989 Porsche 944 base coupe on offer from Joey in Florida has received considerable refurbishment over his 3 year ownership. One year only car and color (Bamboo metallic) make this a bit of an unusual 944. Lots of new parts and labor in this one.

Recent Engine reseal: Oil pan, Cam tower, Balance shafts, oil cooler, OPRV, rod bearings, AC compressor, Water Pump/ Timing belt Rollers, Bosch 3 bar fuel pressure regulator and damper, engine bay fuel lines, Rebuilt Power steering pump, Bosch fuel pump and check valve, Weltmeister Lower control arm bushings, front wheel bearings, Rennbay rebuilt balljoints full Tie rods, Turbo s sway bars, solid heim joint endlinks, solid bushings, rennbay front sway bar supports, 7 & 9 inch forged clubsports, 968 M030 Koni double adjustable coilovers, Rogue tuning maf kit with 4 degree cam key, tuned for 93 and e85, 944 turbo injectors, ignition rotor cap & plug wires, 3 inch exhaust, DME Relay, DME water temp sensor, All 4 calipers rebuilt with new pads and brake lines, Harness bar, Arnworx throttle body rebuild, OEM Porsche TPS, reference sensors, Idle air control valve, radiator, JVC stereo with alpine 4×6 speakers, "only 944" short shifter, shifter rod, and shifter bushing, Hella e code h4 headlights, dash restoration, and………………Much more.. I have receipts and documents.

$5500

Parts not installed: included for extra $1000
60k short 5th gear transmission
2.5 10inch springs
New sachs clutch
New fae master cylinder
New Slave cylinder
New centric rotors

Contact Joey
joeycampbell12@att.net
(561) 254-8257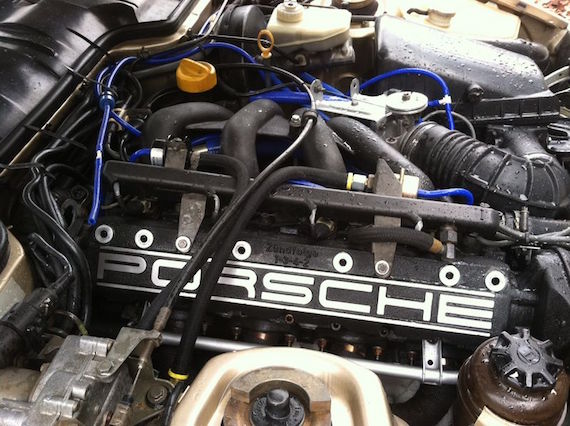 Considering the work done to this car, the asking price is well within reason from comparable non-Turbo 944s that we've seen pass through GCFSB. The addition of the Koni adjustable coilovers, harness bar and a few other performance upgrades make this a ripe candidate for some track day action, as well. If it were me, I'd probably make a few more modifications to this 944 and have a proper track day beast, given this isn't a low mileage garage queen we are dealing with. However, this isn't a worn out basket case of a car, so it would make a fun and rather practical everyday classic. My guess is good 944s won't always be so cheap, so it's a great time to get in while the getting is good.
-Paul