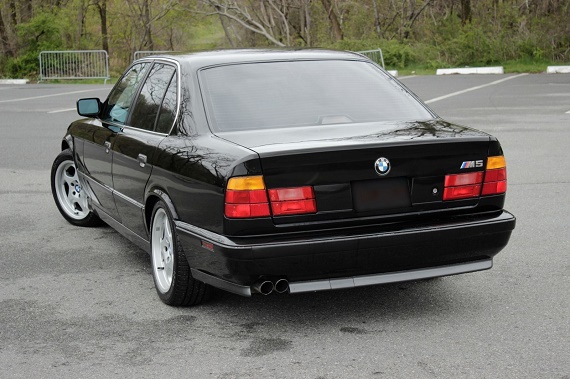 It is always a bit of a treat to look back at some alumni of the GCFSB pages, especially so when it's a lovely example of a special car that was snapped up by one of our enthusiast readership. For years we've banged on about the E34 M5, a conundrum of the M lineup. It's got all the right DNA to be a classic, yet like the similar 944 Turbo has generally languished in value compared to similar products. That may sound like a broken record on these pages, but it's a tune which is both catchy and sweet-sounding for BMW fans because it means they're getting more car for their money. Recent market activity in 2015 has started to remix the tune, though, and E34s have been on the rise. Hagerty currently places top value on 1991 M5s at $42,000 – steep sounding given what they've traded for over the last few years, but perhaps more in line with their legendary build quality and performance especially when considering their siblings. But in terms of overall value, let's consider today's Jet Black 1991. It is nearly 100% original, fully documented, accident free and has under 100,000 miles on the clock – and currently represents the best value of the original M-car experience:
Year: 1991
Model: M5
Engine: 3.6 liter inline-6
Transmission: 5-speed manual
Mileage: 98,050 mi
Price: $18,900 Buy It Now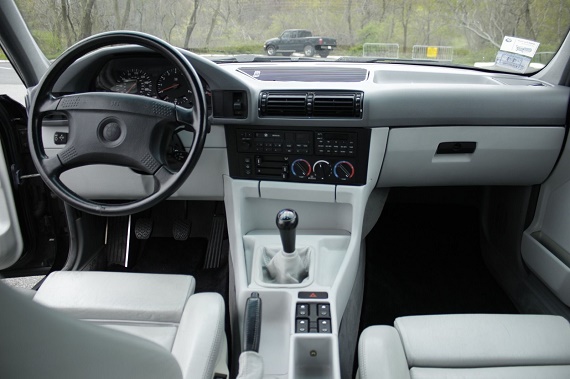 Stunning, low mile, all original 1991 (E34) M5 in excellent original condition.

Jet black exterior with dove grey leather interior. Zero rust. No accident history, no rips in the leather, no wear in the headliner, no cracks in the dash, no dents. Everything straight, everything working. Always garaged, meticulously maintained, and enthusiast owned. I am the 4th owner. Drives like a dream. Never raced.

If you're reading this, you probably know what you're looking at. The E34 M5 is a drop-dead beautiful, rare, hand-assembled machine (the last such from BMW's M division) that is appreciating rapidly in the collector market. In looks, it's the final, most sublime update of BMW's classic design language. In performance it's a beast with a sublime screamer under the hood, a race-derived naturally aspirated inline 6 cylinder engine making 311 hp. In 1990 a new BMW M5 would set you back $56,600 plus options. Only 1,484 were imported to the United States.

Very short clip of me running through first and second gear:
https://youtu.be/-1fD0_1RmtE

Since it was new this car has suffered no modifications whatsoever, save the period-appropriate M System II ("Throwing Star") wheels.

Original tool kit (with blue towel)
Working cassette stereo
Trunk-mounted CD changer
Self-leveling suspension
Never-mounted spare
All books, original window sticker, Welcome Cassette
Optional heated front seats both work

This is a truly clean, complete, and original M5. That said, it is also a 25+ year old car with typical minor blemishes befitting its age: light wear to the driver's seat bolster, stone chips on the hood, curb rash on front valance.

I've owned this car since May 2014. All service in that time performed by BMW specialist Gauthier Motor Werkes in Ipswich, MA. Recent work and parts (from the past two years) include:

All 4 Michelin tires
Valve Adjustment
Valve cover gasket
Valve cover center gaskets
Oil pan gasket
New battery
Rear shock accumulators
Front struts
Sway bar end link
Fuel door hinge
Washer fluid level sensor

Recent life changes make selling necessary; otherwise this M5 would remain in the garage, while its value soars on the updrafts of every close relation in the BMW family. (Consider recent trends in collectibility of this M5's immediate predecessor, the E28 M5; its immediate successor, the E39 M5; and its contemporary, the E30 M3.)

I can't paste actual links into this listing, but because you need to kill a little more time at work, I recommend the following:

Car and Driver 1991 review of the E34 M5
The epic chase scene in Ronin
Contemporary articles and reviews on mmm-five(dot)net
Hagerty value trends on a 1991 M5 in near-#2 condition

Good luck and happy bidding. I hope this car goes to a good home.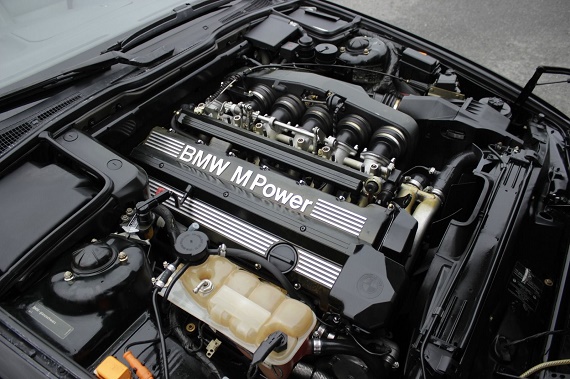 Several thoughts passed through my head contemplating this car; I remembered the first ride I ever had in a Motorsport built BMW, and it was a 1991 M5. It was a mind warp coming from the family Toyota wagon to this Munich missile that seemed to have a tachometer attached to a Saturn V rocket. True, if you get out of a Nissan Skyline GT-R and immediately into this car, you'll not be hugely impressed with the speed or the gadgetry. The E34 is downright Spartan in its interior design, with only the necessities being aimed mostly at the driver. That hints at the experience you'll have behind the wheel of this bar-setting vehicle, whose goal was driver engagement rather than isolation. The next thought I had after an exchange with the current seller was his reminder that this car taunted him twice when I wrote it up in May, 2014. Back then, the question I posed was if it was time to buy these budget-friendly super sedans, and the resounding answer was yes from the current owner who shipped the car across the country and was pleased to find the condition as portrayed in the advertisement. Of course, jumping in to a 25 year old bit of what was market-leading technology at the time can be daunting, but the hefty stack of receipts that accompany the pristine nature of this car is certainly reassuring. So, too, is the knowledge that you're not likely to loose value as long as the mileage and condition are kept in check. We obviously can't predict the future, but the likelyhood of such a car decreasing in value imminently is close to unthinkable.
And, frankly, so what if it does? You'd still be left with a fantastic bit of machinery, a lovely example of the finest German engineering and design, a perfect synthesis of the fury of race-bred performance and the refinement of luxurious appointments. There are plenty of cars that do individual things better than the E34 M5, but few that pull all of these traits together into what remains an affordable classic package – for now.
-Carter