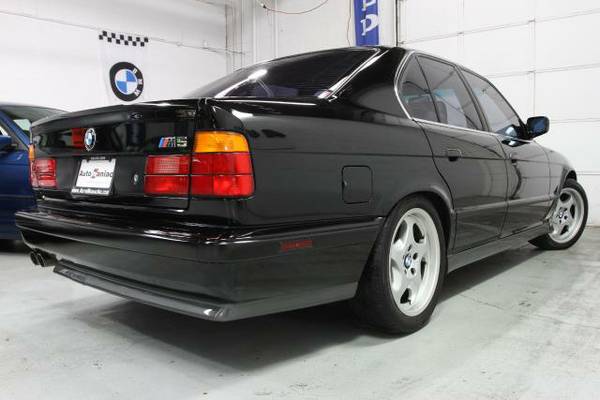 We've been on an M5 kick lately, and for good reason – the M5 is truly one of the best cars that can do virtually anything an enthusiast asks; it can be a luxury car, a sports car, carry 4 comfortably or 5 in a pinch, and has enough menacing look to make you proud of your carefully purchased pride and joy. But while the E34 has remained a performance bargain over the past few years, like most of the M-crowd from the late 1980s these cars are quickly appreciating; Hagerty calculates the average value of E34 M5s have increased 30 to 40 percent over the past few months. That's a huge jump, and could be the start of a trend amongst these third generation super-sedans from BMW; so, is now the time to buy the last of the good, affordable examples? We have two to contemplate today, the first of which isn't a stranger to these pages – I wrote this car up back in April: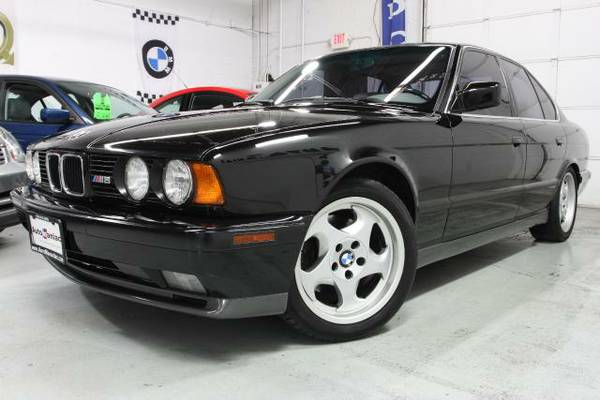 Year: 1991
Model: M5
Engine: 3.5 liter inline-6
Transmission: 5-speed manual
Mileage: 95,362 mi
Price: $15,995 Buy It Now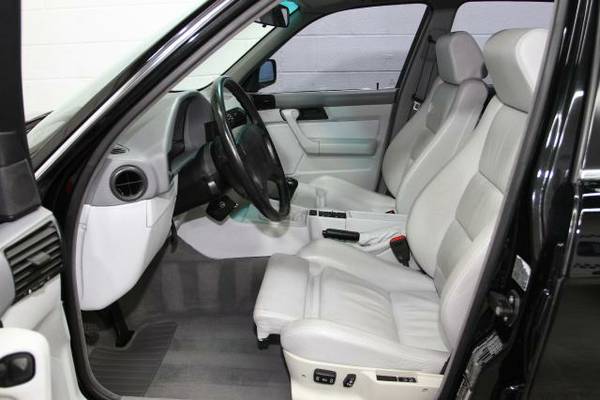 1991 BMW M5 – $15,995

http://www.automaniacinc.com/1991-BMW-M5/Used-Sedan/WoodDale-IL/12684/4298871/Craigslist/15851902/Details.aspx

Year: 1991 Make:BMW Model:M5 Trim: Mileage:95,362 Stock #:255 VIN:WBSHD9311MBK05801 Trans:Manual Color:Black Vehicle Type:Sedan State:IL Drive Train:RWD Engine:3.5L L6 DOHC 24V Notes 1991 Bmw M5 in MINT CONDITION for sale. It had only two owners. We have maintenance records that go back to 1991! This extremely rare car came from California. You won't find any rust. All parts looks like new because this car never saw the salt. * No accidents * Clean Carfax. Manual transmission. The vehicles engine is in perfect working condition. The transmission shifts like it is new. The car runs and drives great. Come and see it, you won't be disappointed. Don't miss it out!. FOR MORE INFO OR FOR SCHEDULE THE APPOINTMENT TO SEE IT CALL US AT (630) 616-2886. Vehicle Options

Air Conditioning
Alloy Wheels
AM/FM
Anti-Lock Brakes
Automatic Climate Control
Bucket Seats
Cassette
CD Changer
Cruise Control

Driver Airbag
Front Power Memory Seat
Full Size Spare Tire
Heated Seats
Leather Seats
Memory Seats
Owners Manual
Power Locks
Power Mirrors

Power Seats
Power Steering
Power Windows
Rear Defroster
Sun Roof
Tachometer
Tilt Wheel

Automaniac, Inc. 960 Sivert Dr Unit G Wood Dale IL 60191 (630) 616-2886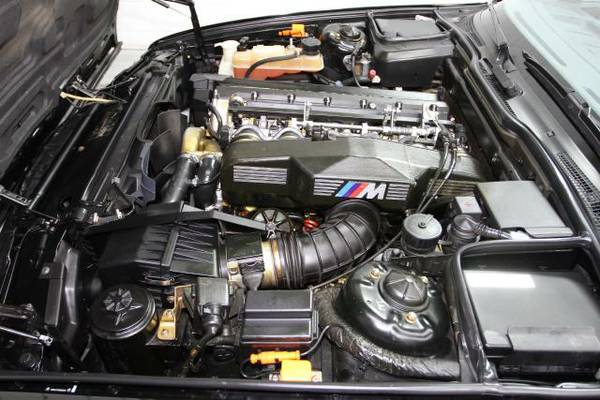 Back when I originally wrote the car up, I questioned the completeness of the records, but with more detailed photos now it shows a bit more wear than the original Craigslist posting showed. Still, From an original ask of $16,995 the car has already dropped a thousand dollars to $15,995; I claimed that if you walked into the dealer with $14,000 cash you'd be driving home a happy person. That may be a stretch, but I bet it's not too far off of reality – this is a good example that is not unreasonably priced, and with some negotiation I'm guessing you could get the asking price down even farther. But would you rather pay more for a car with more miles?
Seems like a silly question, right? Well, in many ways it is, and it's indicative of what many enthusiastic sellers do. There's clearly been a trend up on these cars as documented by Hagerty, and as this seller notes in their photos. The problem, of course, is that this seller is assuming that this car is near-concours level; in my mind, there just isn't proof that this is the case: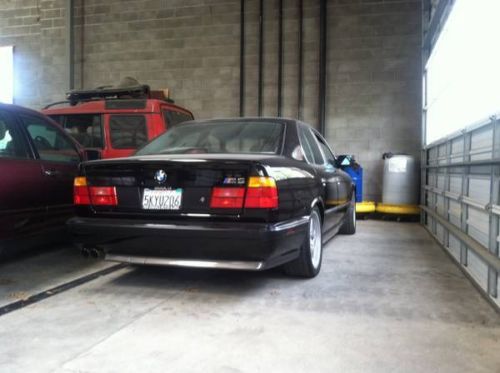 Year: 1991
Model: M5
Engine: 3.5 liter inline-6
Transmission: 5-speed manual
Mileage: 129,000 mi
Price: $19,500 Buy It Now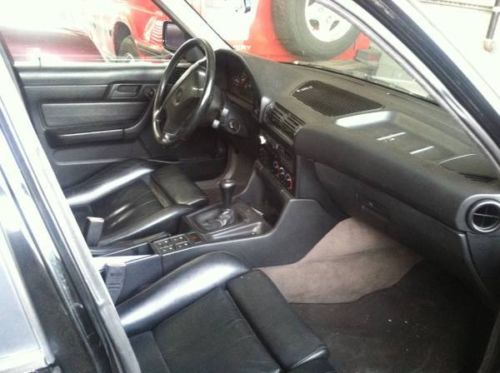 1991 BMW m5 s38 engine 310 hp
**Owned for 10 years by a BMW master tech. Paperwork to prove.
(3rd owner) car fax cert.
this (S38) m power is the last of hand made BMW motors!!!!!!!!now days machine assembled
( California clean title non-op registration )
HAS BEEN GARAGED ITS WHOLE LIFE. (Non – smoker)
PICTURES GIVE NO JUSTICE TOWARDS THIS ONE OF A KIND CAR
Miles 129,xxx. No accidents !!!!!!!!
Manual transmission in perfect condition
Interior in flawless
Everything works windows wiper etc…,,
Buyer will make payment at time. Of title exchange and proper inspection. Test drive etc….I can forward more info

Thanks for looking & good luck with your search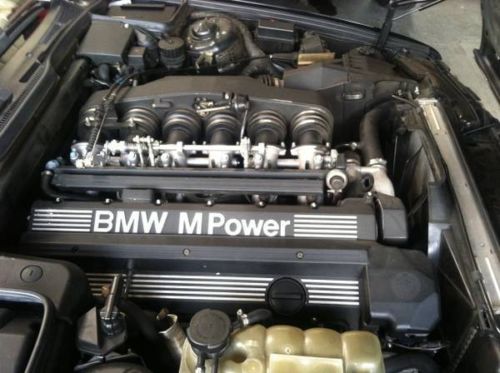 Other than the typical resale lines touting "THIS ONE OF A KIND CAR", I have to disagree with the seller's assessment, since at this time there are no less than 3 nearly identical E34 M5s on Ebay, the other two with less miles than this car. While I'm glad that everything works – including the wipers, thankfully, I'm just not sure that "proof" that a BMW master mechanic owned this car for a period means this is the example to buy; or, at very least, it doesn't mean that you should automatically pay a substantial premium for the car. Don't get me wrong – I don't think the condition of this car is unreasonable by any count, but I think pricing it towards the top of the market is a reach – especially when you factor in the first car, which is arguably as nice with less miles for several thousand dollars less. Ultimately, though, in a few years both of these cars could look well bought in the teens, as the trend of them appreciating quickly may slow but is certainly heading up.
Thanks to our reader Christopher for spotting the original Craigslist ad for the second car!
-Carter