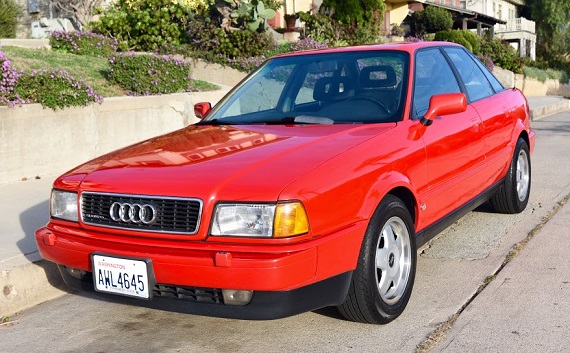 Back in February I took a look at a very rare and somewhat obscure end to the B4 Audi lineup, the Sport 90 quattro. The A4 that replaced it would become wildly successful, but really it was the underpinnings of the updated 90 that carried the dynamics of the A4. With a stout V6 under the hood and old-school mechanical all-wheel drive, these well built 90s have remained very attractive alternatives in the marketplace. I originally took a look at this car back in February, but the owner contacted us to feature the car and I was more than happy to as I really have a soft spot for these 90s.
Due respect to the E30 ix crowd, if you were to consider the 325ixs that we've posted and not consider this 90 quattro, you've got a few screws loose. The 90 quattro was long derided as underpowered compared to the competition, but in '93 that was at least partially rectified with the addition of the 2.8 V6 motor. Though the power output wasn't outrageous at 172, it was a robust and torquey motor that was easier to run around town than the peaky 7A 20V. Change from the B3 to B4 chassis also included substantial revisions outside, giving the 90 a new lease on life. They were well built, well engineered cars and have stood the test of time very well. Unlike their E30 ix competition, the B4 quattros were manual only. On their way out (to be replaced by the mechanically similar A4), the 90 got a special package in the "Sport 90". Renamed from the previous 90CS models, externally there was only a subtle change to body-color side molding on the Sport models. Available in either front drive or quattro configuration, the latter included Jacquard quattro-script cloth that helped to set it apart from the regular 90s: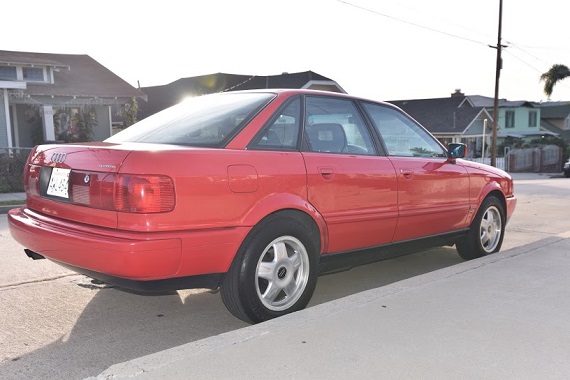 Year: 1995
Model: 90 Sport quattro
Engine: 2.8 liter V6
Transmission: 5-speed manual
Mileage: 181,160 mi
Price: $4,950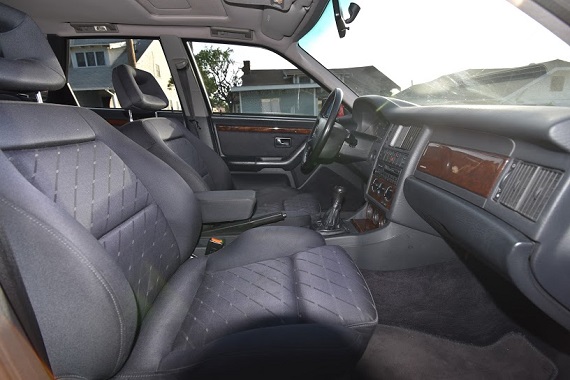 1995 Audi 90 Quattro
2.8 Liter V6
5 speed manual transmission
All wheel drive (AWD)
Extremely clean!
Detailed service records
Heated Seats
Hot hot heat
Ice cold AC
Power locks/windows
Sunroof
Locking center differential
ABS
Dual Air Bags
Factory radio (AM/FM cassette)
60/40 split folding back seats
Clean Washington title
Everything works perfectly!

This is a wonderful little car. In truly amazing condition for 20 years old. Less than 10k Miles/year and very, very well maintained throughout its life. The car had one owner from 1997-2013 who kept meticulous records and kept the car in tip-top condition. It spent its entire life in the Seattle area until I moved down here in December.

Interior is close to perfect. No rips or tears in the interior, everything looks almost new. Has all trim pieces, factory stereo, floor matts, etc. and all in great condition. The exterior presents excellently. Bright red paint shines up great. The car has a fender bender in its history and was repainted at a very good shop, however its possible to notice a color difference where it was repaired from some angles. Pretty subtle, but there. The clear coat is solid and the car looks fantastic overall. Has a few rock chips that have been touched up too. The car has zero rust, and looks super sharp.

Mechanically excellent. The car runs very well. Clutch is strong, brakes are good, drivetrain excellent, good tires, very smooth – drives great!

Livable issues: 1) Uses a little oil between changes, maybe two quarts over 3000 miles, I think it may be a leaky valve cover gasket but have not diagnosed it. 2) Rear differential is noisy. This has been diagnosed by a mechanic and noted in the records as something to keep an eye on, but nothing in need of immediate attention. 3) The backlight on the oil pressure and oil temperature gauges are out. 4) Radio volume knob can be finicky, volume goes up smoothly but can cut out going down. Still pretty easy to get the desired volume.

The car had the same owner from 1997-2013 or so, and he kept meticulous records, including when he would add a 1/2 cup of oil and things of that nature. Still have the cancelled check he wrote for the car in 1997.

Overall this is a very rare car in excellent condition with many, many more miles to go!

$5,900 OBO, open to interesting trades, partial to wagons. Thanks for looking!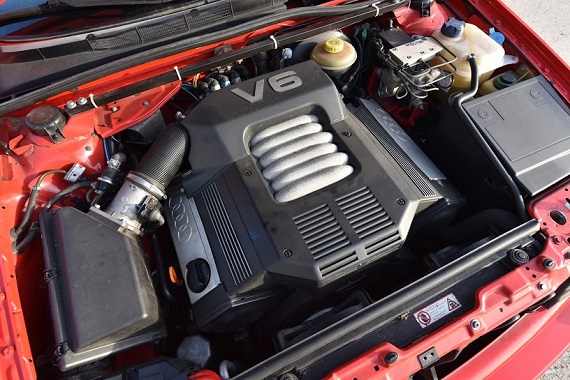 The seller of this example has taken the time to fully outline the highlights and problems; look, you're not going to get into a 21 year old Audi at this point and have it be perfect. One of the nice updates to the B4 versus the earlier B3 and B2 chassis quattros was the addition of pass-through rear seats, really increasing the load capacity of the small sedan. The smoothed look of the integrated color-keyed rub strips mimics the big-brother S6 and these late Sport B4s are sharp looking on the ET37 15×7 Ronal Sport alloys. All B4 quattros are pretty rare, with around 3,000 examples brought here between '93 and '95. The Sport variants are arguably the most desirable and the rarest, and finding good condition examples today can be downright hard. The mileage and asking price are on par with 325ixs, but I'd argue the condition and history of this example is far more desirable than the BMW. If this isn't the nicest one on the market, it's pretty darn close. Though the pricing seems pretty strong for a B4, they actually have held value better than the B5 that replaced them and are generally considered to be superior long-term cars. The seller has also offered a gallery of shots and a stack of receipts upon request, showing us this is the right car to get in to. Though built in the mid-1990s this is one classic, old-school Audi that will be more appreciated as time moves forward.
-Carter