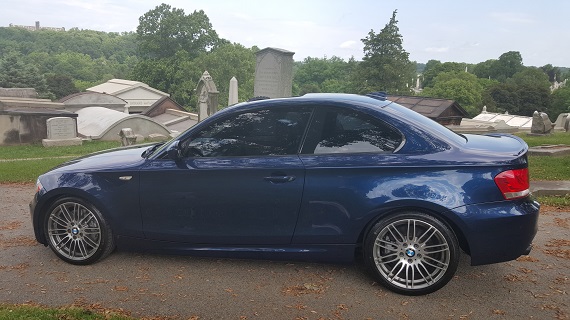 This past Tuesday I wrote up what I consider a great alternative to the E46 M3; BMW's own E82 135i. In many ways, the 135i takes the recipe for the M3 and creates a similar driving experience. But while I really liked the Hartge-modified look of that particular example, for me it ultimately comes down to not only the styling, but the colors. All too often, these cars are ordered in rather unimaginative shades of black, silver, blacker or silverer, and while I understand the appeal of a black car, I'd just prefer something a bit more vivid to stand out. My solution to how to make that 135i more appealing was to option it in one of the more brilliant blues; as if on cue, we were contacted to list this stunning Deep Blue Sea Metallic example of a 2012 E82. Equipped with nearly every package from M-Sport to Convenience, and with some factory options like the power upgrade and special Style 269 optional wheels, this is one trick package: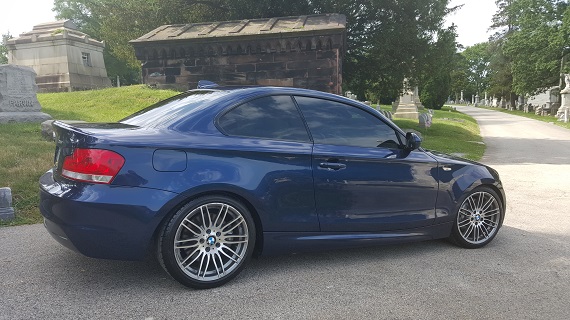 Year: 2012
Model: 135i
Engine: 3.0 liter turbocharged inline-6
Transmission: 6-speed manual
Mileage: 78,150 mi
Price: $ Buy It Now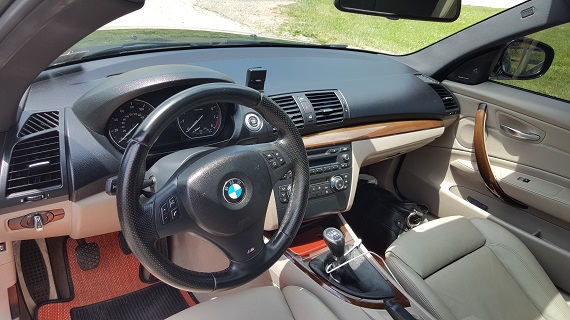 Custom ordered 2012 M-Sport Deep Sea Blue Metallic 135i LCI manual transmission (E82). Original owner, fully loaded enthusiast ride. M-Sport package, Premium Package, Convenience Package, BMW Performance Power Kit Version 1, Harmon Kardon premium sound system, heated front seats, satellite radio, moonroof, rear parking sensors, portable navigation system hard wired by factory (did not opt for the in-dash navigation), BMW assist, etc. Taupe Boston leather interior with light burrel wood trim. Car currently sits on 18″ staggered Style 269 BMW Performance factory rims with Dunlap performance RF tires. Also included is a second set of BMW factory 18″ staggered Style 261M M-Sport rims (originally on the car at purchase) on LM 60 Blizzak RF tires. Garage kept, no accidents, never touched the track, absolutely no traces of rust. Meticulously maintained, waxed numerous times a year and washed routinely. The paint still looks brand new. Extended BMW Platinum Coverage vehicle warranty expiring July 6, 2016. Original factory wheel and rim warranty. I have all books, original window sticker, and copies of all records of work done to the car since purchase. It's only been serviced at a BMW dealership. I have all the contact information of anyone that's worked on the car from dealership, to rims and tires, and waxes. I have treated this car like my child and it absolutely shows. I enjoyed driving this so much I just couldn't stop taking it everywhere, hence the mileage.

Since I will be selling the car because I'm moving and need to downsize my fleet, the purchase will also include the following accessories: Custom driver and passenger CocoMats (recently purchased), BMW base support roof rack with two (2) BMW bike attachments, BMW ski attachment and new BMW M car cover (black). Only cosmetic modification is the window tint. Car is completely stock with exception of dealership installed Stage 1 BMW Power Kit for increased HP and sound.

Since purchase the only major part that has needed to be replaced was the HP fuel pump which went around 70K miles. Everything else is great working order. Additional pictures available upon request. Pure enthusiast ride in excellent condition for the amount of miles. Truly a rare specimen.

This car has been an absolute blast since the first day I picked it up. Do not be swayed by the mileage, it's been babied throughout its short life. Leather is in excellent condition, steering is tight and clutch still feels brand new. The Deep Sea Blue metallic is a rare color and looks absolutely amazing in the sunlight in person.

VIN: WBAUC9C55CVM11970

Mileage: 78,150

Transmission: 6-speed

Exterior Color: Deep Sea Blue Metallic

Interior: Taupe Boston Leather

Location: Southeastern PA, 19547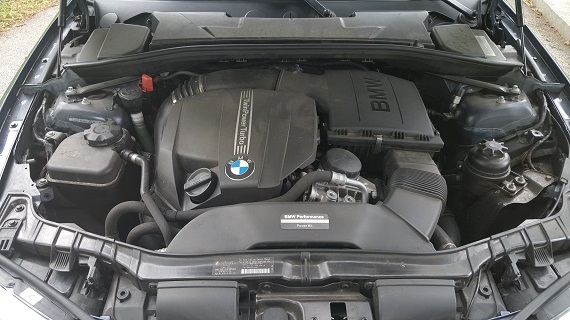 As I said in the last post, most E82s don't look quite right to me, but once in a while one really catches my eye – and this is exactly the model I was talking about. I was passed while driving yesterday by a similar colored 428i, and the color is so dynamic in light; soft greens emerging from the velvet blue tones. It's really a lovey shade, and inside the seller chose the interior I'd want, too – gone are the morose blacks and greys, replaced instead by the soft-toned Taupe with burled wood accent. It certainly helps to wake up the interior of the E82 – or any modern BMW. Yesterday I also had the pleasure of driving my friend's E46 M3 convertible; a lovely car no doubt in Laguna Seca Blue, but the interior is dark and completely black, leaving me wishing for a splash of color inside. The seller's choice of wheels is great, too – multi-spoke Style 269 in polished metal again help to set this E82 apart, and the original Style 261s are included with snow tires. The impressive look is backed up by beefier performance thanks to the turned-up N55 with BMW's Power Kit raising the horsepower over 300 with matching torque – enough to scare those pesky E46 M3 drivers. I like the seller's explanation of the mileage accrued, too – higher than average, but attributed to simply loving and enjoying the car. To me, there's absolutely nothing wrong with that at all, and this well cared-for example still shines new and is backed as well by the extended warranty. All of this is available for a price that's quite similar to the top-of-the-market E46 models, and while it may not say M on the bootlid, this is still a very compelling alternative to the older M3s or more complicated, newer and more expensive models. The E82 managed to keep the essence of what made BMW great largely intact, and that's the inherent appeal of their smallest offering. This is certainly one of the nicer equipped and well-ordered examples that I've seen, and like the current owner I think the next driver of this car will really appreciate this special package.
-Carter