Hello all, it has been awhile and I have missed the banter.  I have not been able to keep up my regular contributions as my budding little European auto business is taking up more and more of my time, and sanity.  That does not mean that I don't run into the occasional gem every now and again.
Case in point, during my daughter's soccer practice her coach pulled into the parking lot in what sounded like something very Italian.  Imagine my surprise when the culprit turned out to be a '04 Porsche Boxster S.  I complimented him on his choice of transport and he responded with, "thanks, know anyone that wants it?"  Turns out, like many of us, he has gotten to the point where a two seat vehicle and a growing family are not a good match.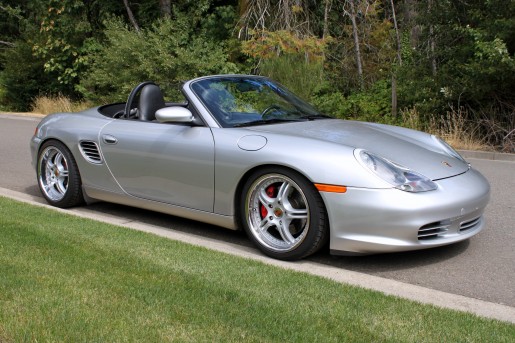 Some more details on the car –
"One owner 2004 Porsche Boxster S finished in Arctic Silver Metallic over black leather interior.  51k cared for miles with a clean title and CARFAX, all maintenance is current.

Equipped with AM/FM CD Bose Sound, power windows and locks, keyless entry, heated seats, cruise control, Litronic lighting, and more.  Performance highlights include a six speed manual transmission, four wheel disc brakes on drilled rotors, and the fantastic 3.2 six cylinder motor that delivers a great deal of performance throughout the entire power band.

This Boxster also has several performance modifications.  This includes double spoke NHR wheels with spacers on all four corners.  The car has a lower stance and even better ride than stock with it's K Sport lowering kit.  This Boxster also has NHP headers, high flow 20″ catalytic converters from Jeggs, a Borla exhaust, and a Evoms intake to help everything breathe better.

All stock parts come with this Porsche.  Overall this Boxster is a joy to drive and sounds even better than it looks."
Is it just me or does this Boxster look a great deal like the Maisto replica of the Boxster concept car?  It's really a neat car, well kept with the only flaw being a rip in the driver's side bolster.  Something that I am fixing as we speak.  We are asking $26.9k, open to reasonable offers.
In the meantime you all take care, hope to chat you up soon.  I am off to save a '95 540 that has been rotting in a friend's carport for the past few years.
~Aaron.