We've listed the occasional truck like vehicle on the site before and this particular listing is worth some additional press.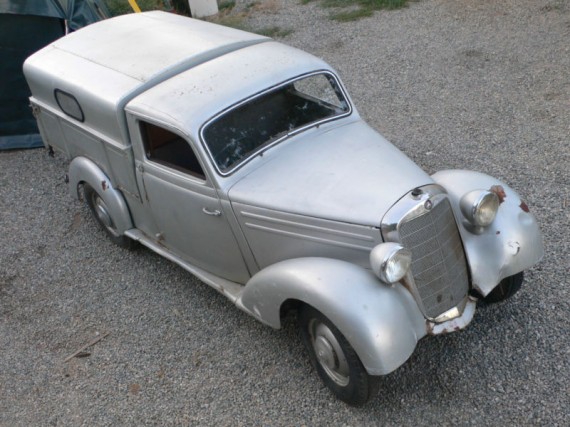 This 1955 Mercedes pickup is listed as one of less than 80 ever built and one of three that still exist. You know I am always skeptical of claims like these, but there is no question that this would be one rare beast out on the road. According the the seller numbers show it to be original throughout.
This right hand drive truck originally went to Australia, but now resides in New Mexico. The current owner has had the car 28 years and says he last drove it 26 years ago and that the transmission is blown.
Any 50s Benz is cool, but the uniqueness of the added pickup bed and cap really make this neat. How many pickup trucks do you know of that have suicide doors? It is fun to think that this was rolling of the assembly line at the same time as the Gullwing.
The truck comes with a load of spares and replacement parts, including an engine rebuild kit with pistons, bearings, and gaskets. It doesn't sound like the truck runs now, but it also isn't clear if the rebuild items are necessary to get it to run. The seller says the engine does spin free. In top form the little 4 puts out 40 or so horsepower.
If this can be gone over to be made safe and reliable it would be a super to leave as is, not really restore it, and use it on weekend trips to the home improvement center. I think rather than giving it full, perfect show car, treatment, letting it be and using it as it was intended, to do some work, would be great.
Enthusiastic bidding has it up at over $15,000 with the reserve not met and lots of time left.
~Evan