Not everyone can afford to jump into the 500E market. For those who still want the stately looks of the W124 and the rumble of a V8, but at a significantly lower price take a look at this 400E. The 500E's little brother rarely gets the spotlight so when I saw this looker I thought I'd throw it a bone.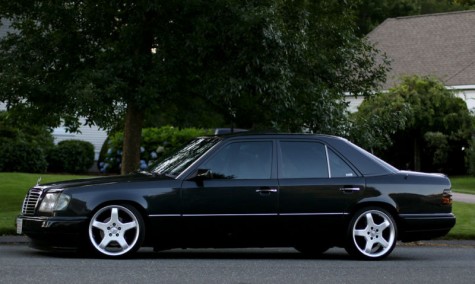 The 400E deserves some of the praise given to the 500E, it is no slouch in the engine department. The 4.2 liter V8 puts out close to 300 horsepower and 300 lb-ft of  torque. If you take the electronically limited speed of the 500E into account the 400E has the same top speed of 155 m.p.h. The smaller 4.2 won't jump off the line as quickly, but is just as comfortable out on the highway.
The car seen here has been given a much more aggressive look thanks to 18″ rims that tuck under the fenders thanks to lowering springs. Smoked taillights and front signal lights complement the dark gray paint. The 1994 also comes with the updated grille for a more modern look. It has some new maintenance parts, like brakes, that the next owner won't have to worry about. It has had an accident that meant a new trunk lid and rear bumper work. It looks like a Remus or other aftermarket rear exhaust is on the car. The owner doesn't give details, but it looks like things have been repaired properly. The owner indicates that the car has been cared for well. The 77,000 miles on the car are less than you would expect on one of these.
The car currently sits at $5,600 with no bids and a reserve. No real investment potential here just a fine looking set of wheels and a chance to get in on V8 Mercedes ownership.
~Evan