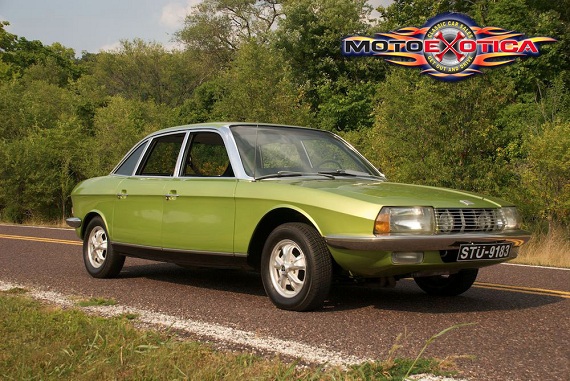 You'd be forgiven for looking at the stats of the mid-1960s designed NSU Ro80 and thinking it was a much newer car. At the very least, it seemed quite futuristic compared to what was coming not only out of Detroit, but out of the rest of the world at the time. Aerodynamics were key to its slippery shape, unlike the rest of the world that relied on "jet" styling accents and fins to look fast. A tall, airy greenhouse provided excellent visibility for its passengers and driver. Underneath, power steering, 4-wheel independent suspension, 4-wheel disc inboard brakes and a semi-automatic gearbox with vacuum assisted clutch were the highlights – items that in some cases wouldn't be found on mainstream cars until very recently. Then there was the engine; at only 1 liter, it didn't sound like much to write about – but it was a twin-rotor Wankel engine with over 100 horsepower. Indeed, the power output wasn't much less than most inline-6s of the day with 2 1/2 times the displacement. Couple that into a reasonably lightweight sedan and the performance of the NSU was certainly above average.
Looking at the NSU today, it's easy to see design elements that were incorporated into later designs, mostly from the 1970s and 1980s. NSU's parent Audi developed the exterior design elements further a decade and a half later into the Audi 100, most notably. Squint, and you can see it. But when I look, I also see elements from BMWs, Mercedes-Benz, Alfa Romeo, Citroen, Lancia, Fiat, and even Toyota, Mazda and Nissan – this was truly an influential design. For the most part, it was also a fringe automobile though, so not many people knew them or about the advanced platform that had been developed. They were also a bit too far ahead of the curve, suffering rotor-tip seal problems that wouldn't really be solved for another decade by Mazda. On top of that, they were quite expensive at the time – meaning that for well-heeled buyers, the unreliability was even more unacceptable than normal. More recently in the past decade, the avant-garde Ro80 has finally been recognized by the world as a truly special page in history and a turning point in automotive design. That's why it's so special to see them pop up for sale, especially in America where they've always been rare:
Year: 1969
Model: RO80
Engine: 1.0 liter twin-rotor Wankel
Transmission: 3-speed semi-automatic
Mileage: 35,715 mi
Price: Reserve Auction ($49,900 on seller's site)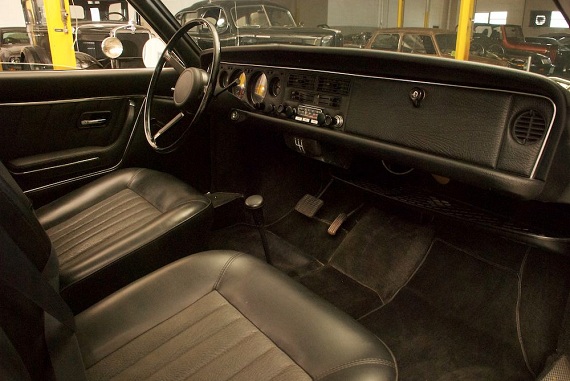 1969 NSU RO80
3800109265

• Very Rarely Seen NSU RO80!
• 113HP 995cc Twin Rotor Wankle Rotary Engine!
• Semi-Automatic Gearbox!
• Possibly the Best NSU RO80 Example in America!!!

MotoeXotica Classic Cars is pleased to offer this very, VERY rarely seen 1969 NSU RO80! The RO80 was considered to be a technologically advanced automobile, produced by the West German firm of NSU from 1967-1977. Most notable about this very special car is the 113 horsepower 995cc twin rotor Wankle rotary engine with front wheel drive. The appearance of this sedan is very original within the engine compartment, as well as the interior, and is likely one of the best examples to be found in America!

Finished in beautiful, metallic Lime Green, the paint was a special order option back in 1969. The paint is in excellent condition, showing only very minor imperfections, such as rock chips to the front clip. The body is in excellent condition as well. The chrome is in great condition and shows only minor imperfections. There is a functional sunroof and the windows are tinted for esthetics. This four door sedan is sure to turn heads no matter where you go!

Inside, the interior is finished in all black. The seats are wrapped in black vinyl with black textured inserts. The seats are in great condition and show very minimal wear, if any. The carpet, headliner and door panels are also in great condition. The left front trim piece on the door panel has some minor imperfections but still shows well. The dashboard is in good original condition, showing only a small crack down the center. The dash houses a set of original gauges and an AM/FM radio as well.

This neat sedan is powered by a 113 horsepower, 995cc twin rotor Wankle rotary engine with 2 Solex cross-draught 2-phase carburetors. Mated to the engine is NSU change semi-automatic gearbox with 3 baulked, fully synchro forward stages and reverse. There is no clutch pedal. The hydraulic Fitchel & Sachs torque convertor with a single stage dry clutch which is powered electro-pneumatically with a Fitchel & Sachs servo motor. The car sits upon a set of 14" NSU Wankle 5-spoke wheels wrapped in P185/70R14 tires that look great. It does have four wheel disc brakes.

Included with the purchase of this NSU is "The Wankle Engine Today" in both English & German, an RO80 repair manual, the original book of RO80 Operating Instructions, Customer Service Voucher booklet and various original slips, repair receipts & warranties, some still in Germ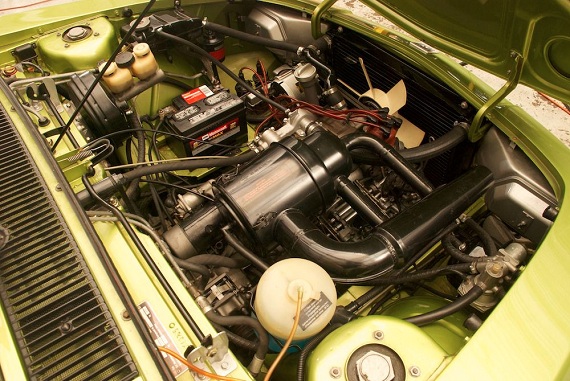 The condition and color combination of this car are just stunning in my opinion; most were more drab tones, so the bright color really highlights the design for me. While there is no indication that a restoration has been performed in the description, I find it hard to believe this is the original condition of the car. While it's not a perfect concours example, it frankly doesn't look far off – especially, its clean under the hood. Hagerty places the top value of these cars right now around $27,000 or so; relatively speaking, not a bad deal considering what some classic BMW and Mercedes-Benz designs will set you back. I'd expect these unique cars will continue to appreciate as a greater understanding of how advanced, influential and special the design is spreads throughout the automotive community.
-Carter