Up for sale, with no reserve and low open price, this 170,145 mile Cosworth engined Benz looks like a nice deal.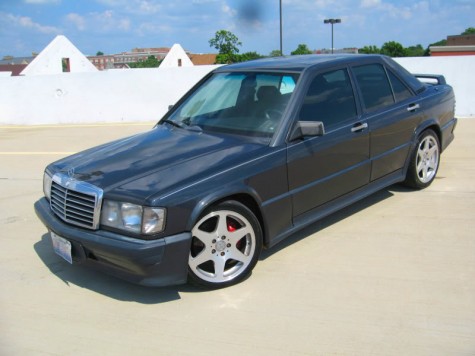 The car comes with all the great features of the original high strung sport compact, dog leg shifter, LSD, and mild aero package. This car also has some upgrades like genuine MB Evo II rims, smoked taillights, Euro headlights, brakes from a 500E and an aftermarket exhaust.
With the high mileage the car has seen its share of duty and it wears a number of battle scars. The seller is honest enough to disclose a number of minor issues with the vehicle. It has some paint issues, several blemishes from break in attempts, a few interior components that aren't functioning.
Despite the extensive list of cosmetic and interior problems, nothing is mentioned about the engine, clutch, transmission. Perhaps that means they are all fine or maybe this is a purposeful oversight. There also is no mention of service records.
This car is not a good candidate to try to make perfect. It can be an entry point for someone who is dead set on enjoying the Cossie power of these special cars. A new owner could fix a few things that bugged them most and then just enjoy the car.
Bidding is up to almost $4,000. While there is a premium on this with the 5 speed, if the engine needs a rebuild in a few thousand miles it could cost about several thousand. I wouldn't expect this to bring much over $4,000. If it has good service records that's a decent amount of engineering for the dollar.
~Evan