This is a fairly inexpensive 500E, placed for sale with no reserve. Mercedes' super sedan for the early 90s can still hold its own out in the highways full of bland rides. The 500E is subdued itself in appearance, but as we have said with other 500Es we've posted they are something special. The reliable V8 provides plenty of oomph for bombing the interstate.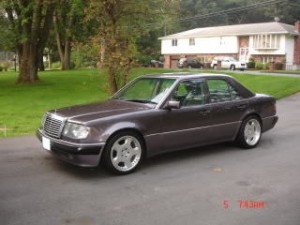 This particular car has 85,000 miles and the ask price is $6,000. That price is on the low end for that kind of mileage, but the seller does state the car has been in a front end accident at one point in its life. The seller doesn't provide details about the crash or photos which would be nice just for piece of mind. They do state that after the accident in 2001 the car sat for six years until it was put back on the road, that suggests it wasn't too minor an accident despite the clear title.
The owner gave the car a respray and has done some maintenance work such as replacing all the motor and transmission mounts, which need to be able to handle spirited driving. The color looks grey, but it is actually a purple hued color, Mercedes paint code 481 or blackberry, sometimes called bornite. It looks like the engine cover has also been paint matched. The headlights and grill have been replaced, presumably because of the accident. There are also updated taillights that are smoked versions, which look nice. Aftermarket rims are on the car, but it comes with the stock rims as well. The photos don't show the car that well, but the interior looks like it has some discoloration.
Not an investment level car, but an opportunity to get into a 500E with under 100,000 at a bargain price. Potential buyers should still get a PPI given the car's history.
~Evan