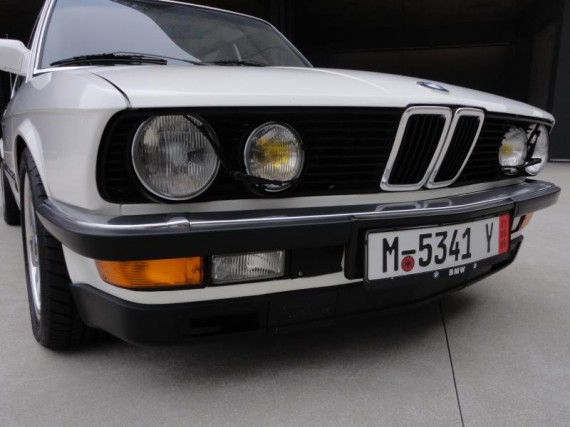 I certainly appreciate the big-bumper look of the US-spec 80s 5er, but there's no denying that E28s look epically sharp in Euro guise, whether converted or original. I've written up a very pretty white Euroized 535i before, but this one is a new level of crazy. How do you make a bonkers E28? Well:
– Take (1) US-spec 535i with 27k original miles
– Add (2) Euro bumpers
– Remove (1) automatic gearbox, locate and install (1) dogleg close-ratio 5-speed instead
– Find anything rubber under the hood, remove and replace
– Add (2) electric Recaro sport seats
– Go hog wild with Porsche Lobster Red leather and cover everything you can
– Serve on 4 deep-dish Style 5 platters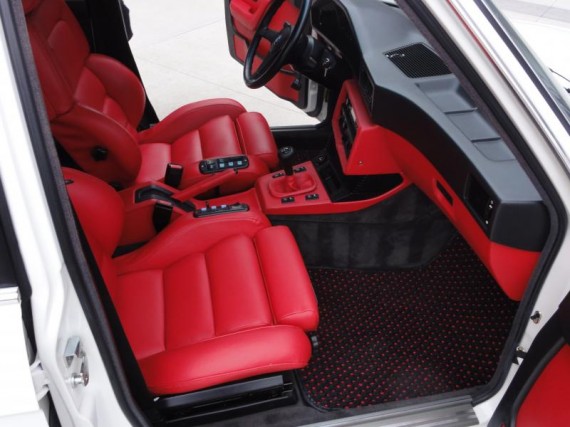 Year: 1985
Model: 535i
Engine: 3.5 liter inline-6
Transmission: Dogleg 5-speed
Mileage: 28,700
Price: Reserve not met at $15,100… asking $37,500!?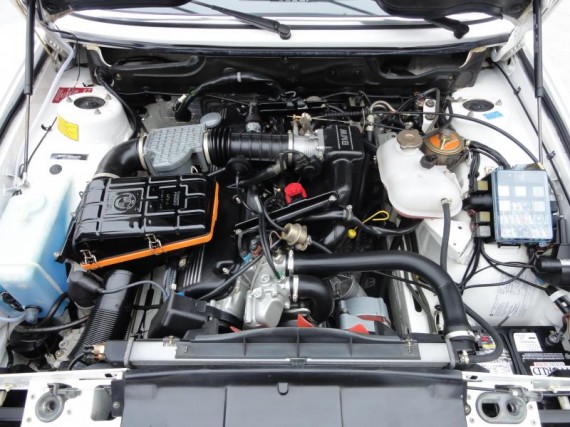 I received a call from a very close friend in Santa Barbara about a car that he came across that felt would really be up my alley. What he had found was a two owner 27,XXX mile 85 535i automatic, Alpine White with Schwartz Black interior. Of course being the e28 nut that I am I jumped at the opportunity and after a few phone calls and picture sharing, my wife and I were on a train to Santa Barbara to pick up this beauty.

She was everything we had imagined and was neat as a pin. We drove the car back to Newport the next day and it was like the 80s all over again! I sold these cars when they were new and it all came back to me….the feel, the smells, and of course the way the car runs and drives.

So, in January I decided what I wanted to do to this blank canvas and put my creative ideas into fruition. The main concern I had was that the car had only been driven 400 miles in the last 7 years of the prior owner's tenure. This had me worried that something might fail prematurely and I didn't have a factory warranty to fall back on. I decided to completely remove the engine, tear it down to the short block, and start the rebuilding process from there. We replaced every belt, hose, gasket, pump, radiator, etc. My idea was to build a car that you could have ordered from the factory if you lived in Europe. I also wanted to switch out the automatic transmission for a 5 speed and add a little spice to the interior, but my dilemma was that since the car had traveled so few miles, I wanted every component to be comparable or better. I searched for a close ratio (dogleg) 5 speed and found one that had been completely rebuilt, and a rebuilt 3:25 limited slip differential and a new driveshaft. Of course we had to install a new clutch, pressure plate, and throw out bearing as well.

On the interior, I got a little crazy and found a set of old school electric Recaro seats from the 1985 catalog! Then decided to do it all up in Porsche Lobster Red and all in M5 style! So, all of the door panels, pulls, knee bolster, glove box, hvac surround, and e-brake were all covered in leather as well as the rear headrests.

For the suspension, we added factory ///M Technic springs and specially valved Bilstien shocks and struts. I have had several wheel/tire combos on the car as well as a factory stripe kit, and none of them suited me, so I am going back to the 17×8&9″ Polished Style 5 BBS and 235-45-17 tires on the front and 255-40-17 on the rear. I also put in a set of Cocoa Mats that are Black with a Red tracer. Anything and everything that had any wear on it at all was replaced. The car is in "as new" or better condition.

I also did a complete euro conversion using all new OEM parts. I even replaced the tail section with the euro version that has the cutout for the exhaust. I did replace the exhaust system with an stainless steel Ireland Engineering unit. With the euro conversion came a euro M5 chin spoiler and euro headlights/wipers with French brights. That is all I can think of for now. Here are some photos of the car during the process and going back to when I bought it. I entered it in a Concourse in July with some stiff competition and it won first place, so needless to say it is clean….well immaculate is more like it. It looks, drives, and smells like new. I know it's not everyone's taste, but hopefully it will appeal to someone. Price is $37,500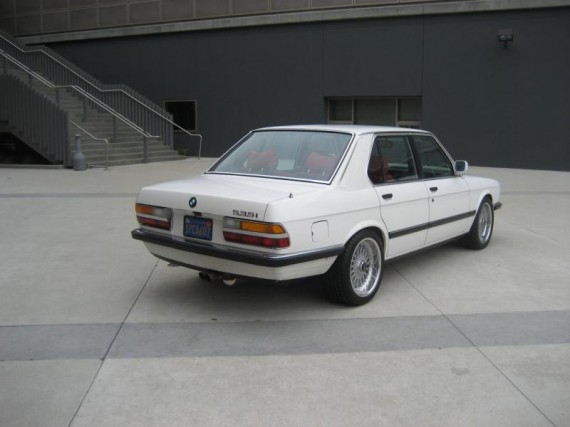 This is one of the most thoroughly restored 80s Bimmers we've seen here. The attention to details shows through best in the engine compartment, then in the beautiful and concise exterior, and then… well, the interior shows attention to detail, but holy moly is it incongruous. If it were redone in something like BMW's Cardinal, I'd totally dig it, but this red is too bright, too modern and throws me off severely. With the minimal miles and maximal effort, I could see this car reaching up to $30k, but not the $37,500 he mentions at the end, and to be honest, I couldn't buy this car with that interior. I'd rather have an E28 not quite showroom perfect than feel like a lobster was clawing my eyes out on the regular.
-NR