In 1982, the FIA introduced probably the most insane class of auto racing in history, Group B Rally.  Group B had little or no restrictions on technology and design.   Weight was kept as low as possible, cutting edge materials were permitted, and there were no restrictions on boost, resulting in power numbers more than doubling over the life of Group B.  With homoligation rules set at 200 units produced, Audi developed the Sport Quattro for the streets.  Group B Rally was a catalyst for many advancements in engine, chasis, and drivetrain technologies for Audi.
A direct beneficiary of many of the technolies developed in Group B, the URQuattro was developed in 1980 for the european market, and made its way to US shores in 1983, where it was sold through 1986. The URQuattro shares many of the attributes of the Sport Quattro, from a tamer version of the inline 5 cylinder turbocharged engine, to the rally developed Quattro AWD system, this was a Rally car for the streets.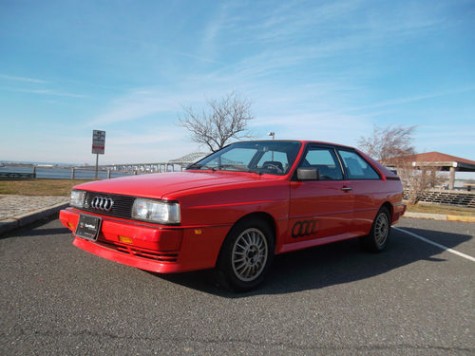 Up for graps is a 1983 audi urquattro. This is a really nice car for a car collector. I've owned this car for about seven years, i'm the fourth owner. Pretty much 664 cars were shipped to the us and canada in this year, total production was 11452 from 80-91, but if you're reading this then is because you have some idea of the history of this car, so i really don't have to say much about it. About the car is pretty much all original, except for the headlights and grill,but still have the stock headlights and grill . The radio was also upgraded to an alpine head unit by the previous owner, and also the oil pressure and oil temp. gauges, other then that the car is all original from paint to interior and windows are also original, front windshield as well and no cracks, dash board is also in very good condition. Car has also its original window sticker dated back to 1983, still has sticker on fuel door. Car does have some minor dents about the size of a dime and some chips, but still in very good shape considering its almost 30 years old . All windows work fine,cruise control and all lights works in how it should . Motor starts up with no valve tapping, which is a common thing with the 5 cylinder motors. Car has brand new tires and brakes and resurfaced rotors in the front , along with left and right outter axle boots in the front .Car has about 37,000 miles on it but the tittle says not acutally miles do to a problem back when the car was new, it had something replaced on the cluster at audi dealer, i have the recipte to show, so i believe that these are the original miles on the car. I have alot of recipts of work done to the car along the years by audi. Everything mechanical and electrical works on the car, the only things that needs to be check if new owner wants are driver side heated seat doesn't work, and power mirrors, replaced the switch but it didn't fix the problem, also a/c has a leak somewhere , never really had a look at it , other then those few things everything else works good. Feel free to contact me just in case i missed something or any questions that i can answer, (973)277-9520Â Â  Thank You.
Given that sales numbers tor the URQuattro were only 285 in 1983 (664 total US Sales), a low mileage example like this is certainly a rare find.  This is a good honest original car, and is one of the cleaner examples I have seen.  This car has all of the right options as well, from the 2-tone brown interior, to the rally inspired 80's styling.
Whether you're a Rally fan, or an Audi fan this is a great car to add to your collection, as values have steadily been on the rise over the past 5 years.  With a BIN price of $17,500, this URQuattro is priced right where it should be for a 37,000 mile example, however with the title reporting an odometer discrepency, a buyer should do their homework to make sure they're getting what they expect.
-Brian